My husband he's allergic to everything! If that wasn't bad enough he also has allergies. In about a month his eyes will start getting swollen and the countless sneezes will begin. He gets so miserable with his allergies that he makes the rest of us miserable along with him. Years later I've learned that I can make all of our lives easier by just doing a few simple things around our home to cut down on the dust and dander:
throw pillows in dryer for 20 minutes (do the same for stuffed animals)
dust ceiling fans
wash curtains and other linens that aren't regularly changed
move furniture and vacuum underneath
change filters (furnace, fridge, etc)
Believe it or not the last one is really important!! It's recommended that you change your filters every three months. My hubby strongly believes he can feel a difference if they aren't changed in a timely manner. We invested in a case of filters and change them regularly in both our furnace in the basement and the air handler in the attic.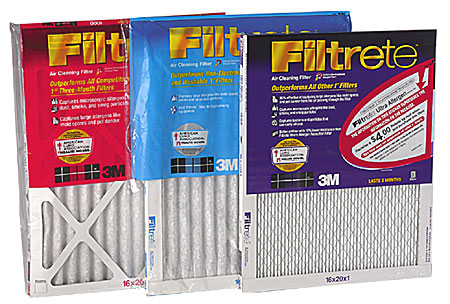 We rely on Filtrete for all of out filter needs. Do you know what is in the average air in your home? Want to hear what just some of them may be?
Household dust
Pollen and mold spores
Pet dander
Dust mite debris
Smoke and smog particles
Particles that can carry bacteria, viruses and odors
We rely on Filtrete for all of out filter needs. Make sure to sign up for Filtrete's Clear Advantages Program, which offers healthy home living tips, money saving offers, filter change reminders and more via a seasonal e-newsletter so you can stay on top of your family's fresh air!
"I wrote this review while participating in a blog tour by Mom Central Consulting on behalf of Filtrete and received a gift certificate to thank me for taking the time to participate."