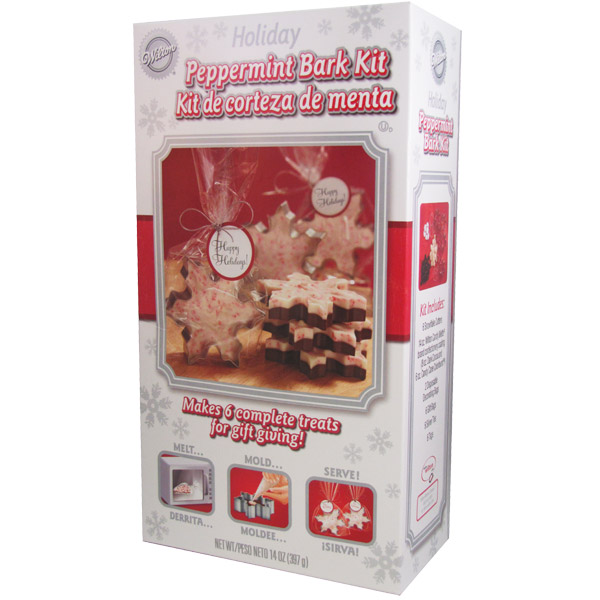 I love making chocolate bark around the holiday's. I love giving it to friends and family- and of course keeping some around here for us. Giving it out can sometimes be a challenge because you don't want to spend all the time making it and then fail on presentation. Not with Wilton. They take care of everything for you with the Holiday Peppermint Bark Kit!
Makes 6 complete treats for gift giving!

Kit Includes 6 Snowflake Cutters
14 oz. Wilton Candy Melts® brand confectionery coating (8 oz. Dark Cocoa and 6 oz. Candy Cane Colorburst)
2 Disposable Decorating Bags
6 Gift Bags
6 Silver Ties
6 Tags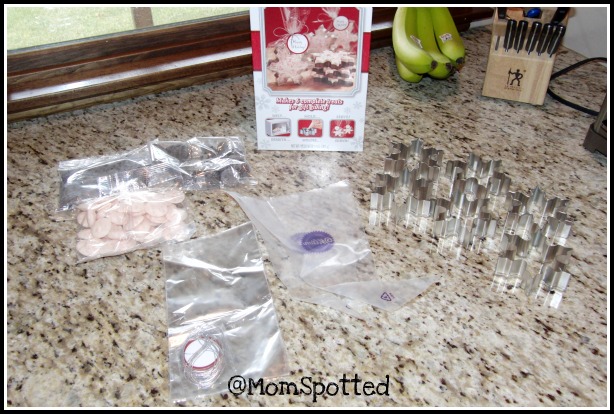 If you've never made bark before this is the perfect kit to teach you. I had never made bark in an ornament though. The whole idea completely interested me and it was the very first thing I grabbed when I pulled it out of the box of goodies Wilton sent. The directions are on the back of the box and super easy to follow.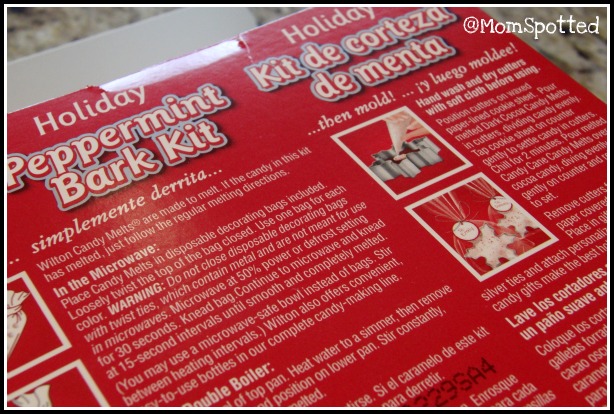 First thing you'll need is a baking sheet and some wax paper. line the cookie cutters on top of the wax paper.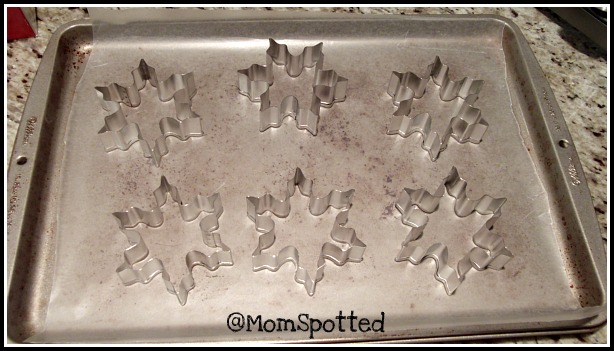 Take the brown chocolates put them in the bag and place them in the microwave. Be careful not to burn them.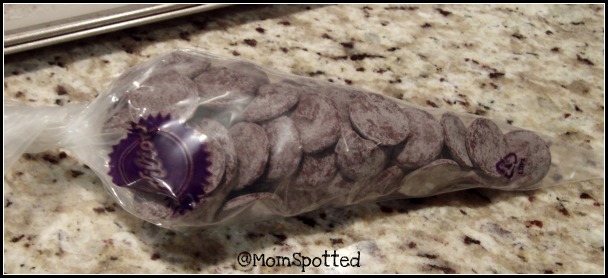 Cut the tip off and start filling the cutters. It was a little messier then I expected. Make sure to hold the bag good once you cut it. Place in fridge for 2 minutes or until hardened.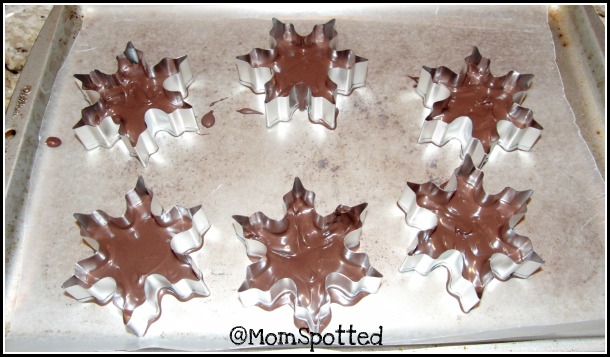 Next repeat with the peppermint chocolates.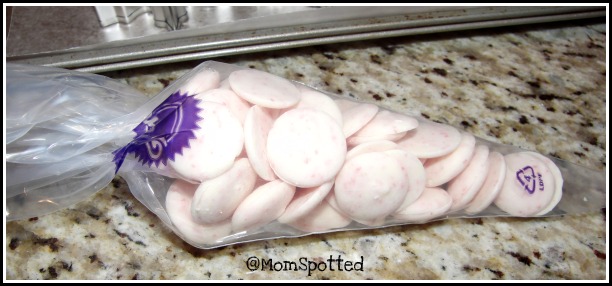 Fill over the other chocolate. Chill in refrigerator for 5 minutes.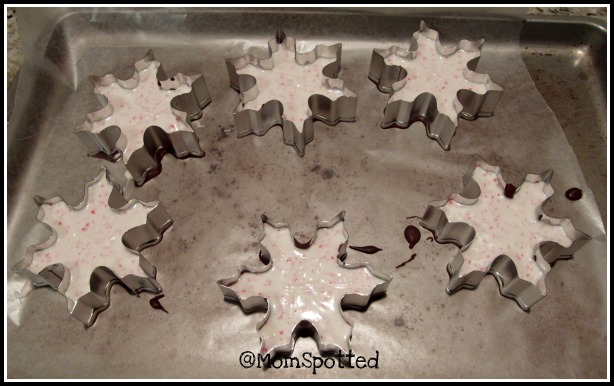 Once they are hardened you'll be able to gift wrap them. Of course Wilton took care of you and supplied everything you need. Even the ties & tags!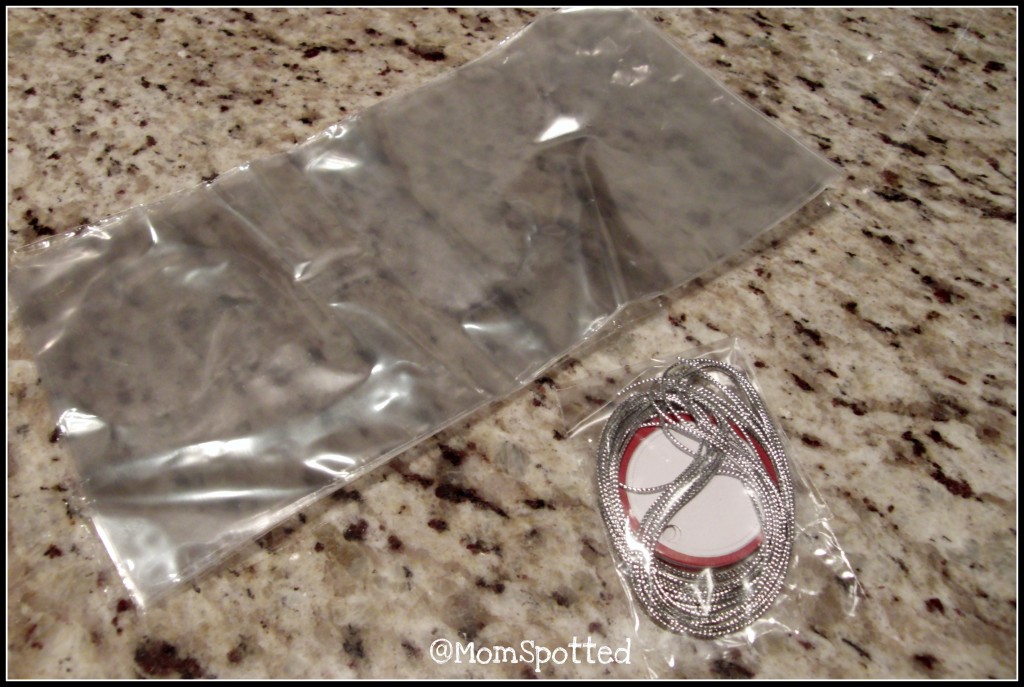 See how cute mine look?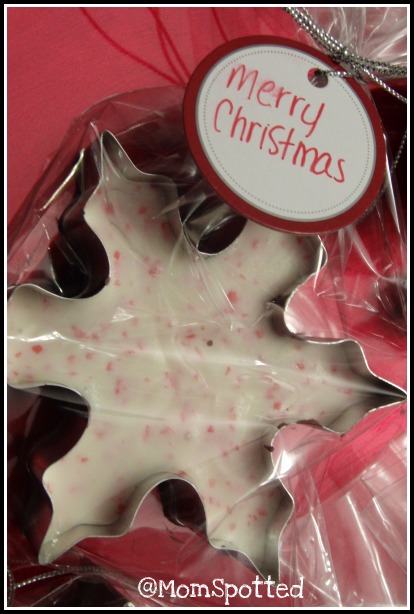 Gavin and Johnny couldn't resist making sure "they tasted okay" so we had to try them. They were difficult to get out of the cookie cutter. The kids couldn't do it and it took me a few minutes. It was however so worth it. It tasted great! Plus, we now had a cookie cutter to make cookies with! It would be really cute to attach a recipe for sugar cookies along with these.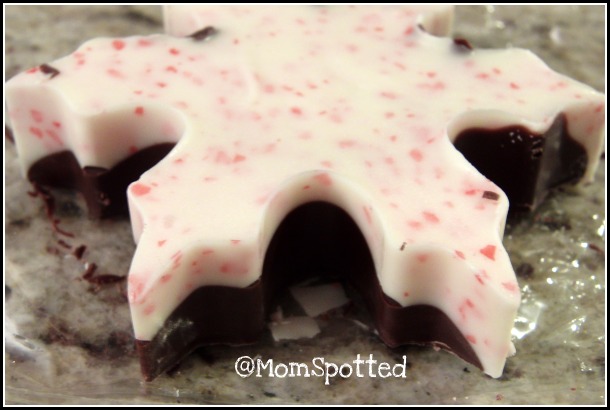 Don't they look fun and festive? I'll take the remaining five and attach them to gifts this season. Of course I'm going to need more then five so we're going to go out and buy an additional kit.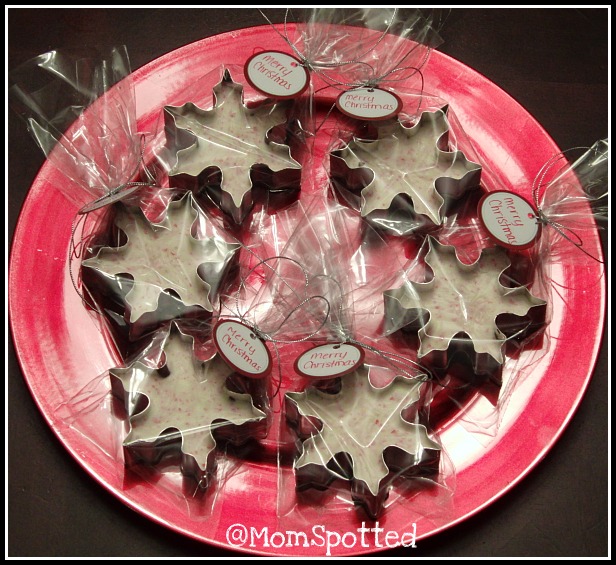 You can purchase the Holiday Peppermint Bark Kit for just $9.99 directly from Wilton. I've also seen them at Walmart.
Mom Spotted Review Policy: I was provided with the featured item(s) at no cost by the manufacturer and/or its PR agency in order to test the products abilities and give my own personal opinions on it. The opinions I have given are mine and may differ from others but it was not influenced in any manner by monetary means.