As you know I had been doing The Total Gym Total Gym Challenge for the past few weeks. I've had my ups and my downs and its definitely been an experience. Now it is time for me to wrap things up and give you my final thoughts on this gym.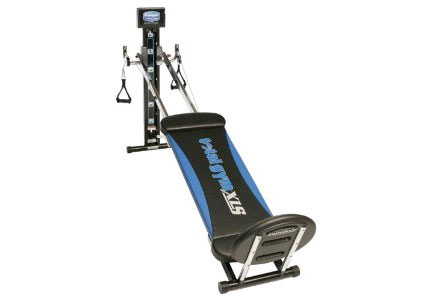 The Total Gym:
This is a great purchase as it comes with everything you could possibly think of. Once it comes in you won't need to purchase anything additional to get the workouts you need. It comes with all the workout cards and individual steps you need to get the maximum benefits out of the gym. It also comes with an overview poster, DVD's, all the extensions and pieces to change around. It even comes out of the box 95% ready to go.
Total Gym takes ALL of the guesswork out of getting in shape. With the Total Gym XLS, you'll receive our complete line of workouts and workout tools. Easy to follow, fun and motivational to keep you on your path to success!

Start It Up! – Your very first Total Gym workout!
6-8 Minute Workout – 12 work-along workouts for men and women crunched for time
Smart Training Workout
Pilates for Total Gym
Body Makeover for Total Gym
Exercise Wall Chart – simple at-a-glance poster with 35 exercises
Total Gym Training Deck – Your Personal Training System
Dan Isaacson's Nutritional Program & Meal Plan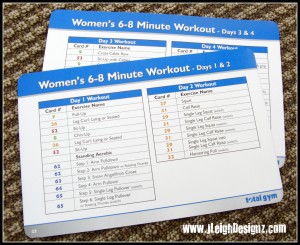 My progress:
In the first 4 weeks I saw great progress. I used the 6-8 Minute Workout Cards and followed all the steps. Now, granted they took way longer then 6-8 minutes. After about 2 weeks of switching it up I was down to about 25 minutes to get through the "6-8 minute" workout. While it took me a lot longer then stated it was a great routine to follow. Being able to follow a guide like that was something that I needed. I started seeing results almost instantly, I felt them immediately though.
Then in the middle of the challenge I went on vacation for a week and struggled getting back into the routine. Sadly my measurements now are the same as when I began as I believe you really need to stick to a regular schedule of using it as with any other other exercise  routine.
Overall:
I think the Total Gym is a great investment if you are a person who already enjoys working out and is looking to get fit. Since you're looking at spending nearly $1000 at even the 50% off discounted price it's still a huge investment. If you are someone who isn't sure about your follow through I'd recommend finding something else to see how serious you are about getting fit. If you are strong willed and know that you will use it regularly then it is not just a good investment but a great one. This one piece of equipment takes the place of multiple pieces of equipment and you can even fold up and move it out of the way. I do plan on trying this again after the holiday passes and life slows down. From what I saw before life got busy this gym definitely works you just need to focus and give it the attention it deserves which I failed to do.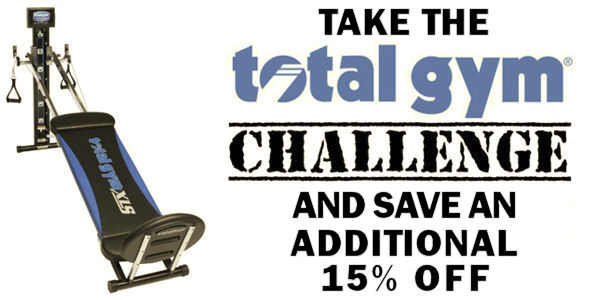 If you haven't taken advantage of the 15% off deal I've been offering you over the past two months and had planned on it this is your LAST chance! This is my last post on the total gym where I can offer this discount to you! So make the purchase and get that special someone the ultimate gift this holiday season!
www.totalgymdirect.com