I have to be honest that I wasn't big on fire safety until I had to watch my own home burn down. Knowing I was the last one to leave was a horrible guilt for me. I went through every single shoulda, woulda, coulda in my head. Of course it was no one's fault but one thing I learned was about our detectors. See, at the time we only used electrical ones. I thought those were the best. I mean, come on, the batteries never have to be replaced and you don't have to think about it. Wrong. Even though we weren't home when the fire started doesn't mean the detectors don't count. See as the fire ripped up my walls (as tunnels to spread out) it quickly lost electricity. As a result my detectors were on only a short time- if at all. If we had been home that means we may have never woken up. Scary, huh? While we still have electrical fire detectors in our home, you'll also now find battery operated ones too. These are smart because even once the property loses power they will continue to go off.
When I came home that day from work I had no clue from the outside that inside the walls of my home was a burning inferno. The chimney was whipping black smoke but I just assumed the Hubs beat me home threw wood and the stove and ran to grab the boys. Had there been battery operated detectors I would have been able to hear them as I approached the door. Instead I opened them and was blown off the front steps from the explosion of oxygen entering the house.
Now, I pay attention to any and everything fire safety. We even have an alarm now that will notify the authorities should one begin. I can't tell you enough about fire safety. One super easy step to stay on top of things is changing your batteries in your smoke detector. Isn't your families safety work the 10 minutes 6 months of protection it will provide?
(While you're at it check on your carbon monoxide detector. Don't have one? You should!)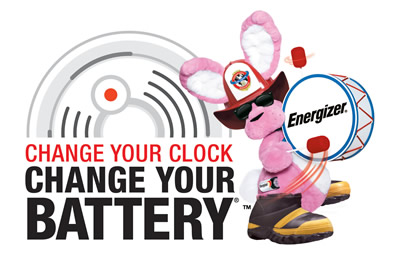 Daylight-saving time ends Sunday, Nov. 7, and marks the 23rd anniversary of the Change Your Clock Change Your Battery® program, created by Energizer and the International Association of Fire Chiefs (IAFC), which reminds people to check and change the batteries in their smoke alarms and carbon monoxide detectors during the fall time change. This message is simple, and the habit can be lifesaving. Forty percent of fatal fire injuries occur in homes without working smoke alarms, while 23 percent occur in homes in which at least one smoke alarm is present but fails to operate.*

Firefighters work tirelessly to help reduce the risk factors by educating their residents on the importance of having a working smoke alarm. In many communities, fire departments are able to distribute free batteries to citizens in need as a result of the Change Your Clock Change Your Battery program. Over the past 22 years, Energizer has donated more than four million batteries to local fire departments. This year, people have an opportunity to get involved in a very simple way to help increase the donation.

In an effort to reach more community members nationwide, Energizer, as part of its new Now That's Positivenergy™ program, is enlisting people across the country to help double the donation of batteries to local fire departments. When people visit the CYCCYB tab on the Energizer Bunny® Facebook page, (www.facebook.com/energizerbunny), they can send a Change Your Clock Change Your Battery reminder to their friends to trigger a battery donation. In addition, people can make an online pledge to change the batteries in their smoke alarms and carbon monoxide detectors or develop a home escape plan online to help increase the number of batteries the company donates this year, up to 400,000 batteries.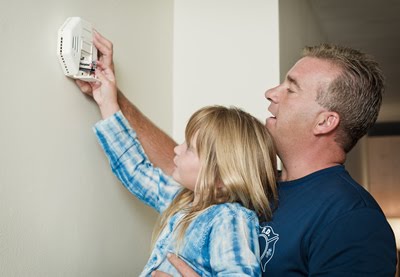 Energizer has offered a Mom Spotted Reader a First Alert smoke alarm, along with a 2-pack of 9volt Energizer® Max® batteries!
How to Enter:
1.) Visit the CYCCYB tab on the Energizer Bunny® Facebook page, www.facebook.com/energizerbunny, and pledge to change your smoke alarm batteries, share the life-saving Change Your Clock Change Your Battery message with others and create your family's home escape plan so you have an exit plan in place.  Each action will trigger a donation of batteries.
Mandatory
How to earn additional entries:
2.) Become a follower on my blog (publicly- privately does not count)-leave another comment (or let me know if you already are)
3.) Subscribe to my blog by EMAIL (not feed) – 2 Entries
4.) Blog about my giveaway- with a link back to here AND
Energizer
2 entries(get one more if you include a photo of the giveaway).
Post YOUR blog entry first and then the comment (please include the link directly to it not to your front page, and make an additional comment then the ones above.)
5.) Add my
NEW
button to your blog – 2 Entries
6.) Follow
Mom Spotted
on Twitter.
7. Follow
Energizer Bunny on Twitter
AND Tweet about this giveaway-
Copy/Paste:
RT Win a First Alert smoke alarm & @Energizer batteries from @EnergizerBunny #momspotted #giveaway ends 11.15 http://wp.me/p18qpn-1ih
~this can be done once daily~
7.) Become a Fan of Mom Spotted on Facebook!
8.) Become a Fan of Energizer Bunny on Facebook! – Leave a Comment!
9.) Leave a relevant comment on any non-giveaway post
-EFFECTIVE IMMEDIATELY-
You must have your email in your comment or in your profile in order to win.
(Make sure to check out all my other giveaways!
Check the side bar to the right for list!)
That's many chances to win a First Alert smoke alarm, along with a 2-pack of 9volt Energizer® Max® batteries!!!
Contest ends November 15th at 11:59pm!
***USA Only***
Mom Spotted Review Policy: I was provided with the featured item(s) at no cost by the manufacturer and/or its PR agency in order to test the products abilities and give my own personal opinions on it. The opinions I have given are mine and may differ from others but it was not influenced in any manner by monetary means.