I have really independent kiddos.  Hayden is five and especially insists on doing daily tasks on his own.  There are some things I know he is more than capable of handling on his own.  He can get dressed by himself, make his bed, and pick up his room without any help.  Brushing his teeth was a task we were at a crossroads.  He was so certain he could brush his teeth on his own but I was a little more nervous about it.  I know there are sometimes when I have let him brush on his own that he has breezed through brushing his teeth and he probably hasn't done the best job.   Having healthy teeth is important!  I also want to help him make good habits, but also give him his independence.  Hayden was thrilled when he was able to try the new Philips Sonicare for kids toothbrush ages 4 and up.  I honestly have never seen Hayden more excited to brush his teeth than when we received this toothbrush.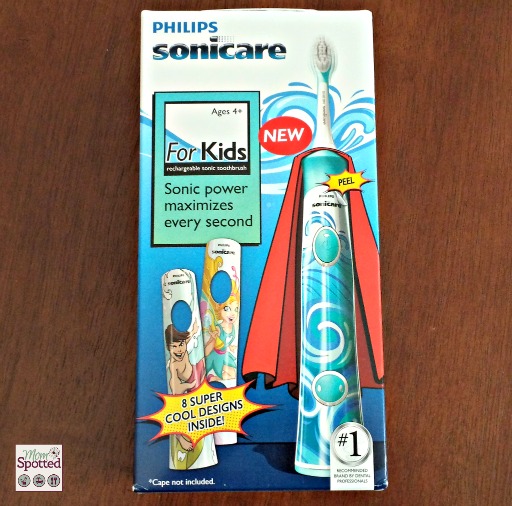 The toothbrush is super easy to put together.  The face plate snaps right on and there are plenty of fun sticker options for your kiddo to personalize their new toothbrush.  The toothbrush charges in the included charge stand and can be kept there so it is always ready to go.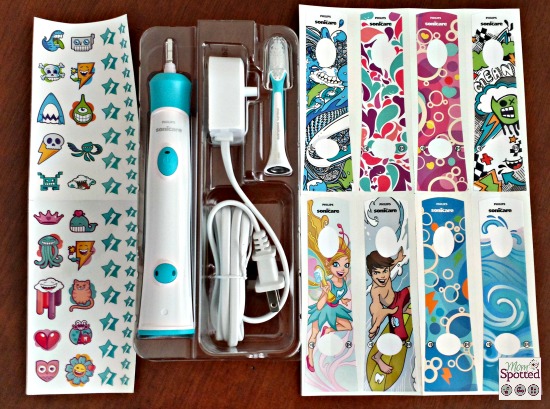 I can really tell that the Philips Sonicare for Kids toothbrush was really made with kids and parents in mind.  It is so easy to use and I know he is really doing a good job brushing his teeth.  The Philips Sonicare for  kids toothbrush removes up to 75% more plaque than a manual toothbrush in hard to reach areas.  It is made for little hands to grip and it has yet to wiggle out of Hayden's.   The ultra-Soft brush heads are designed to gently clean and protect teeth as they grow.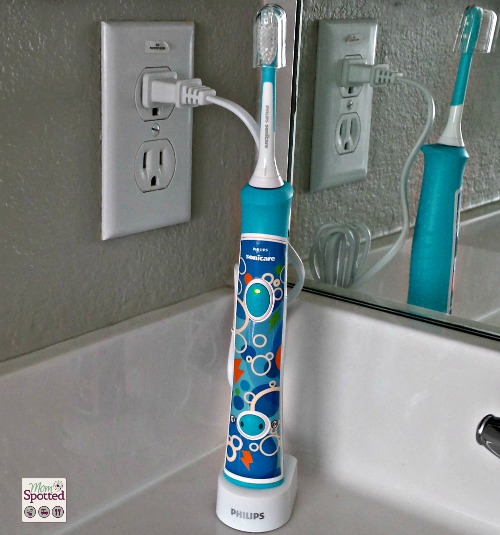 The toothbrush has great features like the KidTimer to ensure two minute brushing time and KidPacer to ensure kids are brushing their entire mouth.  The KidPacer helps your kiddo divide their mouth into four sections so that all of their teeth gets a really good cleaning.  Hayden knows his sections are the front of the top teeth, back of the top teeth, front of the bottom teeth, and back of the bottom teeth.  He pushes the power button on his tooth brush and it makes a fun little noise when he is supposed to switch to the next section.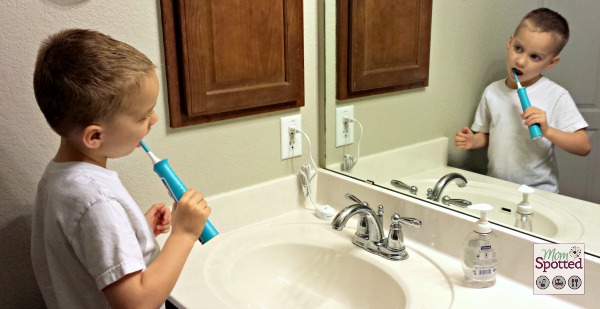 The built-in KidTimer automatically shuts the toothbrush off after 2 minutes.  Hayden knows he isn't done brushing his teeth until the toothbrush shuts off.  Since his mouth is divided into brushing sections it makes the 2 minutes go by faster.  I am more than comfortable knowing he is brushing his teeth now.  I know he can do it all on his own and get his teeth good and clean.  I also take comfort in knowing that 91% of dental professionals would recommend Philips Sonicare for Kids for their own child.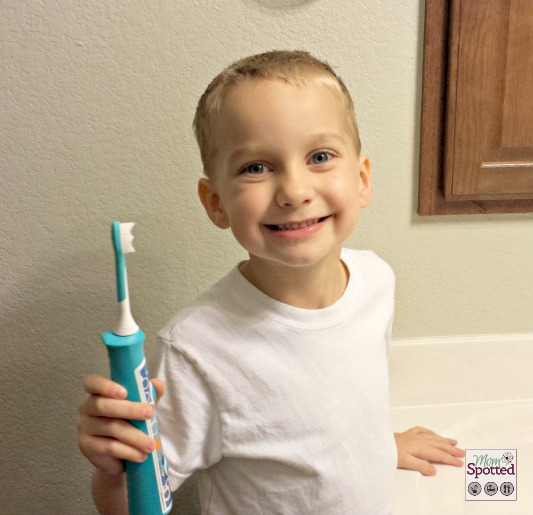 Right now you can participate a fun contest on the Philips Sonicare Facebook, they are giving away two new Philips Sonicare For Kids'.  You can join in on the #PowerToKids campaign and by sharing a quick video (Vine, Instagram Video…whichever!) of how your child is tackling new responsibilities. Show all the wacky, kooky, funky ways your little ones get to work on tasks like picking out their outfit for the day, doing their hair, or even packing their own lunch!  Here is our #PowerToKids video of Hayden independently doing one of his responsibilities.
He is a natural little Vlogger!  He has already asked for me to take more videos of him so he can "teach other friends all sorts of important things to do all by themself!"  What things do your kiddos enjoy doing on their own?  Your kids will love brushing their teeth independently and you can trust they are getting their teeth nice and clean!
The Philips Sonicare for Kids retails for $49.99 and is available at Amazon, Target, Walmart, Meijer, Bed Bath & Beyond, Walgreens and others.