I am so happy we are able to start putting away the shovels and begin pulling out the grills. We love the warm weather and can't wait until it arrives. Unfortunately here in Massachusetts we still have a little bit to go before we can be sure that we can keep the shovels away- believe it or not we just got snow here on Saturday!
I'm not the one who grills in this house and we generally cut back on the amount of dishes we use when grill season rolls around so I'm sure that's another reason I love grilling season so much! I just prep the food and hand it over.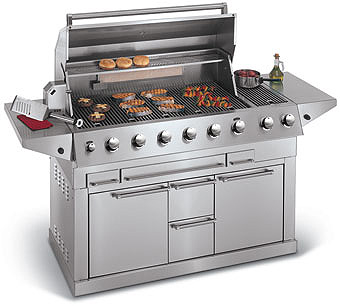 One of my boys favorite grilling burger recipe is incredibly easy but has so much flavor. It took me forever to get the courage to stop buying frozen patties and start forming my own. Once you realize how easy making your own patties is you'll realize how easy it is to make easy gourmet burgers.
Wanna know my simple gourmet recipe?
Ground Hamburg
Bacon Bits
Shredded Cheddar Cheese
Diced Jalapenos
Sliced Cheddar
Hamburg Rolls
Hunts Ketchup
Gulden's Mustard
Take your ground hamburg and place in a bowl. Add shredded cheese, bacon bits, and diced jalapenos and using your hands make sure it's combined well together. Place in hamburg press and form patties. Cook on grill to desired color and place on bun and use Hunts Ketchup and Gulden's Mustard and you have yourself a gourmet burger everyone will love.
Want to learn more about grilling?
Tune in tomorrow for Firing Up the Grill: New Recipes, Flavors and Ingredients to Kick-Start Barbeque Season, slated for Thursday, April 5, at 1 p.m. ET! Our host, celebrity chef George Duran, we'll be sharing our best tips and tricks for spicing up old grilling standards like brats, hamburgers and hot dogs during this chat in The Motherhood.  We're also giving away two summer grilling gift baskets to class participants!
See you tomorrow! If you'd like to check out some other great grilling recipes you can check out their website.
The class is sponsored by ReadySetEat.com and ConAgra Foods, and it is hosted by TheMotherhood.