I am super sentimental and love traditions. I have a few pieces of clothing from when my kids were babies that I like to hang onto as keepsakes. There is something about those tiny little clothes that bring back a flood of memories. My new favorite place to find clothing keepsakes is from Feltman Brothers. They have a new Heirloom Collection that is so darling for little boys and girls. Feltman Brothers have designs that are so classic and their detailed embroidery makes my heart swoon. They have everything from newborn sizes to toddler sizes. There are sweet little layettes, vintage clothes, special occasions, play clothes, or sacred occasion gowns. The pieces we have from Feltman Brothers for my baby girl I will keep and treasure forever.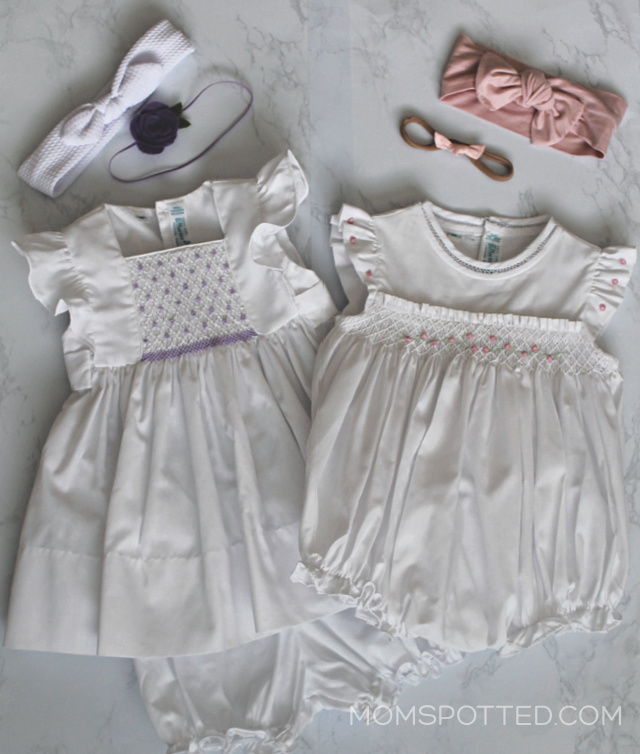 The little romper I got for my new baby girl is called the Rose Garden Collective Smocked Fly Sleeve Bubble. It is so sweet, light, and girlie. It is so perfect for my sweet summer baby. I love the bubbled legs and ruffles. The embroidered roses detailing the top of the neckline and on the fly sleeves are just perfect. It is just the classic little girl outfit that she will be able to wear for a long time.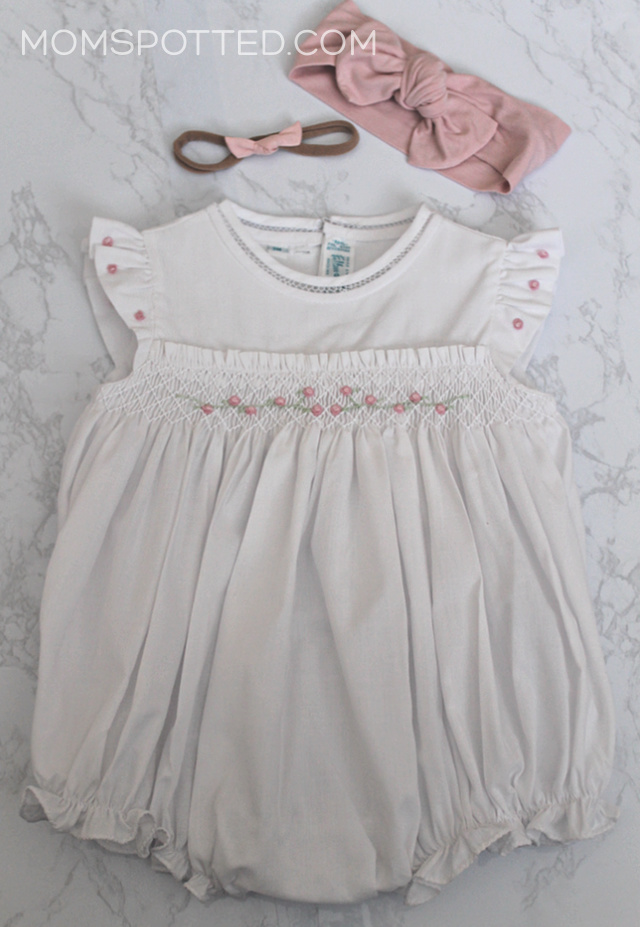 I also got her the Lavender Smocked Flutter Sleeve Dress. One of my favorite "firsts" is the first time we all go to church together on Sunday. This sweet little white dress with a tie back and flutter sleeves will be perfect. There is something so special about a little white dress on a new baby. I also really love the darling lavender embroidered details on it as well. It is such a cute pop of color. The dress also comes with a diaper cover which I really appreciate. This dress is so beautifully made and is such great quality.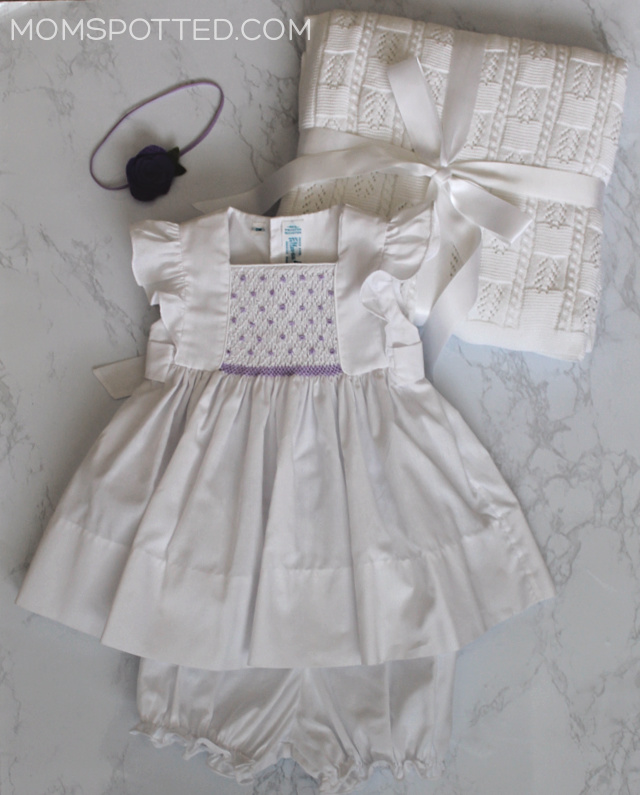 Feltman Brothers also has really stunning accessories and gift ideas. The Cable Pointelle Knit Blanket is so super soft and is such a classic beautiful blanket. The fern leaf-shaped pointelle design is so sweet. We have it in white but it comes in a darling baby blue and pink as well. It would make such a great baby shower gift. When she is blessed at our church I will be wrapping her up in this blanket and keeping it forever.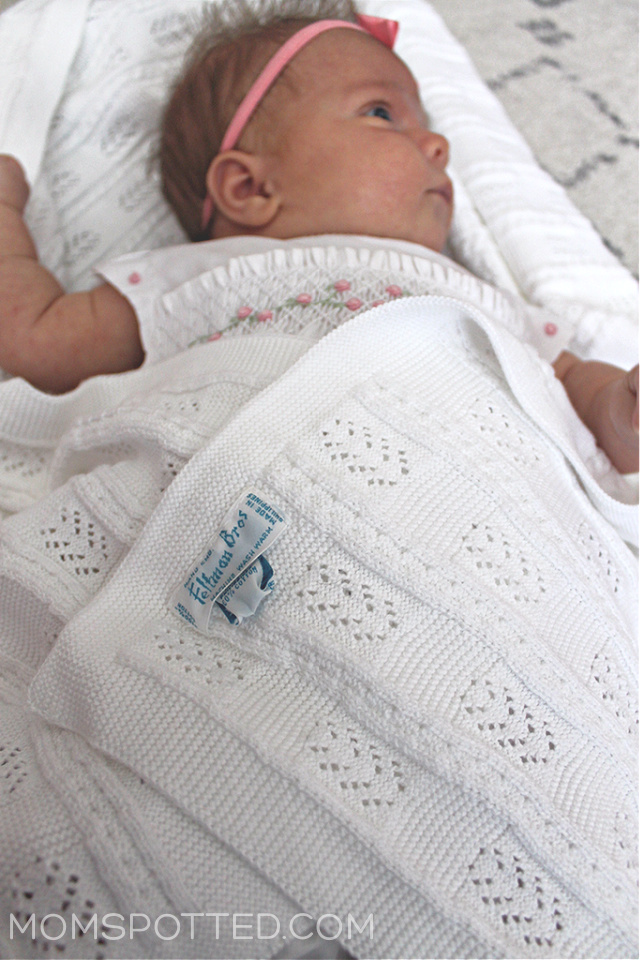 Feltman Brothers has all the best little outfits and clothing for little girls and boys. They have special outfits to bring your newborn home in and then more outfits to make memories in all the way through toddlerhood.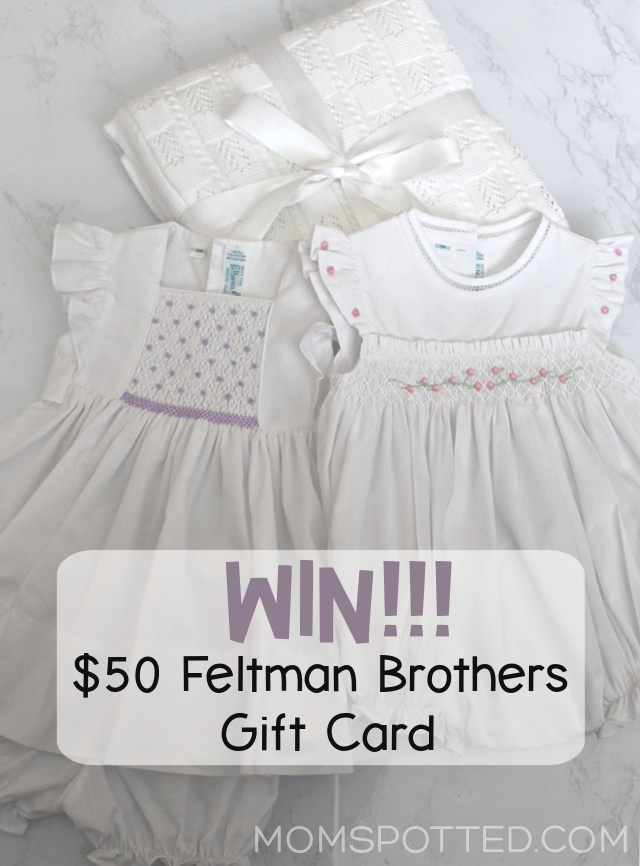 Right now (1) ONE Mom Spotted readers has the opportunity to win (1) $50 Gift Card Code to Feltman Brothers!
To enter use the Rafflecopter form below. Good Luck!
Contest ends 8.31.20 at 11:59 pm. For Official Giveaway Rules click here. U.S. Residents only.