This summer has been a complete whirlwind. My oldest son graduated this spring, and we've been celebrating ever since. I've never entertained so many people in such a short time frame, from the end of finals to the ceremony, to the graduation party day. I couldn't keep up with having baked goods and such and realized it would be much simpler having some go-to favorites on hand. Bite sized snacks are my favorite, so I stocked up on some favorites and shared them whenever someone new showed up at our front door.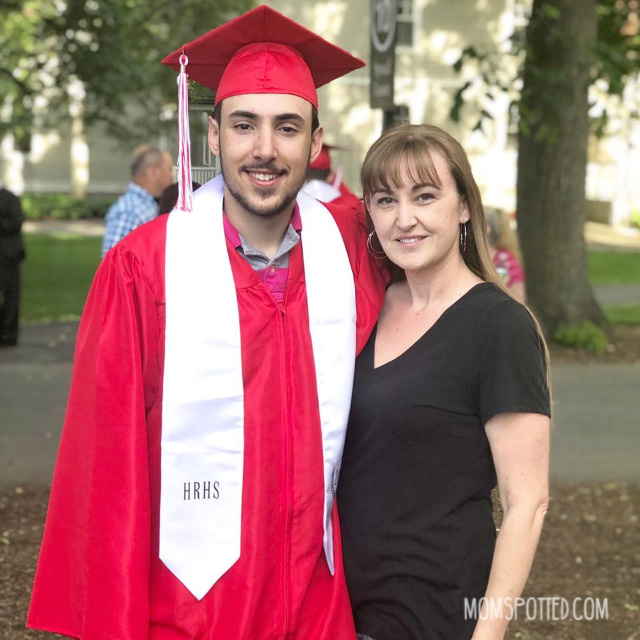 One thing I have come to realize through all of this is that sometimes you don't need to go big and bold to make a statement. A few right ingredients and you can pull together a great tasting snack everyone will love.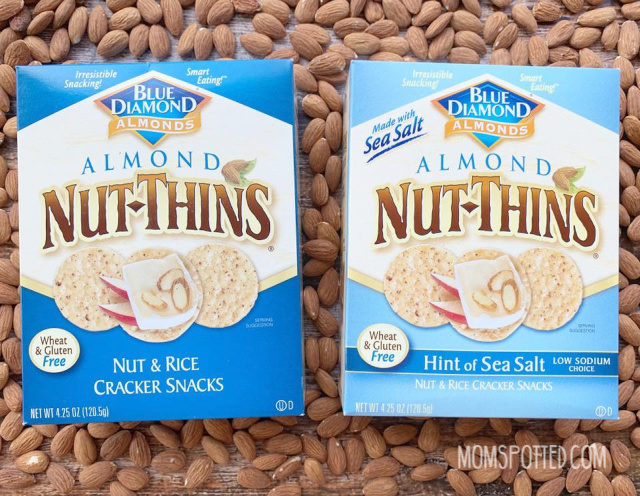 If you haven't given Blue Diamond Nut-Thins a try yet, you should know that they have so many different flavor options for you to try. I discovered these cracker snacks back around Easter, and they were delicious with our cheese platter and dips. Nut-Thins are made with no artificial flavors or colors, are wheat and gluten-free, and are made with real California Almonds.
Almond Nut-Thins
Hint of Sea Salt Nut-Thins
Pecan Nut-Thins
Smokehouse® Nut-Thins
Honey Mustard Nut-Thins
Pepper Jack Nut-Thins
Country Ranch Nut-Thins
Cheddar Cheese Nut-Thins
Honey Cinnamon Nut-Thins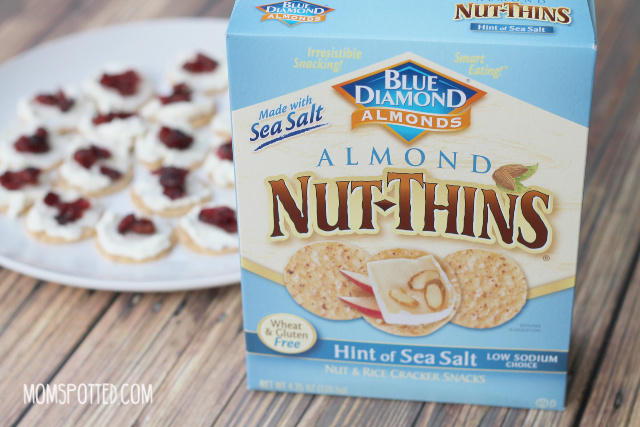 I'm a huge fan of goat cheese. The Hint of Sea Salt Nut-Thins is the perfect cracker for it. Load on the goat cheese and top it off with a few tasty dried cranberries and you have yourself one delicious combo. If dried cranberries aren't your thing or you want to make the plate more colorful, you can try any dried fruit and chop it into smaller pieces.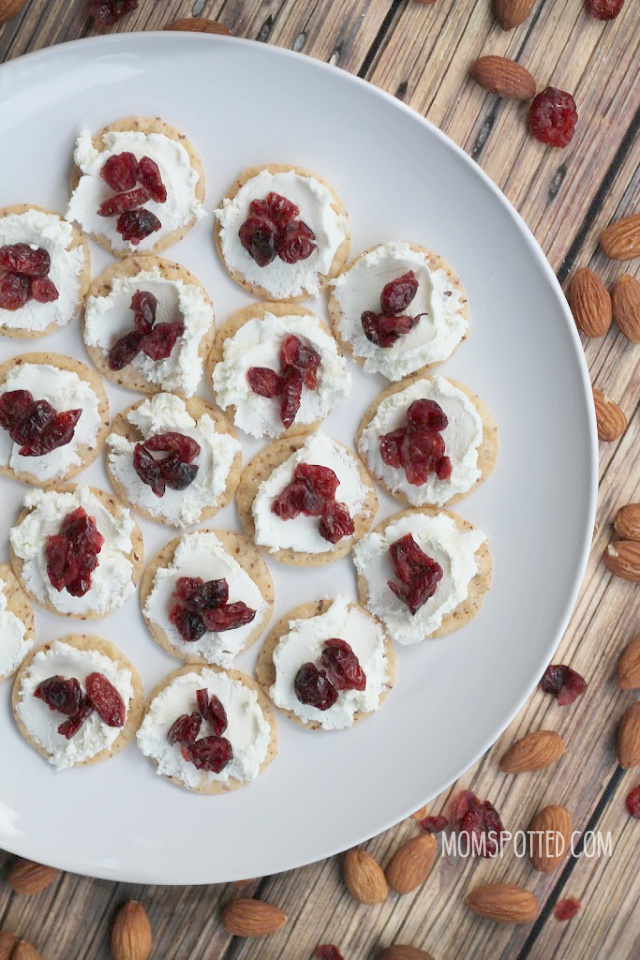 The most made bite size snacks around here are these Caprese snackers. I love anything Caprese, and so does Sawyer. The Original Almond Nut-Thins are a great matchup for these. If you put out a plate of these in front of a crowd, they'll go wild.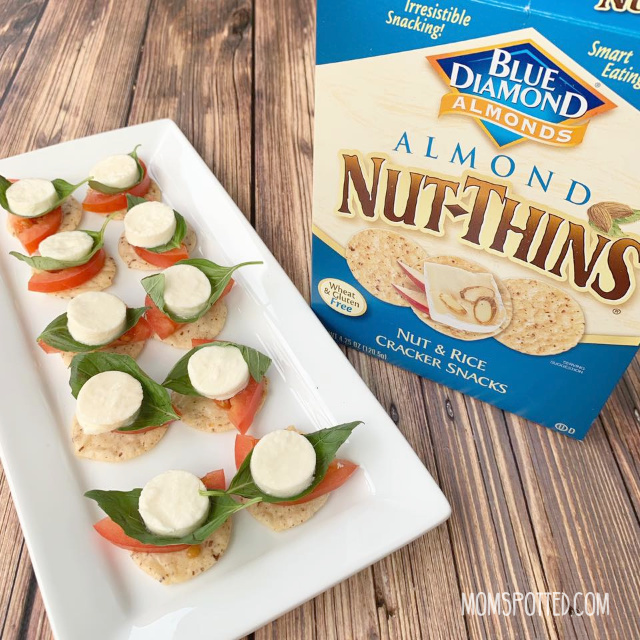 We use the large end of one of a cake frosting tip to punch the little mozzarella circles. Sawyer loves this part because he gets to eat all the cheese scraps. It's all about the bite sized snacks.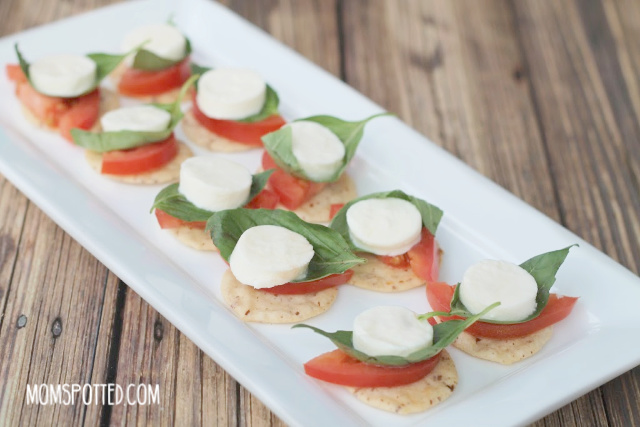 $100,000 SWEEPSTAKE
Enter for a chance to win $100,000 and other prizes throughout the summer through the Nut-Thins 2 Win Sweepstakes. You can click through the banner below to learn more about this Sweepstake.
The Nut-Thins 2 Win Sweepstakes will run from June 3rd – August 31st.
Sweepstakes Disclosure: For official rules, please visit NutThins2Win.com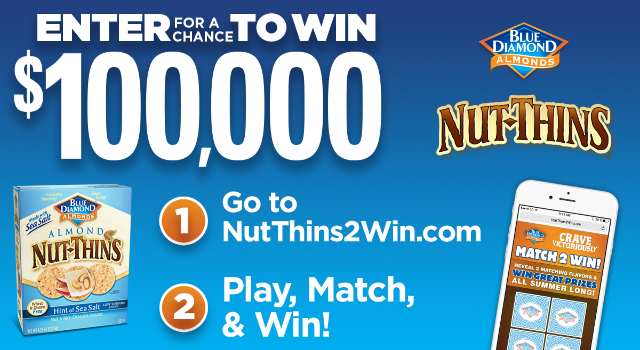 Next time you're walking through your local Walmart remember to grab a few boxes of Blue Diamond Nut-Thins. You should never have to compromise when it comes to snacking! Blue Diamond Nut-Thins can satisfy snack cravings by offering a wide range of cracker flavors that you can feel good about!