I like to spend some special one on one time with each of my kids. This summer has been the summer of Marvel with my ten-year-old son. I get his little sister to bed, and we stay up late watching a Marvel superhero movie. It has been so much fun, and when Marvel Studio's released "Captain Marvel" on Digital, Blu-ray, and 4K, we were both so excited. I hadn't seen it yet either, so it was new to both of us. This was Marvel's first female-led superhero movie, and Captain Marvel did not disappoint.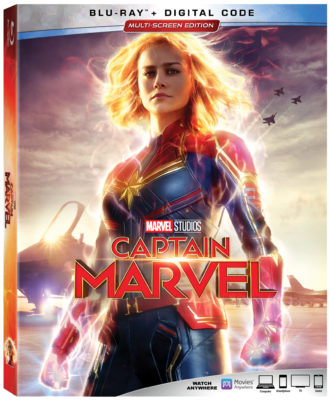 Captain Marvel was so captivating, exciting, and fun to watch. I love movies with women that are strong and kick butt. I hope Marvel Studios comes out with more female lead superhero movies. Nick Fury also makes an appearance in this movie, and together they must fight against the Skrulls.
Captain Marvel also comes with great bonus features. My son is always a big fan of the "gag reel" bonus feature but we also really liked the watching the bonus feature called "Becoming a Superhero." Brie Larson plays Captain Marvel, and it was so exciting watching her journey as she became a Marvel Super Hero. There is also a cat called Goose in Captain Marvel who is an alien. There is a whole bonus feature just about him! He was one of my son's favorite characters in the entire movie. Other bonus features include:
BONUS MATERIAL (may vary by retailer):

Blu-ray & Digital:

Alternate Movie Versions
Movie with Intro– An introduction by directors/screenwriters Anna Boden & Ryan Fleck.
Movie with Commentary– Commentary by directors/screenwriters Anna Boden & Ryan Fleck.
Featurettes:
Becoming a Super Hero– Follow Brie Larson's journey as she joins the MCU, and see what it takes to be a Marvel Super Hero in every sense of the word.
Big Hero Moment– Explore how impactful Captain Marvel's entrance into the MCU is, and how she inspires audiences around the world.
The Origin of Nick Fury– Witness some of the MCU's most significant events through Nick Fury's eyes, and see how his influence helped shape the MCU.
The Dream Team– Discover why Anna Boden & Ryan Fleck are the perfect pair to direct MarvelStudios' most powerful hero.
The Skrulls and the Kree– Take a deeper look into the Skrulls and the Kree, their ongoing conflict, and the importance of shifting perspectives in the film.
Hiss-sterical Cat-titude– The cast and crew dish on working with Goose and the raw talent it takes to portray such a complex character on-screen.
Deleted Scenes
"Who Do You Admire Above All Others?"– Kree Commander Yon-Rogg must answer to the Supreme Intelligence, who questions his leadership ability.
Starforce Recruits– Yon-Rogg lectures a roomful of students on the Kree's mission to defend all nations from the scourge of the Skrulls.
Heading to Torfa– Vers (Danvers) and her fellow Starforce members banter as they prepare for their rescue mission to Torfa.
"What, No Smile?"– In this alternate version of a scene from the movie, Vers is consulting a map when she receives a dubious offer of assistance.
Black Box– Keller attempts to track Vers and Fury after their escape in a quadjet from the Joint USAFA Facility.
Rookie Mistake– Novice S.H.I.E.L.D. agent Phil Coulson helps Director Keller out of an embarrassing situation.
Gag Reel– The fate of the universe hangs in the balance as the cast battles props, flubs and Flerkens in these outtakes from the set.

Digital Exclusives:

o   Journey into Visual Effects with Victoria Alonso – Experience how filmmakers' visions of the MCU come to life on-screen through the skill of the Visual Effects team.

What Makes a Memory: Inside the "Mind Frack"– What does it take to craft an action-packed sequence for a Marvel Studios film? Nothing short of an epic team effort!
Concept Art– Explore artwork from "Captain Marvel" and trace the visual development of characters.
On-Set Images– Uncover a trove of behind-the-scenes and production photography.
Marvel Studio's "Captian Marvel" on Digital, Blu-ray & 4K is such a great addition to the Marvel universe, and it's so great to see another strong woman join the Avengers. Your whole family of superheroes big and small will love Captian Marvel. You can find Captain Marvel now on Digital HD, Blu-ray, & 4K at Amazon, Walmart, and Target.
Right now (1) One Mom Spotted readers has the opportunity to win (1) Marvel Studios Captain Marvel Blu-ray.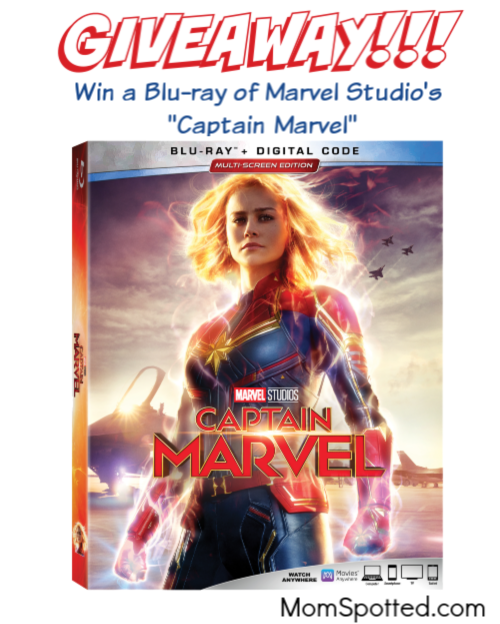 To enter, use the Rafflecopter form below. Good Luck!
Contest ends 8.5.19 at 11:59 pm. For Official Giveaway Rules click here. U.S. Residents only.