I love that Disney is making so many of the old classics that I grew up with into live action movies. It is so fun reintroducing a whole new generation to the nostalgic stories, characters, and songs that I was obsessed with as a kid. Dumbo was always one of my all time favorites. I played it so many times on VHS that the tape eventually broke. I would watch and rewatch the song "Baby of Mine." As soon as Disney's Live Action Dumbo came to theaters, I was there on opening weekend with my family to watch it. I fell in love with Dumbo the sweet, big-eared, high flying elephant all over again.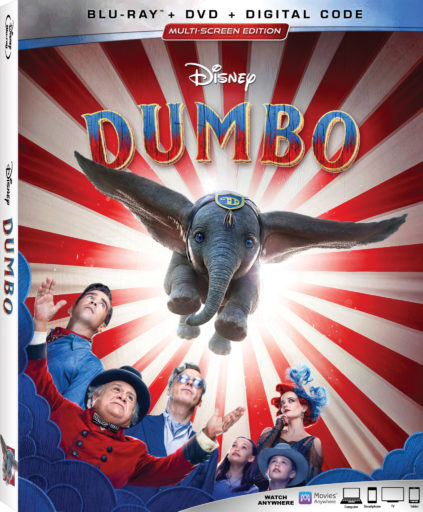 Disney's Live Action Dumbo, directed by Tim Burton, will be on Digital, Blu-ray & 4K June 25th. There were so many of my favorite moments included in this new live-action version while also a beautiful story of a family who takes care of newborn Dumbo.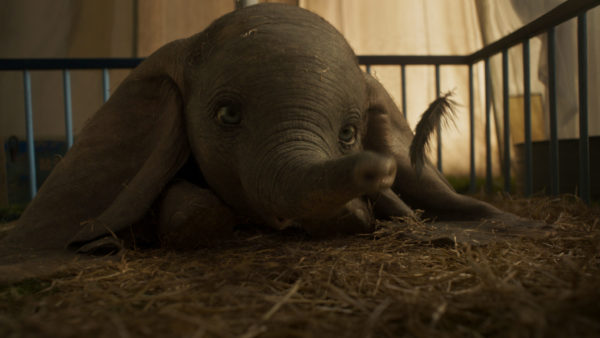 The circus has fallen on hard times until they discover that Dumb can fly with his oversized ears. Dumbo and the circus recruited a man named V.A. Vandervere for his theme park Dreamland.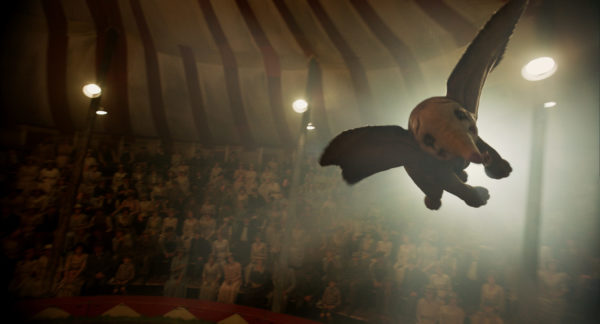 The bonus features are excellent. My kids always especially love bloopers and looking for the easter eggs. The bonus features include: 
BLU-RAY & DIGITAL HD:

CIRCUS SPECTACULARS: Dumbo's cast share their experience of making the film—and get to the heart of a story about family and believing in yourself.
THE ELEPHANT IN THE ROOM: Explore how one of Disney's most lovable characters went from an animated classic to a stunning live-action retelling.
BUILT TO AMAZE: Get a closer look at the film's production and costume design.
DELETED SCENES – A compelling collection of scenes that almost made the final film.

Roustabout Rufus
Pachyderm Plans
The Other Medici Brother
Monkey Business
A Star Is Born
Where's Dumbo
Elephant Heist
Backstage
A Seat at the Show

EASTER EGGS ON PARADE: Discover the hidden and not-so-hidden nods to the animated Dumbo in this narrated tribute to the Disney classic.
CLOWNING AROUND: Laugh along with the cast in a collection of big-top bloopers and goofs from the set.
"BABY MINE" – Visual video performed by Arcade Fire

DIGITAL EXCLUSIVE:

DREAMLAND – ANATOMY OF A SCENE: From Final Script to Final Scene – The filmmakers and cast talk a lot about the feeling of "grand intimacy" in the film.

 

Step right up as they bring the Dreamland parade to life, accomplishing the rare marriage of a massive spectacle combined with an emotional tenderness.
Disney's Live Action Dumbo on Digital, Blu-ray & 4K June 25th has so many nods to some of my favorite parts in the classic film while also adding a new twist that your family will love. It is a great movie to enjoy with your family this summer. You can find Dumbo now on Digital HD, Blu-ray, & 4K on June 25th at Amazon, Walmart, and Target.
Right now (5) FIVE Mom Spotted readers has the opportunity to win (1) Digital Code of
Disney's Live Action Adventure Dumbo.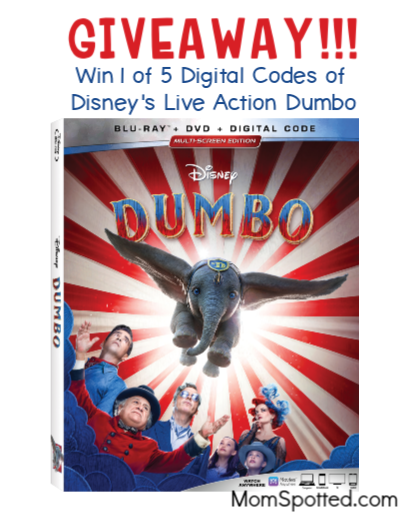 To enter use the Rafflecopter form below. Good Luck!
Contest ends 7.8.19 at 11:59 pm. For Official Giveaway Rules click here. U.S. Residents only.