My little girl loves all things that are pink, have ruffles, or glitter. She is constantly playing dress up and loves pretending with her dolls. We were both so excited when Fancy Nancy came to Disney Jr. Nancy also loves anything that is glittery and fancy like my little girl, so they are a match made in heaven. Now Disney has released Fancy Nancy Vol 1 on DVD so we can watch our favorite girl Nancy whenever we want.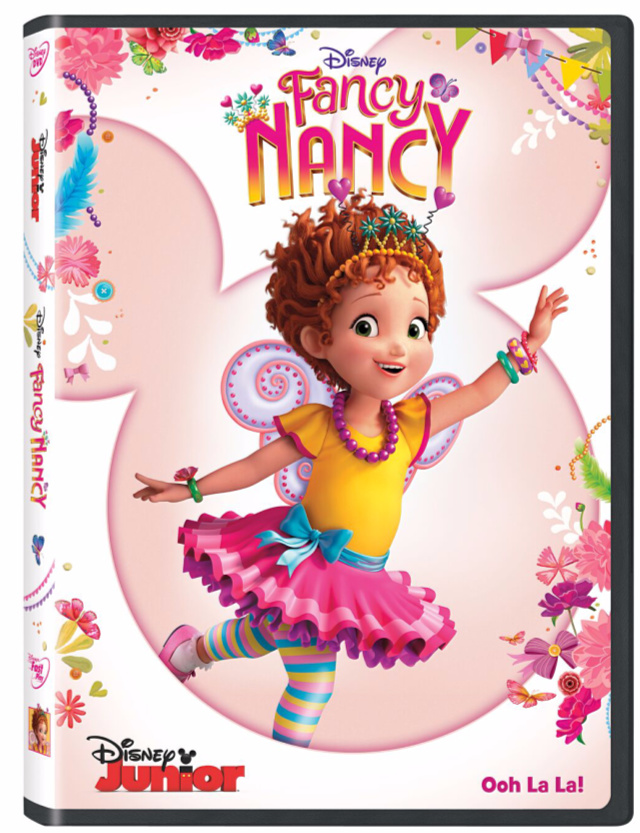 Nancy is able to turn anything that is bland into chic or boring into fabulous. Nancy loves all things that are fabulous or French and has such an amazing imagination. She also has such a positive and optimistic view of life. Nancy is my daughter's absolute favorite. For Halloween, my daughter even dressed up as Nancy for school. All she needed was a pink "twirly" skirt, lots of necklaces, rings, and a crown.
Fancy Nancy Vol 1 adds original songs to some of our favorite stories. My daughter's favorite part is whenever Nancy uses fancy words like "ooh la la," "dazzling," "Voilà!," or "Merci." I love that Nancy helps teach her so many new words. It is so funny hearing "fancy french words" come out of her when she's describing dinner as "fantastique." Enjoy this video clip of Nancy teaching some fancy French words:
Fancy Nancy Vol 1 includes six 22 minute episodes. They are:
Chez Nancy/School de Fancy
Tea Party Trouble/Bonjour Butterfly
Nancy's Ooh La La Spa/Nancy Goes to Work
Nancy Versus Dudley/Nancy Makes her Mark
Nancy's Devine Sleepover/Nancy's Sacrebleu Fondue
Nancy's Dog Show Disaster/The Case of the Disappearing Doll
I think my daughter's favorite is Tea Party Trouble and Bonjour Butterfly. We also have the Tea Party Trouble book so she likes to have her book while we watch that one. She also really loves Nancy's Dog Show Disaster.
Fancy Nancy Vol 1 on DVD is a great show for all of your fancy kiddos and would make such a great stocking stuffer or holiday gift this year.
You can find Disney's Fancy Nancy Vol 1 DVD at Amazon, Target, and Walmart.