I can't wait to celebrate dad this Father's day! We just wrapped up Mother's Day and he did such a great job making sure my day was special and I want to do the same back for him. My hubby is a great dad and a great example for my boys. We are so lucky to have him and while I know he knows how loved he is; we want him to feel extra special on Father's Day.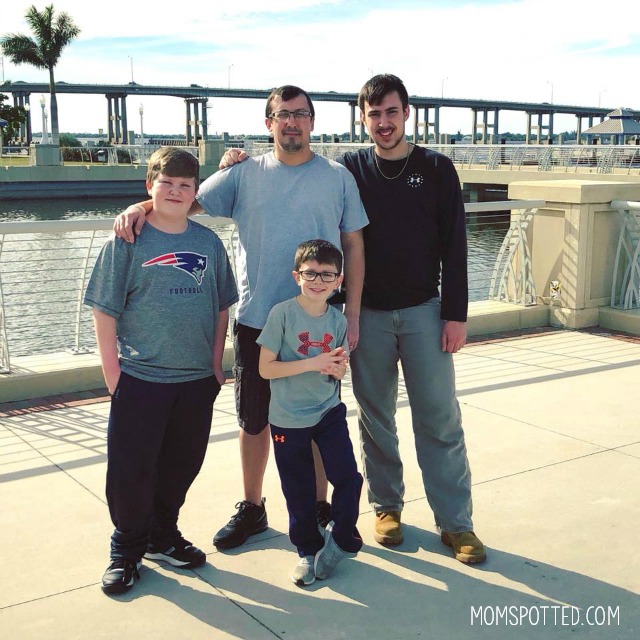 I have a love for pictures so I'm always making everyone wait for me while I take one last shot or annoy everyone because I just want one more photo with so and so together. Sometimes the struggle is real but in the end, I have so many great photos that I'm glad I took them.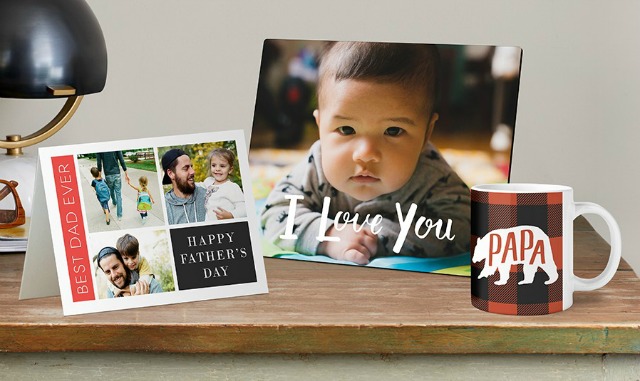 The best part of taking so many photos of everyone is that I can use them to make special gifts personal to everyone in our family. Snapfish is a great place to make all your personal keepsakes. You can even order prints and have them printed right at your local CVS, Walgreens, and Walmart for super fast pick up.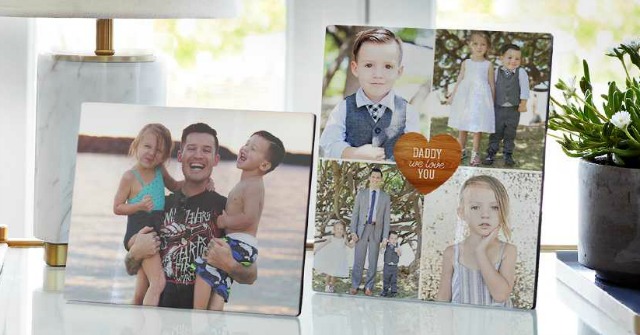 We've traveled a lot recently and I have some really great recent photos of all the boys' thanks to all of my obnoxiousness. I wanted to put them to good use and this tabletop photo panel was a great way to make a gift we could display too. I chose the 8×10 size and then picked one of the blue airy arrows backgrounds and placed my photos. It was that easy. It came with an easel back so I can display it in any direction and I can hang it from those slots if needed. Now we can celebrate dad all year with this great panel.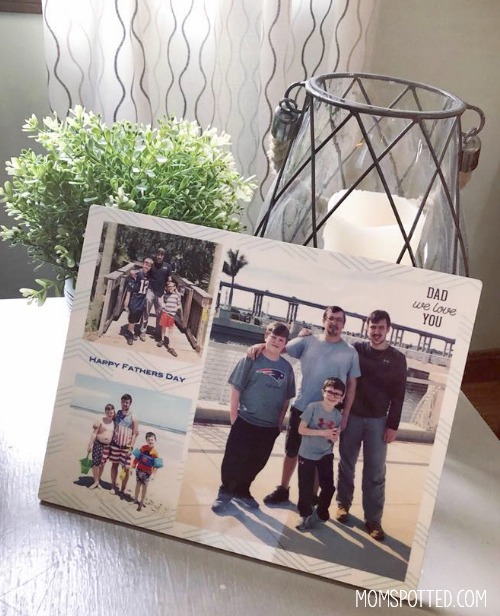 I also made him a custom photo mousepad he can take to work with him. We make him a personalized calendar for his office so I know he'll love adding this.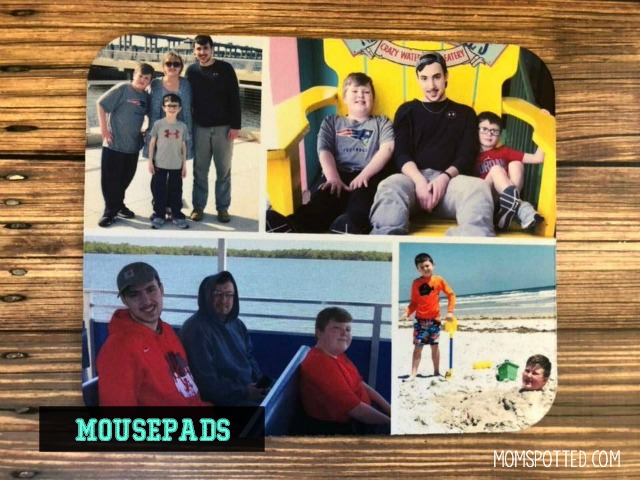 On our most recent trip, we went and visited all my family that lives down in Daytona. The boys loved being able to see their great-grandparents, and especially, their cousins. I wanted to have something they could see often that would remind them of the family they can't often see and these photo magnets were great.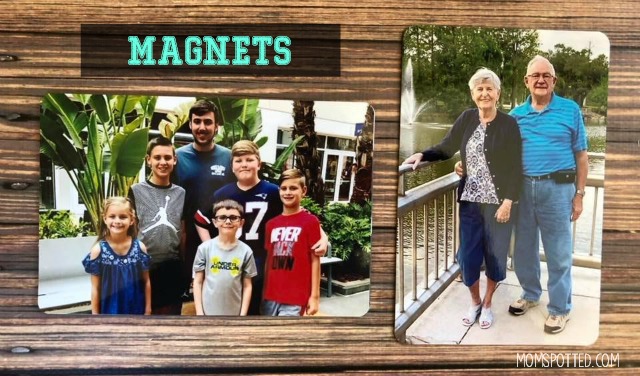 We stayed with my Dad who lives down there part-time and returned back north when we did. I made this glass cutting board with many of the photos of all of us together. He loves to cook and be in the kitchen and I loved how the bold colors of this painted background made it a great way to display them all when not in use.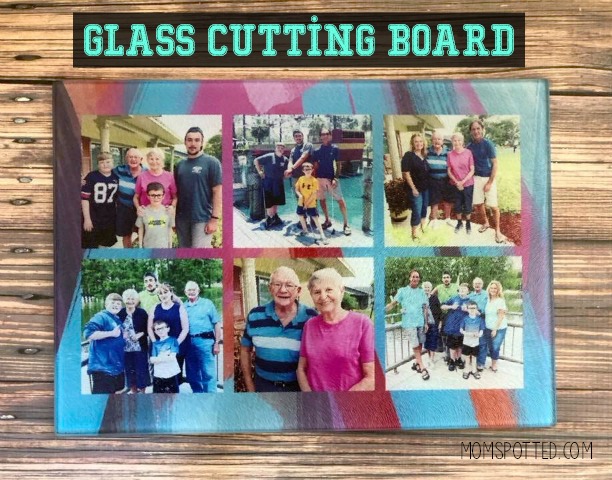 This was a gift I really wasn't sure about. I've never used a glass cutting board but I know my dad has a couple. I wasn't sure how the photos would transfer over but as you can see it came out so pretty! I think I might even need to make one for my grandparents down south now too! I know my dad is going to love receiving this on Father's Day this year!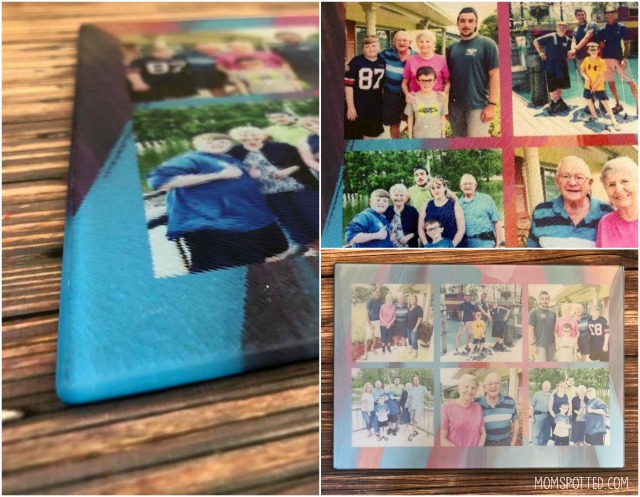 Snapfish has so many great personalized photo gift ideas for you to choose from that I really struggled to narrow it down. I almost made one of their great canvas print options. I just love the idea of using one of his favorite quotes! In the past, we've made him a photo book that included all our favorite photos of the boys growing up together with him in them. In today's digital age we often don't print out many of our photos like we once did. I love making photo books as a way to save all my favorites. You can personalize them and set them up by following Snapfish's simple three steps.
Head on over and check out all the great personalized photo gifts you can make at Snapfish to celebrate dad and take 40% off sitewide through 6/30/18 by using the discount code GIFT4DAD at checkout.