This winter has been so brutal! It has been such a hard winter for colds and coughs. It seems like someone is always sick. The cold weather is a serious downer, and my family has terrible cabin fever. To survive the rest of this winter I have been treating myself to a little self-care every night. After I get my kids to bed it is so nice to read a good book or take a bath. Soap & Paper Factory has been essential in my new routine of self-care at night. They have a new Block Party Collection that smells amazing and has been so great for my dry winter skin.
The new Block Party Collection includes soaps, hand creams and bath bombs that are inspired by cocktails. There are three new scents, Muddle Peppermint, Vanilla Bourbon and Orange Bitter Pomegranate.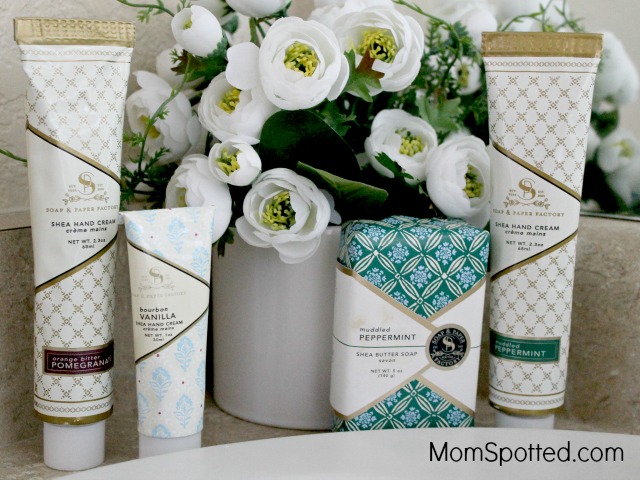 I have the Boxed Hand Cream in Muddle Peppermint and Orange Bitter Pomegranate. The Muddle Peppermint has been so great as I have been fighting a constant cold. It feels so great on my hands and I will also rub it on my neck to smell the peppermint. The Muddle Shea Butter Soap Bar also keeps my hands so soft. I wash my hands a lot and I love to use this soap. My hands are clean but aren't getting dried out. My kids will come into my bathroom just to use the Muddled Peppermint Shea Butter Soap Bar.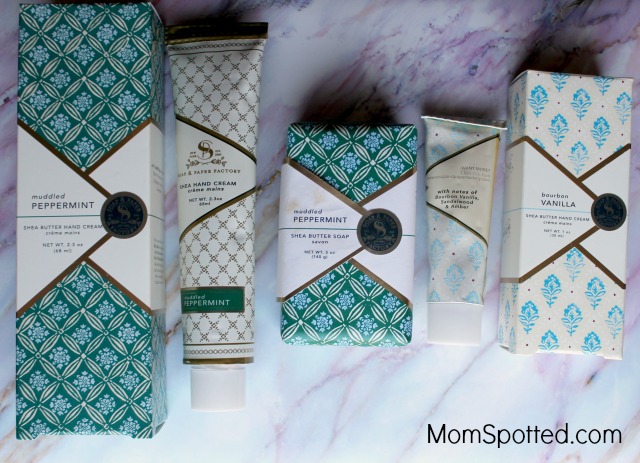 The Petite Boxed Hand Cream is the perfect size to keep in my car or to throw into my purse. My daughter also really struggles with dry hands. It has been so hard to find a good lotion to take on the go that she likes. She loves the Vanilla Bourbon Petite Boxed Hand Cream. She thinks it smells "fancy" and it leaves her hands immediately softer.
My favorite scent has to be the Orange Bitter Pomegranate. It smells so fresh with a hint of floral. I constantly move it around the house because I can't get enough of it. It is my go to hand lotion when I am reading my favorite book at night before I go to bed. I love that all of the Soap & Paper Factory hand creams don't leave my hands greasy. The oils and shea butter quickly absorb into my skin and all leave a sweet smell.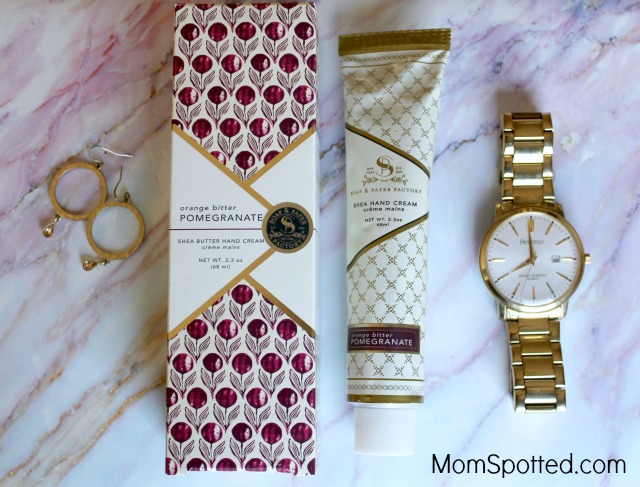 The packaging is also so gorgeous! My friend has a birthday coming up and I plan on giving her some Soap & Paper Factory Hand Cream and a Soap Bar. The packaging is so beautiful it doesn't even need to be wrapped. Tie some pretty ribbon or bakers twine around it and it makes the perfect gift.
I know Spring is well on the way but until then treat yourself to the new Block Party Collection from Soap & Paper Company. It retails between $8-$18 and you can find it on the Soap & Paper Company website.
SaveSave
SaveSave
SaveSave