My family has the tradition that every Thanksgiving we go watch the newest Disney movie that has been released. We have kept this tradition going 4 years now and this past year's movie was probably my favorite. Disney Pixar's "Coco" was immediately loved by every member of my family. I am not typically a big movie crier, but "Coco" hit me right in all the feels. I laughed, fell in love with the music, adored the characters, and cried not just at one part but multiple. Disney Pixar's "Coco" is now available on Digital HD, 4K Ultra HD, and Disney Movies Anywhere. You can grab your own copy of "Coco" on 4K Ultra HD and Blu-ray on February 27th. My kids have been watching it on repeat nonstop and have loved watching it at home.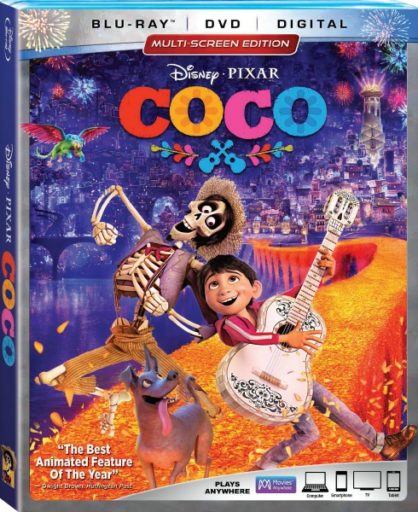 "Coco" is about a darling 12-year-old boy named Miguel. He dreams of being a musician and has an exciting adventure in the land of his ancestors to prove his talent. This movie is all about family and the bonds that hold us together. It is such a visually stunning movie to watch. The animation is absolutely amazing, and every time I watch it I notice something different in the land of the ancestors. I also learned so much about Día de los Muertos in Mexico and all of the wonderful traditions around the holiday.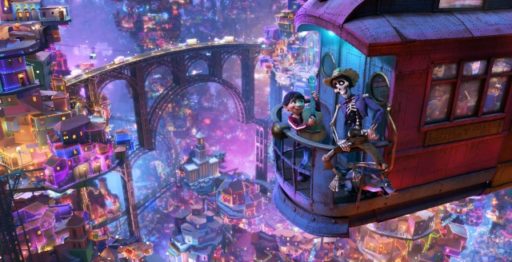 Disney Pixar's "Coco" won a 2018 Golden Globe Aware for Animated Motion Picture, topped the domestic box office Thanksgiving holiday weekend, became the highest grossing film of all time in Mexico, broke records in China and earned widespread praise, receiving 96 percent from critics and 97 percent from audiences on Rotten Tomatoes. I honestly don't know anyone who doesn't love this movie.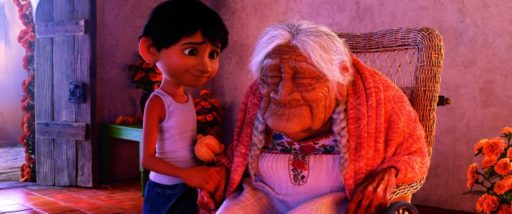 The music in "Coco" is fantastic and my kids ask to listen to the soundtrack regularly. Their favorites songs are "Remember Me," and "Un Poco Loco." The bonus features explore the essential role of music in "Coco" which they considered making the movie a full musical at one point. Enjoy this clip from the bonus features "Día de los Muertos."
The Blu-ray & Digital is packed with even more great bonus features. The bonus features include:
Deleted Scenes with Introductions – Director Lee Unkrich and co-director Adrian Molina talk about the deleted scenes and the part they played in the development of "Coco."

Día de los Muertos – In this musical extravaganza, the colors and excitement of Día de los Muertos come to life as we meet superstar Ernesto de la Cruz.
The Way of the Riveras – A musical number in which Abuelita and Miguel prepare their Día de los Muertos celebration while she teaches him Rivera family history and traditions.
Celebrity Tour – Héctor, a Land of the Dead tour bus guide, agrees to help Miguel, revealed to be a living boy, on his quest to find de la Cruz.
The Bus Escape – The Rivera family catches up to Miguel and Héctor and attempts to halt their mission to find de la Cruz.
Alebrije Attack – Miguel and Héctor are interrupted on their journey to find de la Cruz by a fierce alebrije.
The Family Fix – After de la Cruz reveals his true colors, the Rivera family puts their dismay aside and comes together to repair the smashed guitar needed to send Miguel home.
To the Bridge – As the Land of the Dead counts down to the end of Día de los Muertos, Miguel and de la Cruz come head-to-head on the marigold bridge.

Filmmaker Commentary – Presented by Lee Unkrich (director), Adrian Molina (co-director) and Darla K. Anderson (producer).
The Music of "Coco" – Collaborating with musicians of Mexico and some unique instrumentation, this documentary explores the beautiful fusion of music essential to the story of "Coco."
Paths to Pixar: "Coco" – Explore how the film crew's personal stories resonate with the themes of the movie itself.
Welcome to the Fiesta – A musical exploration of the skeletons that make the Land of the Dead in "Coco" so wondrous and intriguing.
How to Draw a Skeleton – Pixar artist Daniel Arriaga gives a lesson on the quick and easy way to draw skeletons using simple shapes.
A Thousand Pictures a Day – Join the "Coco" crew on an immersive travelogue through Mexico, visiting families, artisans, cemeteries, and small villages during the Día de los Muertos holiday.
Mi Familia – Developing the Riveras was a labor of love that took the cast and crew on a deep dive into the meaning of family.
Land of Our Ancestors – Watch Pixar artists lovingly construct layer upon layer of architecture from many eras of Mexican history, bringing the Land of the Dead to life.
Fashion Through the Ages – The cast of characters in "Coco" are from many different eras, making for some magnificent costuming opportunities.
The Real Guitar – The majestic guitar that spurs Miguel on his journey through the Land of the Dead is a unique creation. Watch as it is initially designed by a Pixar artist and ultimately realized as a real instrument by a master luthier in this poetic ode to craftsmanship.
Dante – How the crew fell in love with the uniquely Mexican breed of Xoloitzcuintli (or "Xolo") dogs that inspired Dante.
How to Make Papel Picado – Join Pixar artist Ana Ramírez González as we learn how papel picado is made traditionally, and then try your own approach to this beautiful art form.
Un Poco "Coco" – A montage of original animated pieces used to promote "Coco."
"Coco Trailers" – Trailers include "Feeling," "Dante's Lunch," "Destiny," "Journey" and "Belong."

DVD bonus features:

Filmmaker Commentary
Dante
We have a few favorite bonus features. First we love the dog Dante and learning about what inspired his character. That cute but also kind of homely dog is one of my kids favorite characters. I also really loved the deleted scene "The Way of the Riveras."
Disney Pixar's "Coco" is such a brilliant movie. It is a great family night movie. Have the tissues close by, and be ready to laugh and cry. You can find "Coco" now on Digital HD or on Disney Movies Anywhere. On February 27th you can purchase it on Blu-ray, and DVD at Amazon, Walmart, and Target.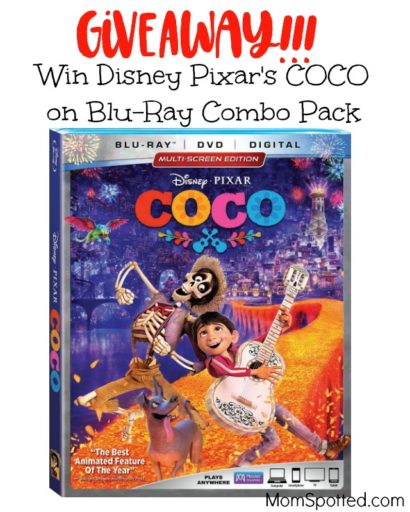 Right now (1) Mom Spotted reader has the opportunity to win (1) Disney Pixar's "COCO" on Blu-ray combo pack.
To enter use the Rafflecopter form below. Good Luck!
Contest ends 3.12.18 at 11:59 pm. For Official Giveaway Rules click here. U.S. Residents only.
SaveSave
SaveSave