When my son Hayden was little he would play with cars for hours. I feel like at least half of his toddler years were us laying on the floor racing around Lightening McQueen, Doc, and Mater. We watched Cars over and over together. Cars have special memories for both of us and when Cars 3 was announced we were both so excited. As soon as it hit theaters we went as a family to see it. We all loved it just as much as the first one. It was so much fun laughing with all of our favorite characters and I loved having another "Cars moment," with Hayden. Disney Pixar's Cars 3 is now on Blu-ray 4K Ultra HD & Blu-ray to add to our collection at home so we can enjoy it over and over together.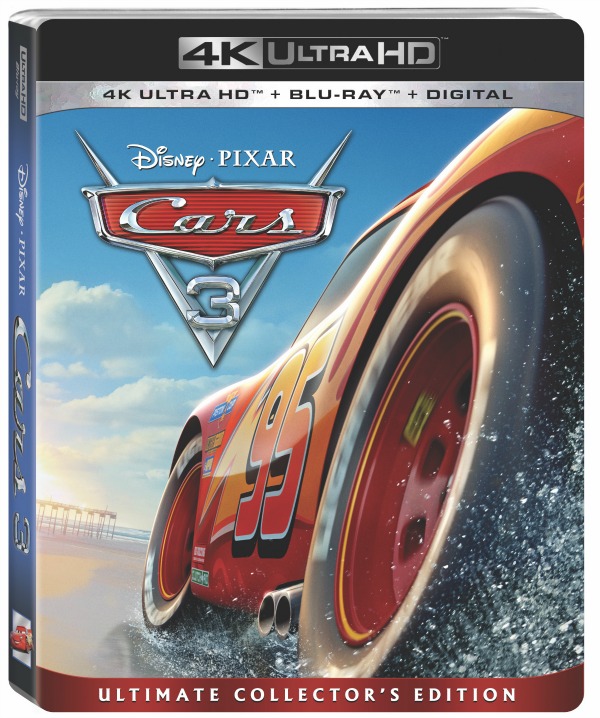 In Cars 3 Lightning McQueen has been the number one racer for a few years now and is slowly being pushed out of racing by younger faster cars. Lightening has a new trainer Cruz Ramirez. She is feisty and determined to help him find where he belongs in racing.
Lightening and Cruz are a great team and they are so fun to watch together. My son is still a super loyal Lightening McQueen fan and my daughter Halli instantly fell in love with Cruz. It was also fun seeing some of our old favorites like Sally and Mater.
Cars 3 is just as exciting, heartfelt, and hilarious as the original Cars. Cars fans of all ages will love this new movie and the 4K Ultra HD format is so amazing to watch. The next-generation viewing format with four times the resolution of HD and exceptional high dynamic range (HDR), resulting in brilliant highlights, vibrant colors and greater contrast on compatible displays than ever before.
There are also really amazing bonus features and extras also included with the Cars 3 blu-ray, including an exclusive new mini-movie, "Miss Fritter's Racing Skoool," taught by the queen of the Crazy 8. One of my kid's favorite extra features are always the extra mini-movies. There are also deleted scenes, a behind-the-scenes access to the story team who crafted Lightning McQueen's third chapter and more. Other bonus features include:
Blu-ray & Digital:

Miss Fritter's Racing Skoool (Exclusive new mini-movie) – Enjoy blindsided testimonials from the Crazy 8's, touting the transformative impact Miss Fritter's Racing School has had in reshaping the direction of their lives
Theatrical Short: "Lou" – When a toy-stealing bully ruins recess for a playground full of kids, only one thing stands in his way: the "Lost and Found" box.
Let's. Get. Crazy. – Get schooled in the world of demolition derby, the "rules" of figure 8 racing, and how Pixar puts the crazy in the Thunder Hollow Crazy 8 race. This piece is hosted by Lea DeLaria.
Legendary – a close, historical look at the racing legends Wendell Scott and Louise Smith, whose tenacity and perseverance got them into the race even when they weren't invited.
Ready for the Race – Disney Channel's Olivia Rodrigo and NASCAR Racer William Byron check out the Hendrick Motorsports campus to showcase how real-world race training influenced the filmmakers. 
World's Fastest Billboard – Blink and you will miss all of the graphics and "car-ified" advertisements created by Pixar's Art team to make the "Cars 3" world as believable as possible.
Cruz Ramirez: The Yellow Car That Could – Join Cristela Alonzo and the filmmakers on their journey to create a race-car trainer turned champion racer.
Generations: The Story of "Cars 3" – For the story team, creating Lightning McQueen's next chapter didn't involve just a tune-up, but a complete overhaul.  
My First Car – A collection of illustrated first-car stories as narrated by members of the "Cars 3" cast and crew. "A Green Car on the Red Carpet with Kerry Washington," "Old Blue," and "Still in the Family."
5 Deleted Scenes – Each deleted scene is set up with an introduction as to why it was removed from the film. Deleted scenes include "The Boogie Woogie," "The Jars of Dirt," "Lugnut," "The Bolt," and "More Than New Paint."
Cars To Die(cast) For – Take a look at the phenomenon of die-cast toy collecting and the more than 1,000 unique designs that exist in the Cars universe.
Commentary – Brian Fee (Director), Kevin Reher (Producer), Andrea Warren (Co-Producer) and Jay Ward (Creative Director)
And more…

DVD:

Theatrical Short: "Lou" & "Commentary"

#95 by the #s in "Cars 3"

5 – As "Cars 3" gets underway, world-champion racer Lightning McQueen is riding high with five Piston-Cup wins under his hood.
11 – Lightning McQueen raced into moviegoers' hearts 11 years ago—making his rookie debut in "Cars" in March 2006—and remains an iconic character today.
24 – The dramatic, slow-motion crash scene in which Lightning McQueen hits a wall and rolls several times takes 24 seconds.
95 – Lightning McQueen still sports the dynamic #95 with his signature lightning-bolt graphics. He displays five distinct looks in "Cars 3," including one that pays homage to his original paint, a primer look he gets following the devastating crash, a custom wrap ordered by Sterling, and more.
198 – Lightning McQueen tops out at a speed of 198 miles per hour on his last lap with Cruz Ramirez on Fireball Beach. But Lightning's nemesis—next-gen racer Jackson Storm—races at speeds pushing 207 mph.
My favorite extra is always the Easter Eggs. I love finding all the little hidden things from other movies or little Mickey ears.
You can have even more Cars fun and keep your engine running with some delicious Cars 3 recipes. Just click the picture below.
Cars 3 would be such a fun stocking stuffer this holiday season or a great family gift to add to your collection. You can find Disney Pixar's Cars 3 at Amazon, Walmart, and Target.