There are a few movies that my entire family loves. Despicable Me is always one of our top choices when we have a family movie night. So when Despicable Me 3 was coming to theaters I knew we had to see it! I love Gru's darling family and my kids love those silly minions. Despicable Me 3 did not disappoint. We were all laughing the entire movie. Despicable Me 3 is now available on Blu-ray, DVD, and On Demand. I am so excited to add it to our collection. I am sure it will quickly make its way into our movie night rotation.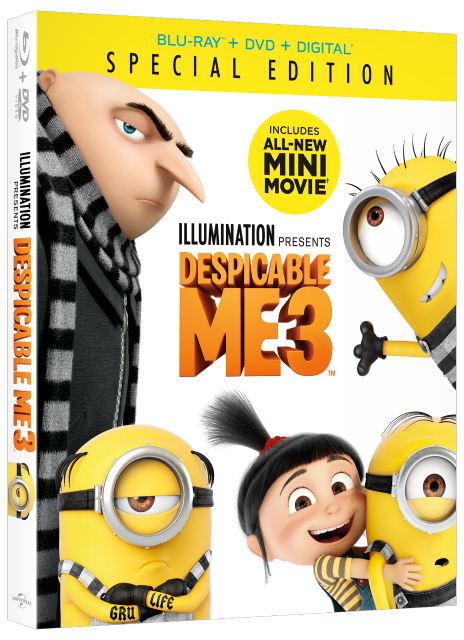 Despicable Me 3 follows the adventures of Gru after he has been fired from the Anti-Villan League for failing to take down Balthazar Bratt. The villain Balthazar Bratt is stuck in the 80's might be my favorite Despicable Me Villan yet. He gave me so many flashbacks of all my 80's favorites.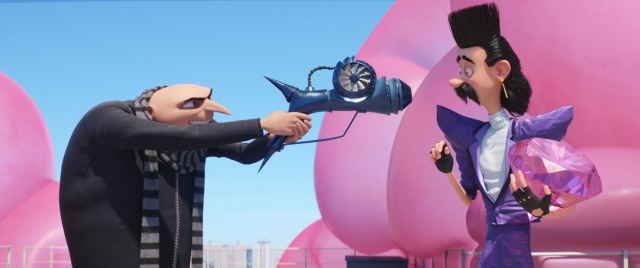 Gru meets also meets a stranger who lets him know that he has a twin brother! Gru's long-lost brother Dru wants to follow in Gru's despicable footsteps. Gru and Dru are both voiced by the amazing Steve Carell. These two twins are such a hilarious duo.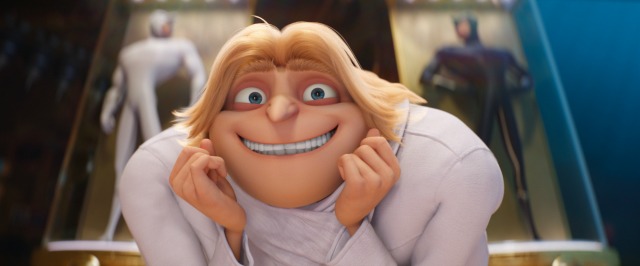 The 4K Ultra HD, Blu-ray, DVD and Digital combo pack will have all the bonus features on the Blu-ray disc as well as some exclusive bonus features. The bonus features include:
All-New Mini Movie — The Secret Life of Kyle
Minion Moments — Watch the Minions cause more hilarious mayhem with Gru
Deleted Scene — With intro by Dana Gaier, the voice of Edith
Character Profiles — The inside scoop on the most popular characters, from the actors who play them
The Making of Despicable Me 3 — A behind-the-scenes look at the making of the movie
Developing Dru — Behind the scenes character development of Dru
The AVL Files — Through the lens of the Anti-Villain League's hi-tech database, this ultra secret, interactive surveillance briefing showcases all of the agency's amazing creations and top agents
Freedonia Visitors Guide — Welcome to Freedonia! See all that the town has to offer with this interactive map. From its world class cheese, to its beautiful coastline, Freedonia has it all!
Despicable Me TV — Tune in for some fabulous fun with these Despicable Me 3 infomercials. Includes "Balthazar Bratt Action Figure," "Bad Boy Bod by Balthazar Bratt" and "Agnes' Super Cute, Incredibly Amazing Toy Sale."
"Doowit" Sing-Along — Sing along with Pharrell Williams as the Minions plot their escape from prison
"Yellow Light" Music Video — Official music video by Pharrell Williams
Minion Mugshots — The Minions add to the long list of celebrity mugshots in their very own "rogues gallery."
Wanted Posters — Have you seen these Minions wanted for various crimes?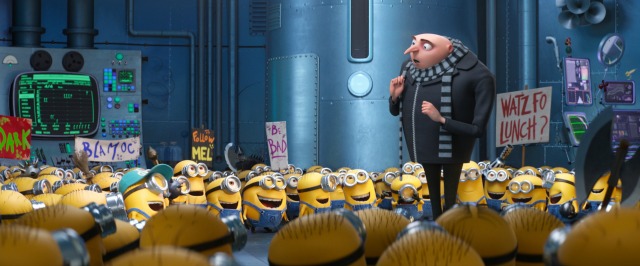 My kids especially always love the mini-movies. Enjoy this clip of the mini-movie bonus feature "The Secret Life of Kyle."
Despicable Me 3 is such a great family movie. It would make such a great stocking stuffer or a gift to find wrapped under the tree. You can find Despicable Me 3 4K Ultra HD, Blu-ray, DVD and Digital combo pack at Amazon, Walmart, and Target.