My kids love hands-on STEM type toys. My 9-year-old son Hayden is a huge science fan and is continuously reading science books to learn new things. Currently, he is reading books about space and germs. He loves telling me new facts he has read or learned at school. It can be tricky finding toys that will encourage my kid's curiosity. My First Lab has so many incredible budget-friendly microscopes that are expertly built for your little scientists. I was especially impressed by the My First Lab WOW Scope.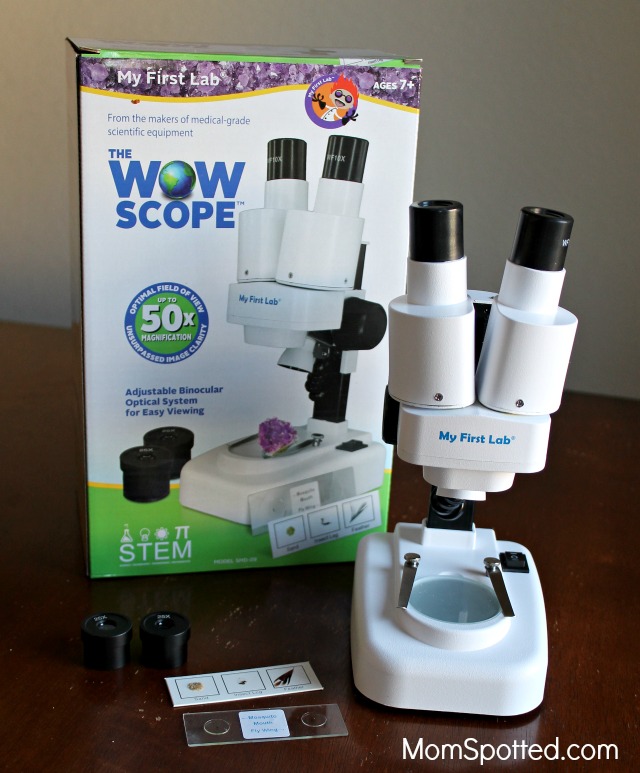 The WOW Scope won the 2016 Creative Child Product of the Year Award and is the best microscope for 3D objects. I loved this microscope because it is an excellent microscope for Hayden but also my preschool daughter Halli. This microscope views almost any 3D object. My kids have sat around the WOW scope for hours examining everything they can. I constantly hear "WOW!" or "Look at this!" while they are playing. Then I listen to them quickly run from room to room finding more things to examine.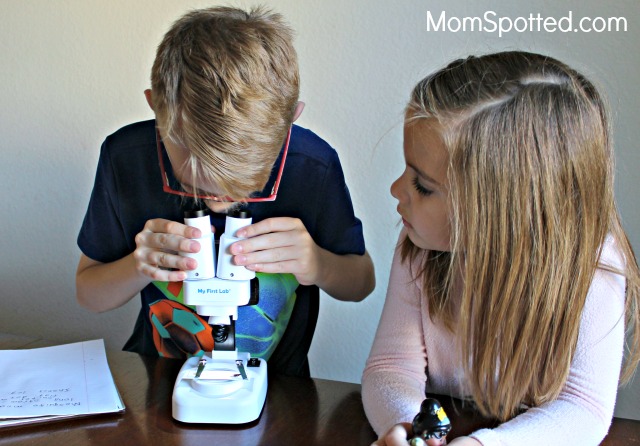 The WOW Scope is so durable and well made. It is easy to use, and it has interchangeable eyepieces that allow 20X and 50X total magnification. The top and bottom duo-LED illumination can be used for solid objects or prepared slides. Hayden is obsessed with the prepared slides. It has been the first thing he pulls out when he has friends come over to play. The WOW Scope includes five specimens, it has its slide carrying case, and experiment guide. Hayden has even started taking notes for all of his discoveries and observations. For example, he was so amazed to see that the insect leg was hairy!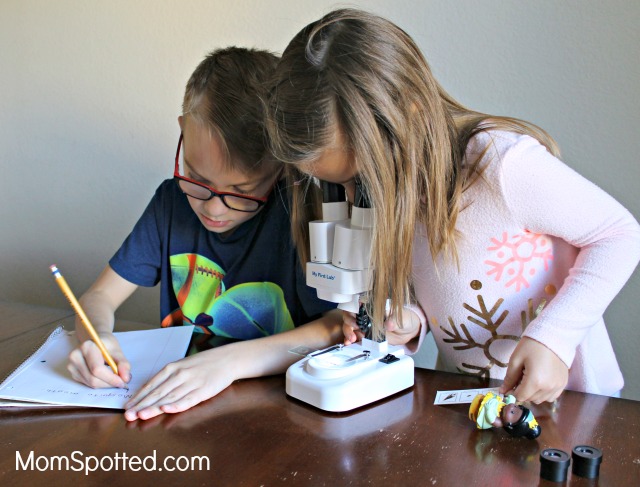 If you are looking for a great stocking stuffer, the Smartphone Inspector can quickly turn your phone into an on-the-go microscope. The Smartphone Inspector is compact, lightweight and comes with its little bag to take with you where ever you go.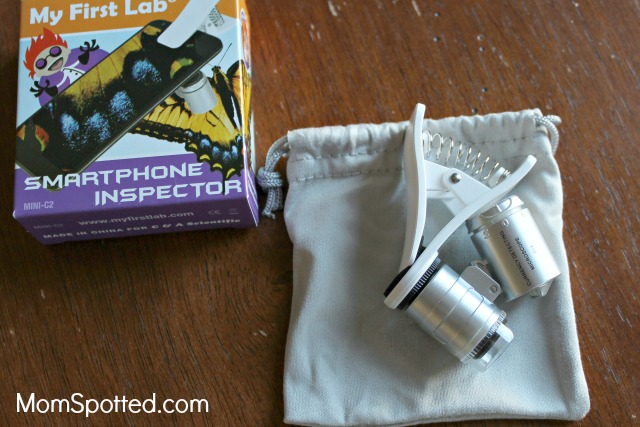 It easily clips on to your phone and turns the camera into a high-resolution digital microscope. The Smartphone Inspector features 60X magnification, giving incredible clarity on everyday items kids encounter. Hayden especially loves this little microscope and requests to take it everywhere! It is the perfect size to fit in the stocking of you older kids, teen, or even Dad.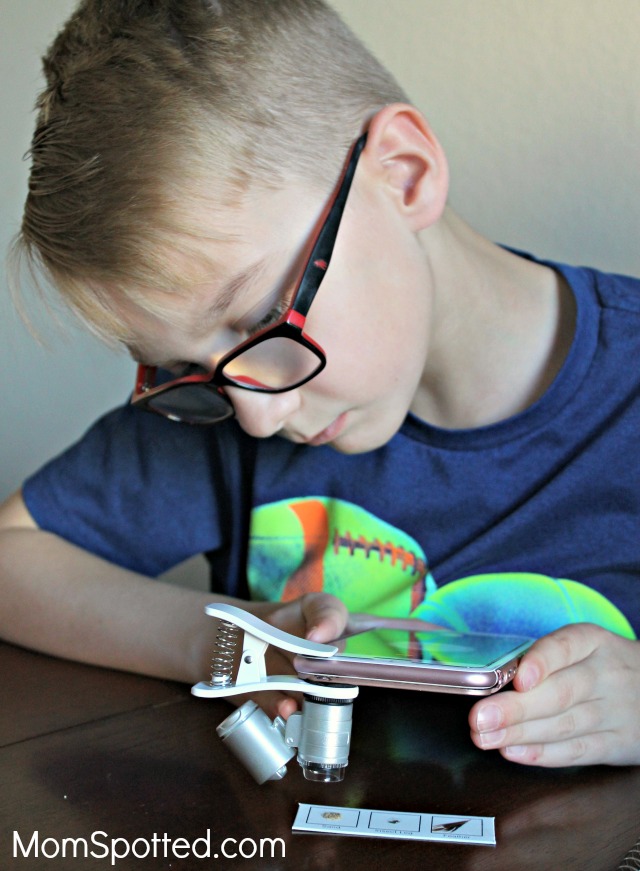 My First Lab has so many great microscopes for kids(or grown-ups). They are such high quality, budget friendly and a great investment. You can encourage your kid's love of science with the WOW scope or the Smartphone Inspector. They will love sitting and examining the world around them.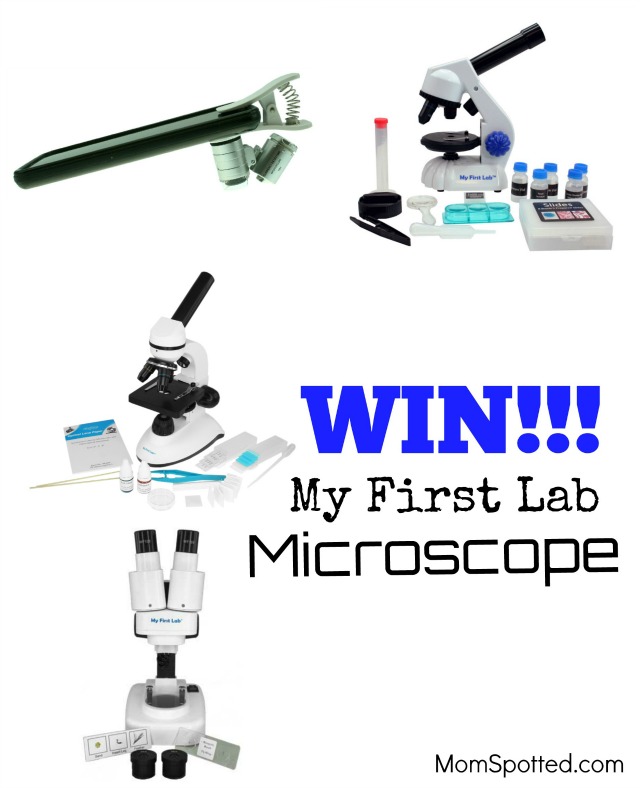 Right now (1) Mom Spotted reader has the opportunity to win (1) microscope of their choosing, the Duo-Scope Starter Kit, Duo-Scope, My First Lab WOW Scope, or Smartphone Inspector.
To enter use the Rafflecopter form below. Good Luck!
Contest ends 11.27.17 at 11:59 pm. For Official Giveaway Rules click here. U.S. Residents only.