It is so fun watching my kids grow and learn new things. One of the best ways that children learn is just through play! Watching my kids master new skills by playing, like stacking blocks into a tower, sorting blocks, matching big block puzzles, or turning pages in a book. HOOT for Kids! curates customize treasure boxes specifically for your child! They are specialized by your child's age and their developmental learning needs so they can continue learning through play.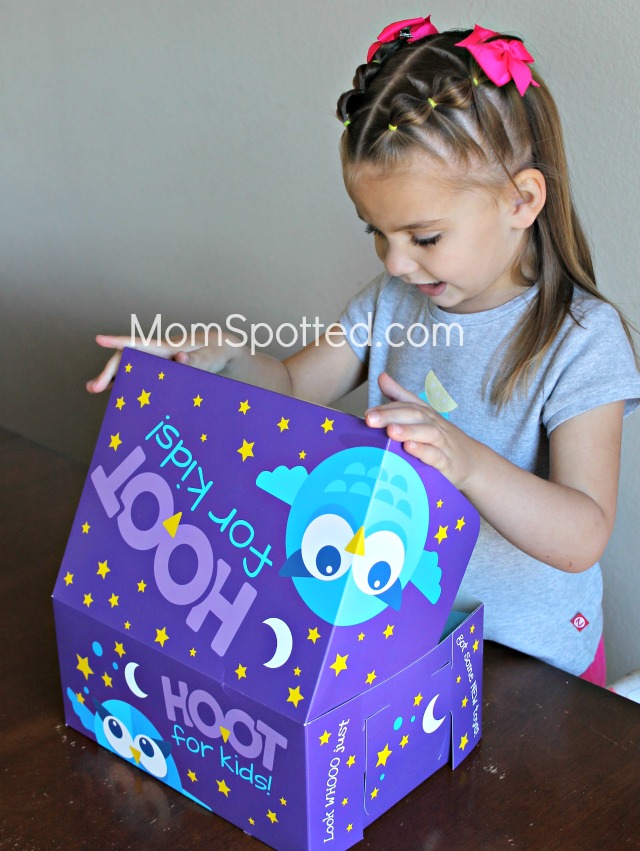 HOOT for Kids stands for Hands on Occupational Therapy and was developed by a team of pediatric occupational therapists. I love that they know that no two children are the same. Every child has different needs and ways of learning, so they are dedicated to making personalize boxes to help them grow. The HOOT for Kids website is darling and so easy to use. I was able to quickly sign up and order a box for my 4-year-old daughter Halli. There is also a great quiz that I filled out to let them know where she is at developmentally and some skills we are working on. She is a super busy kid and loves to play pretend, right now we have been practicing getting dressed with zipping, snaps, buttons and tying her shoes.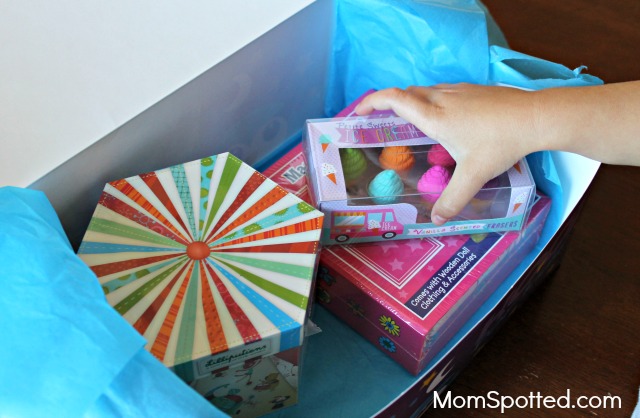 When Halli's HOOT for Kids box came, she was so excited to have mail just for her! She also loved the big purple box with a darling owl on it. It was packed with darling games, and toys that she immediately started squealing with excitement about. Her box came with little Mini Ice Cream Cone Erasers, Maggie's Closet and Domino Memory Circus game. Each toy was so perfect for her, and she has been playing with them non-stop since we got them. Every box also comes with a list of what is in each box and ways to play with the toys. There is also a list specific to Halli of other ways of how to play with her to encourage her to learn new skills.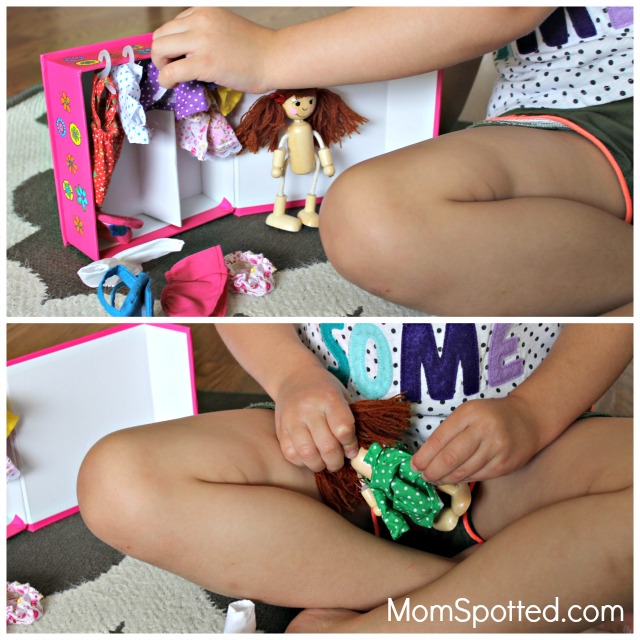 She has had so much fun playing with her Maggie's Closet doll. Maggie is a darling little wooden doll that has a closet full of outfits. Halli has undressed and redressed her over and over. She loves hanging up all of Maggie's clothes on the tiny hangers and playing dress up with her. She also loves using the Mini Ice Cream Cone Erasers to play ice cream shop with Maggie. It has been really fun watching her need help getting clothes on Maggie and now she can do it by herself! The little ice creams are also so adorable, and they smell so good which is an extra fun bonus.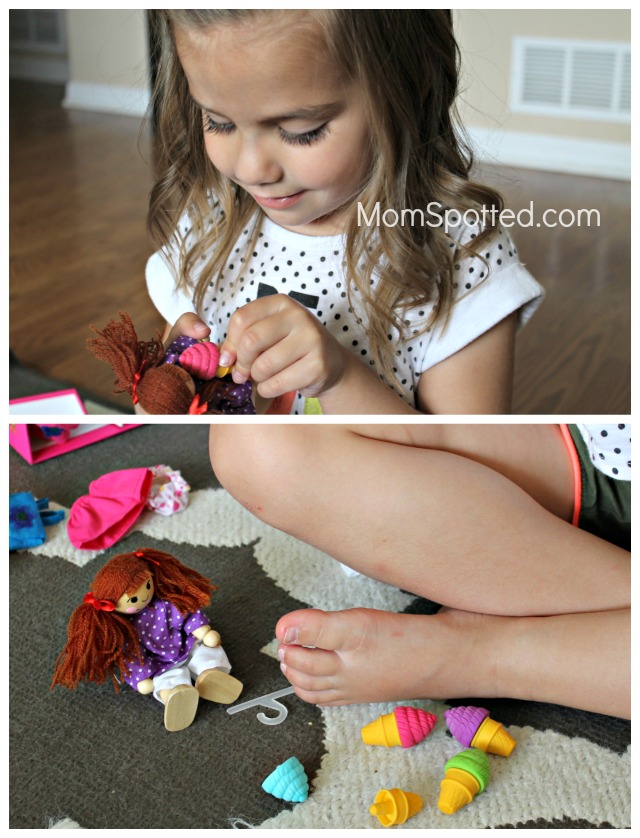 The Domino Memory Circus is such a fun matching game. It has been amusing to play as a family. Halli begs to play it with her older brother. I think he enjoys playing it too. The pictures and colors on the cards are adorable, and they are a really fun hexagon shape. When they are flipped over, she also likes making it into a repeating puzzle. It has been such a fun game that we have added to our collection, and it has helped her memory skills. She usually beats me at the game every time!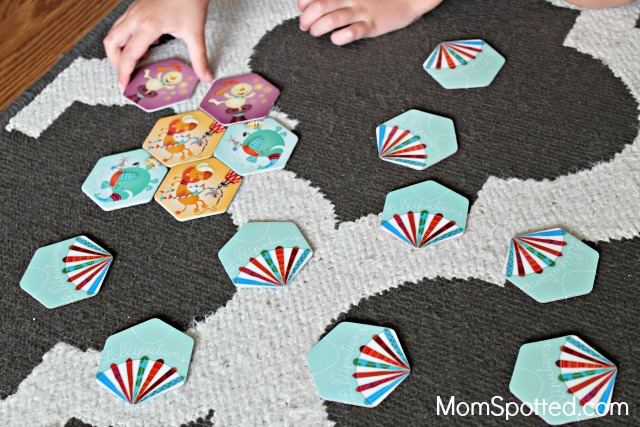 HOOT for Kids boxes are so amazing. We are hooked. HOOT boxes can be personalized for newborns all the way to 6-year-old kiddos. Each box has at least three carefully selected toys to help your kiddo to learn and keep working on their fine motor, gross motor, and sensory processing skills. A HOOT box would also make an excellent gift!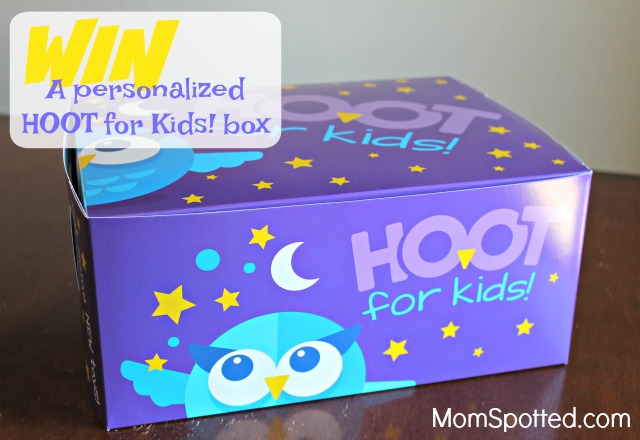 Right now (1) Mom Spotted reader can win (1) personalized HOOT for Kids! box.
To enter use the Rafflecopter form below. Good Luck!
Contest ends 7.10.17 at 11:59 pm. For Official Giveaway Rules click here. U.S. Residents only.