I get so nostalgic when I think about Disney's Bambi. I watch my VHS of that movie over and over until the tape stopped playing, and we bought a new movie. Bambi has such a special place in my heart. I loved when Bambi meets some new friends Thumper and Flower. It is so fun watching them grow up throughout the movie. I especially enjoyed watching Bambi meet friends like Thumper and Flower. I also love when all the animals get "twitter-painted" in the Spring.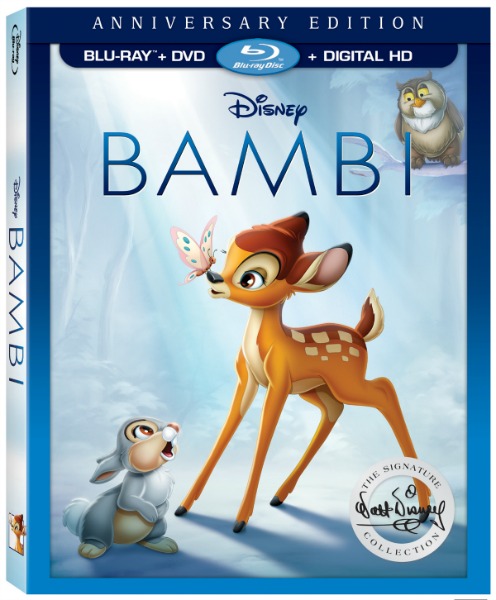 Disney's Bambi is celebrating its 75th anniversary this year as it joins the Walt Disney Signature Collection. Bambi is now on Digital HD and Disney Movies Anywhere, as well as Blu-ray, DVD, and On-Demand. This amazing new collection release has so many new bonus features!
Disney's Bambi bonus features include:
BRAND NEW bonus features:

THE BAMBI EFFECT – "Bambi" was full of innovations for its time. Let's take a look at how those past innovations affected future Disney animated titles all the way up to today.
STUDIO STORIES: "BAMBI" – Recordings of Walt Disney. Listen in on intimate moments where he discusses the challenges, pitfalls and triumphs during the production of "Bambi."
DELETED SCENE: BAMBI'S ICE AND SNOW – Bambi coaxes Thumper and his brothers and sisters to come play on the ice during the first snow.
DELETED SCENE: THE GRASSHOPPER – A grasshopper confronts Bambi and Thumper and finds himself in quite a predicament.
BAMBI FAWN FACTS – Think you know everything there is to know about Bambi and his forest companions? Well, it's time to discover some fun real-life facts about the creatures that live in the forest he calls home.
OSWALD THE LUCKY RABBIT: "AFRICA BEFORE DARK" – Oswald Short. 
CELEBRATING TYRUS WONG (DIGITAL EXCLUSIVE) – A heartfelt look at the man who played a key role in the success of "Bambi." Much like Mary Blair and Eyvind Earle, Tyrus Wong had a unique signature style all to his own. The soft water-colored backgrounds and beautiful palettes in "Bambi" were inspired by Tyrus' concept art paintings.

CLASSIC bonus features:

DELETED SCENES – Two Leaves, Bambi Stuck on a Reed, Winter Grass, Twitterpated
THE MAKING OF BAMBI: A PRINCE IS BORN

 STORY: TELLING THE TALE
CHARACTERS: DRAWN TO NATURE
ACTORS: GIVING VOICE TO ANIMALS
ART DESIGN: IMPRESSIONS OF THE FOREST
MUSIC: NATURE'S SYMPHONY
HISTORY: BACK TO THE BEGINNING

TRICK OF THE TRADE (Excerpt)
INSIDE THE DISNEY ARCHIVES
THE OLD MILL: ANIMATED SHORT
ORIGINAL THEATRICAL TRAILER
THE GOLDEN AGE
I learned so much about one of my favorite classic Disney films from all of the great bonus features. I didn't realize that Bambi was released during World War II and took over five years to make because of all the detail in the hand-drawn artwork. I also really loved the deleted season's bonus features. I always love watching the scenes that couldn't quite make it into the film. I especially love this sweet deleted scene about the Grasshopper who Bambi almost accidentally squished while playing with Thumper!
There are lots of really fun activities you can do with Bambi and your kids this summer. Plant a garden with Bambi and his pals by clicking the activity button below!
Or get outside and have a campout with your family and friends. There are lots of great ideas and a check list to get your staycation camping trip started. There are also a great game and yummy treats ideas.
The activities my kids have had the most fun with recently have been learning to draw Bambi and Thumper! They take such time following the instructions and do such a great job. You can learn how to draw Bambi and Thumper too by clicking the activity button.
Enjoy Disney's Bambi this summer with your family. It is a Disney classic everyone will love. You can find it on Blu-ray, and Digital HD at Amazon, Target, and Walmart.