Just like peanut butter and chocolate, or ketchup and french fries, messes and kids just go hand in hand. I always died a little inside finding new stains on my rugs, pillows, or carpets. I recently was introduced to TriNova Stain Guard and it will be a product I always keep in my mama tool belt. I have already let some friends try it because it has been such a life saver in just a few short weeks. I don't worry anymore about finding any random unsightly stains on my couch pillows or rug. TriNova Stain Guard is the best at protecting stains before they even start! TriNova Stain Guard is a premium fabric protection. It is a non-flammable, and odorless formula to repel liquid stains. It is also a totally a safe water-based to help prevent stains from all your favorite fabrics.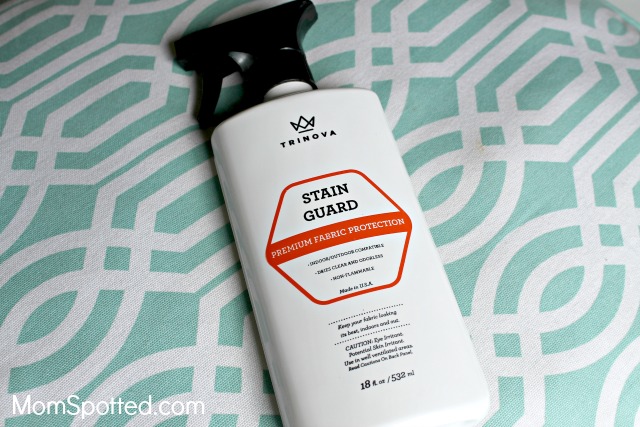 I quickly treated as many fabrics that I could think of around my home. I treated all my couch pillows, the rug in my living room, and the carpet below my mirror where I get ready every day. To use TriNova Stain Guard all you do is spray on the product in a well-ventilated area and let it dry for 24 hours. I only did one treatment on my fabric surfaces then opened up all my windows as my carpets dried and I sprayed the pillows outside. There was little to no smell and everything dried super quickly. That weekend we were having a "picnic" in my living room as a family while watching a new movie. My daughter accidentally spilled her chocolate milk all over my favorite blue pillow. Slightly dying inside I jumped up to grab a towel to clean up the mess. I was shocked to see all the chocolate milk beaded on top of the pillow! Most of it had run off onto the floor and was easily mopped up. I dried up the little beads of milk and the pillow was perfect. I was shocked. I didn't need to scrub, or anything. There wasn't any dark spot from the chocolate, nothing. Ever since then I have been a huge believer in TriNova Stain Guard. My kids have had a few little accidents since then. Spilling just water, walking in the house with wet dirty shoes, and other little kid messes. TriNova Stain Guard is like magic in a bottle. It leaves all the spills and messes sitting on the surface long enough for me to blot it up. I am so happy to say goodbye to stubborn stains.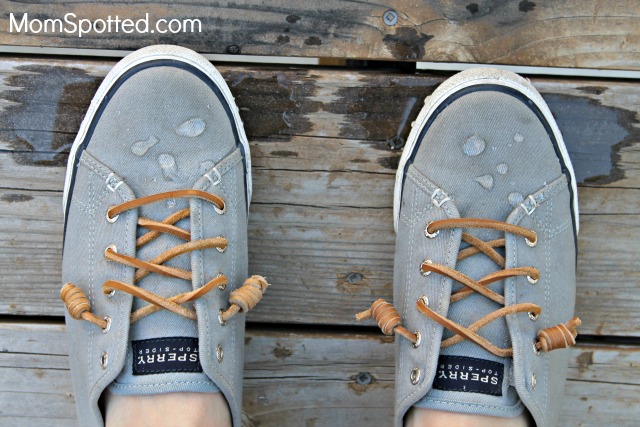 Since TriNova Stain Guard is such a safe water based formula I also found some of my favorite shoes to spray it on. I have loved watching little water beads just roll off them. We have had a really wet Spring and now I don't have to worry about staining my shoes. Water just beads up on top of my shoes and rolls off like magic. To extra prove my point at how awesome TriNova Stain Guard is I purposely spilled water, milk, applesauce, and a cherry kool aid on my pillow. All the liquids just bead up and I wipe them up leaving no stains behind! It is honestly magic.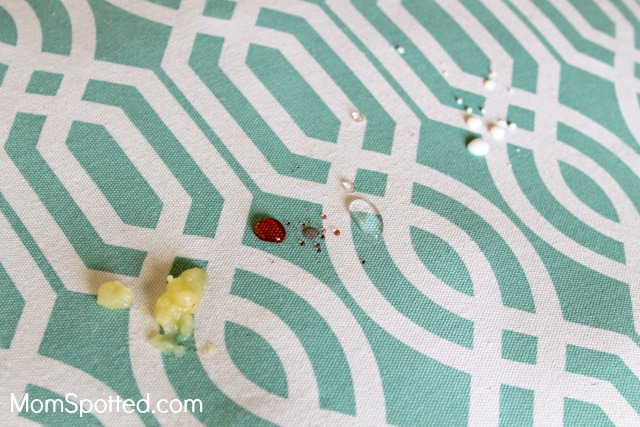 I love TriNova Stain Guard and it keeps impressing me with its power to repel stains! Everyone needs to keep this in their closet. Especially if you are a parent or a pet owner. I love that it does such a great job at protecting against stains but is easy to apply, non-flammable, and totally safe to use around the house.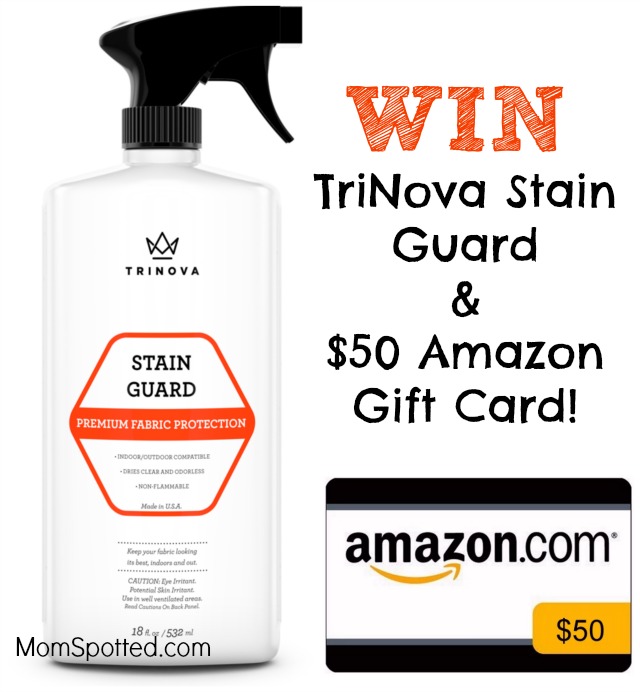 Right now (1) Mom Spotted reader has the opportunity to win (1) bottle of TriNova Stain Guard and a $50 Amazon Gift Card!
To enter use the Rafflecopter form below. Good Luck!
Contest ends 6.12.17 at 11:59 pm. For Official Giveaway Rules click here. U.S. Residents only.