My 8-year-old son Hayden is a massive Star Wars fan. He loves all the movies, he loves reading and studying Star Wars fact encyclopedias, and he loves talking about Star Wars. Multiple times a week we are discussing some new fact he learned about Star Wars. When Rogue One: A Star Wars Story was coming to theaters I knew I wanted to take him on a date to see it. We were both so excited to watch this new Star Wars movie and it did not disappoint. Rogue One: A Star Wars Story is now available on Digital HD & Blu-ray. Hayden has already watched it a few times and soaked in so many of the bonus features. It is such a great movie to add to our Star Wars collection.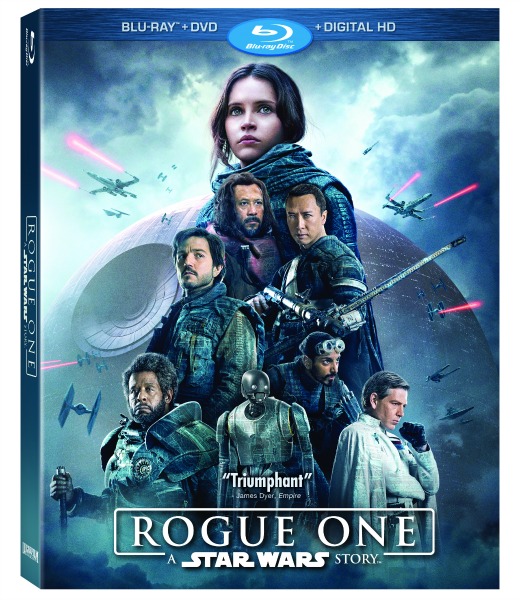 Lucasfilm's "Rogue One: A Star Wars Story," is the first of the Star Wars standalone films. It is its own adventurous and amazing story. It is the most powerful weapon in the galaxy, the Death Star. The Rebellion discovers a weakness in the Death Star and want to destroy it before the Empire can use it to control the galaxy. Rogue One is such a great movie and if full of great characters that Hayden and I have grown to love. Rogue One was nominated for two Academy Awards and we can't stop watching it!
Some of our favorite characters are Jyn, and the droid K-2SO. Jyn, played by Felicity Jones, is the female lead in this movie and I love that another girl is the hero of another Star Wars movie. She is smart, clever, opinionated and brave. I also didn't think I could love a droid as much as I do C-3PO but K-2SO was such stand out character in this movie. K-2SO is an Imperial security droid that the Rebel Alliance has reprogrammed. He is played by Alan Tudyk and is such a loveable character. He says exactly what he thinks, is witty, and is so hilarious.
The bonus features of the Rogue One Digital HD and Blu-ray are so awesome. My family has loved all the new never-before-seen bonus material. Hayden especially has loved to go behind the scenes and find out how the movie came together. The bonus features include:
A Rogue Idea – Hear how ILM's John Knoll came up with the movie's concept – and why it's the right film to launch the Star Wars stand-alone films.
Jyn: The Rebel – Get to know Rogue One's defiant, resourceful survivor, and hear what it was like for Felicity Jones to bring her to life onscreen.
Cassian: The Spy – Diego Luna shares insights into his complex, driven character, who becomes a hero through selflessness, perseverance and passion.
K-2SO: The Droid – Explore the development of this reprogrammed Imperial droid, from initial pitch and character design through Alan Tudyk's performance.
Baze & Chirrut: Guardians of the Whills – Go deeper into the relationship between these two very different characters, with Chinese superstars Jiang Wen and Donnie Yen.
Bodhi & Saw: The Pilot & The Revolutionary – Forest Whitaker and Riz Ahmed reflect on Saw Gerrera, the broken Rebel leader, and Bodhi Rook, the Imperial pilot who defects.
The Empire – Meet a dangerous new Imperial adversary…and cross paths once more with the most iconic villain of all time.
Visions of Hope: The Look of "Rogue One" – The filmmakers describe the challenges and thrills of developing a bold new look for the movie that can fit within the world of the original trilogy.
The Princess & The Governor – See what it took to bring the vibrant young princess of "Star Wars: A New Hope" – as well as one of her most memorable foes– – back to the screen.
Epilogue: The Story Continues – Filmmakers and cast celebrate Rogue One's premiere and look forward into the future, to the Star Wars stories yet to be told.
Rogue Connections – Uncover Easter eggs and film facts hidden throughout the movie that connect "Rogue One" to the Star Wars universe. 

* Digital bonus offerings may vary by retailer. 
The bonus feature about our favorite droid K-2SO is fascinating. It is so interesting everything that goes behind making a droid and all the thought that was put into his character. Enjoy these two clips from the bonus features about K-2SO.
The bonus feature that shows Easter Eggs hidden throughout the movie was one of Hayden's favorite features. He has been able to go back and watch the movie again while looking for the hidden Easter Eggs.
Rogue One: A Star Wars Story is a great movie for any Star Wars fan. The bonus features are also so excellent and filled with great film facts. You can find it on Blu-ray, and Digital HD at Amazon, Target, and Walmart.