There is a special place in my heart for Mickey Mouse. As a little girl, I had a video that had about a dozen short movies with Mickey Mouse that I would play over and over. It eventually broke from watching it and rewinding it too many times. It is so fun having my own kids now and watching them fall in love with Mickey Mouse movies too. Mickey has a new DVD with all of his friends in Mickey and The Roadster Racers!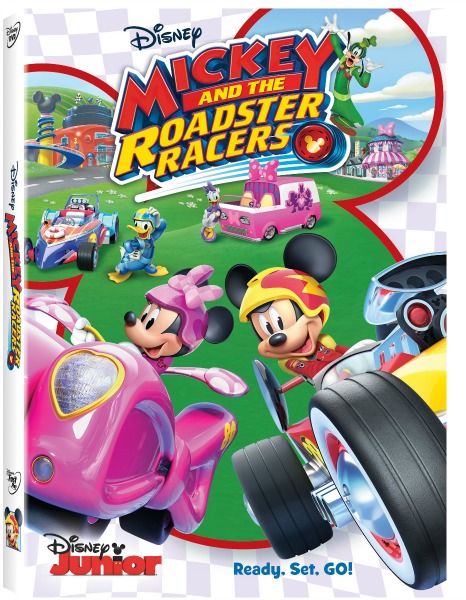 Welcome to Hot Dog Hills, where Mickey and his pals run the coolest garage on the planet. Join them for high-octane thrills as they power up their amazing, transforming cars for races through the town…and around the world! Then, team up with Minnie and Daisy, 'cause when they're not zooming to victory, they're solving problems for anyone in need at their fabulous "Happy Helpers" headquarters. With friendly competition and fun new vehicles, Mickey and the Roadster Racers is a wild ride that's turbo-charged with nonstop laughter and awesome adventures from start to finish!
Mickey and The Roadster Racers is perfect for any Mickey lover. My 8-year-old loves it just as much as my 4-year-old does. They both love watching Mickey and his friends zoom around Hot Dog Hills solving problems. I love that it shows how good friends can help you solve a problem when you work together. My daughter especially loves to watch Mickey in his car drive around. She has been zooming around the house pretending to be part of the Roadster Racer crew for weeks.
This is such a fun DVD with eight episodes and two music videos! The episodes include:
Mickey's Wild Tire! / Sittin' Kitty
Goofy Gas! / Little Big Ape
Race for the Rigatoni Ribbon! / Roaming Around Rome
Bonus: Complete Episode –

Mickey's Perfecto Day / Running of the Roadsters!

Music Videos –

Mickey and the Roadster Racers Theme Song
Happy Helpers Theme Song
The music videos are such great bonuses. The Happy Helpers theme song has been a favorite of mine to play. At the end of the day and my kids need to help me clean up I will put that song on. It makes the work go by faster, and my kids love that song. We will try to hurry and clean up before the song ends.
One of their favorite episodes is "Mickey's Wild Tire!" Pete is always trying to ruin things, and Mickey saves the day. The Roadster Racer cars are all so unique, and it's fun to watch them drive around. It is so funny and witty. I have loved watching Mickey and the Roadster Racers just as much as my kids.
Have even more fun with Mickey and the Roadsters with these fun activities. There are mazes, coloring pages and more!
You and your kids will love watching Mickey and the Roadster Racers together. It is such a great family DVD and would be fun in an Easter basket! You can find it on Blu-ray, and Digital HD at Amazon, Target, and Walmart.