One of the very first Disney movies I ever watched was Pinocchio. Pinocchio is such a classic and timeless story. As a little girl I loved that little puppet Pinocchio who so desperately wanted to be a real boy. I loved dancing with him as he sang "No Strings." Pinocchio is considered one of the greatest animated films ever made and won two Academy Awards® for best original score and best original song "When You Wish Upon a Star." Now that Disney's Pinocchio is available as a signature collection Blu-ray I have loved sharing this movie with my kids.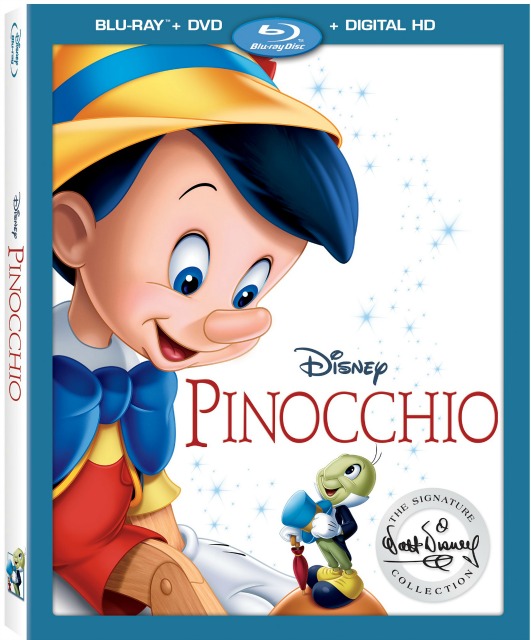 Pinocchio is full of so many fun and unforgettable characters. The sweet wood-carver Geppetto's loved little puppet is on a mission to become a real boy! It is such a great story about being brave, finding good friends, being honest, and love.
Neither of my kids had ever seen Pinocchio before and they have fallen in love with it just like I did. My oldest Hayden loves the adventure that Pinocchio is on, and Halli has asked for me to sing her "When You Wish Upon a Star," every night at bed time. She also loves Pinocchio's little friend Jimmy Cricket.
This new Signitaure collection Blu-ray is packed with hours of special features and bonus material.
Blu-ray, Digital HD* & Disney Movies Anywhere bonus features include:

Walt's Story Meetings: Pleasure Island – The Pleasure Island scene in "Pinocchio" had much more development than what is seen in the film. Join Pixar's Pete Docter and Disney historian and author J.B. Kaufman as they explore artwork recently discovered in Disney's animation research library revealing some of the attractions, gags and games, which Disney animators created for this iconic location of the film, that never made it on screen
In Walt's Words – "Pinocchio" – Hear Walt himself discuss the making of "Pinocchio" through archival recordings and interviews
The Pinocchio Project: "When You Wish Upon a Star" – Music influencers Alex G, Tanner Patrick and JR Aquino from Disney's Maker Studios, a global leader in short-form videos, gather in a creative workspace to create their rendition of the film's signature song, "When You Wish Upon a Star," and produce a fresh new music video
Oswald the Lucky Rabbit in "Poor Papa" – This recently restored and scored 1927 short features Oswald the Lucky Rabbit who gets multiple visits from the stork and is forced to attempt various methods to help stop the onslaught of baby deliveries
Classic Bonus Features – These offerings from prior home entertainment releases include hours of bonus material, such as the making of "Pinocchio," deleted scenes, sing-alongs, storyboards and theatrical trailers. *Bonus features may vary by retailer
My kids really enjoyed the bonus feature Oswald the Lucky Rabbit in "Poor Papa." It is such a cute and hilarious little movie. They giggle all the way through it. I love the "In Walt's Words" bonus feature because I think Walt Disney so fascinating! I love hearing his interviews and learning more about him.
You can also take a really fun quiz or make a Wish Upon A Star Craft by clicking the buttons below.
Enjoy these fun activities and add Pincocchio to your movie library. It is such a great timeless classic that the whole family will always love. You can find it on Blu-ray, and Digital HD at Amazon, Target, and Walmart.