I just returned from an amazing 8-Hour Playdate with VICKS VapoRub in Brooklyn, NY. I was able to bring Sawyer with me, and we called it our "City Adventure." This adventure was also Sawyer's first trip into the big city!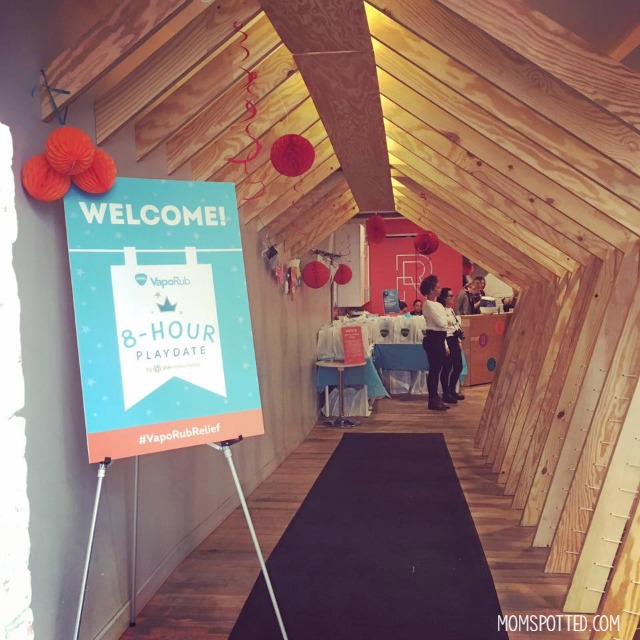 The 8-Hour Playdate was held at Recess Dumbo in Brooklyn, NY. We were so pleased to see such a warm, playful setting for Sawyer. I knew instantly we were in for a fun day! The main play space for all the children had so much to do from slides, climbers, and Sawyer's favorite a hidden secret nook.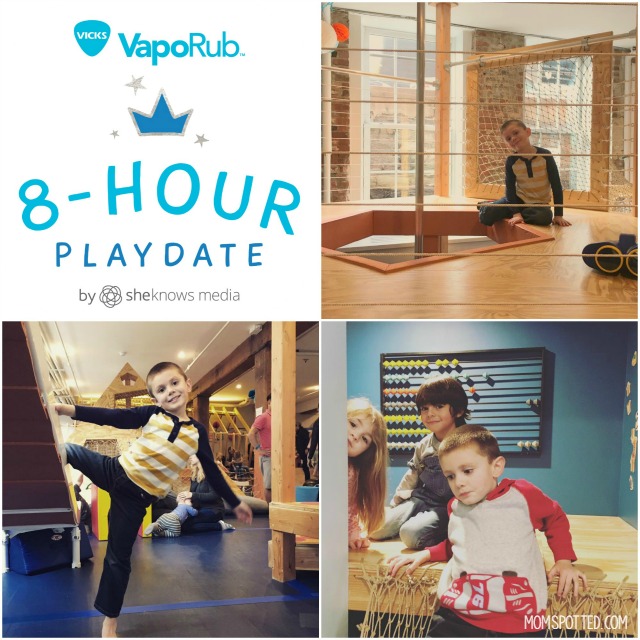 The Vicks VapoRub team was also there to greet us and spend the day with everyone. They had coffee, smoothies, and all sorts of food out for us. They even had a selection of yummy snacks for the little ones. The room was decorated with the Vicks Sweet Dreams Cool Mist Humidifiers and swag bags for all of the attending influencers. We were all so excited!
Why Humidify?

Does anyone in your family catch colds or suffer from dry throat and flaky skin during the winter months? These are all possible signs that the humidity levels in your home may be low. To put it into perspective, in the winter time, humidity levels can drop to as low as 10% – drier than the Sahara desert!

Vicks humidifiers are here for you when your family needs them most. By restoring essential moisture to any room, Vicks humidifiers can help you get ready before cold and flu season starts, and they help provide soothing relief once those coughs, sneezes, and congestion strike.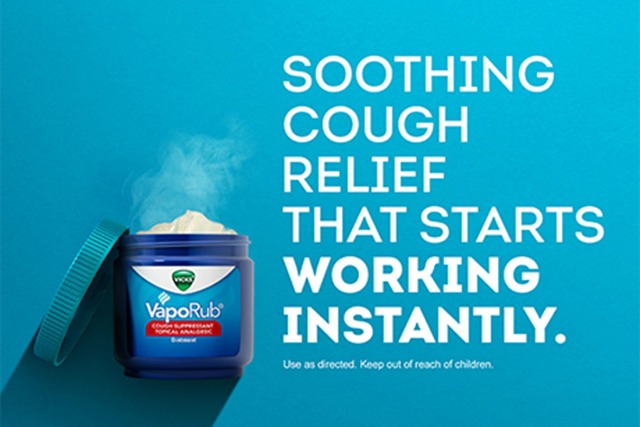 I don't know about you, but it was a great reminder to stock up on Vicks VapoRub. It's our go-to when we or the littles get sick. We are all still in the cold and cough season, here, in New England. If you're looking to find some instant relief grab your Vicks VapoRub, it starts working instantly, and the medicated vapors last up to 8 hours to help you get through the night.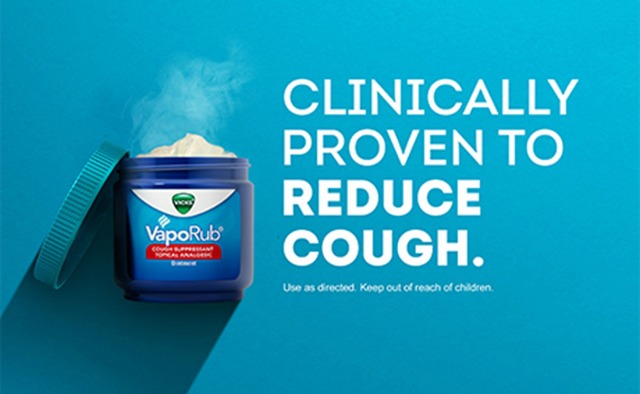 Eight hours of relief. Eight hours of play. Vicks VapoRub is great for up to eight long hours.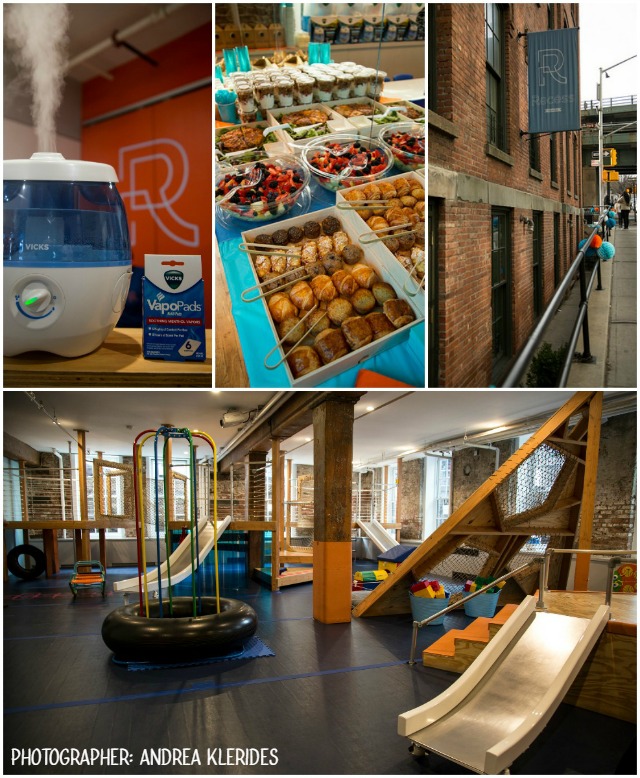 Vicks VapoRub brought Renee, an area nurse, to talk to us about how easy it is for just one germ to spread around just one room. Renee simply held up her germ friend and then passed him along to the influencers in the room to see. Once it was halfway around, she stopped us and asked us all to put our hands out. Those of us that had decided to give her germ a squeeze had particles all over their hands when placed under her special light. Those of us that didn't touch her germ still had clean hands. It should remind everyone just how quickly it can spread.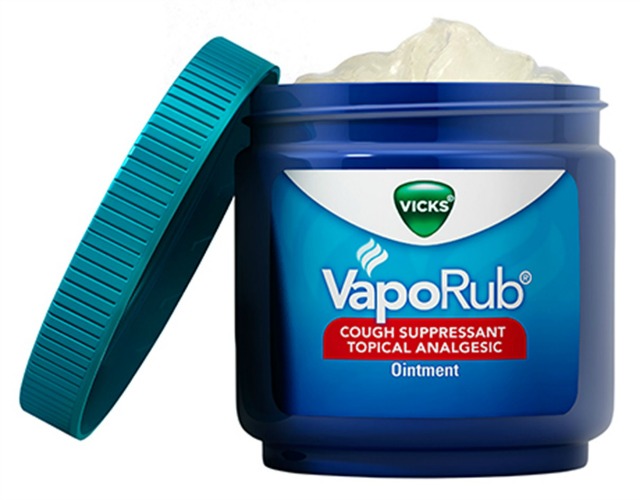 DID YOU KNOW VICKS VAPORUB….
Is the #1 Pediatrician recommended cough rub?
Has been trusted for over 100 years to provide fast-acting cough relief.
Vapors last up to 8 hours through the night.
Provides soothing cough relief for children ages 2 and up.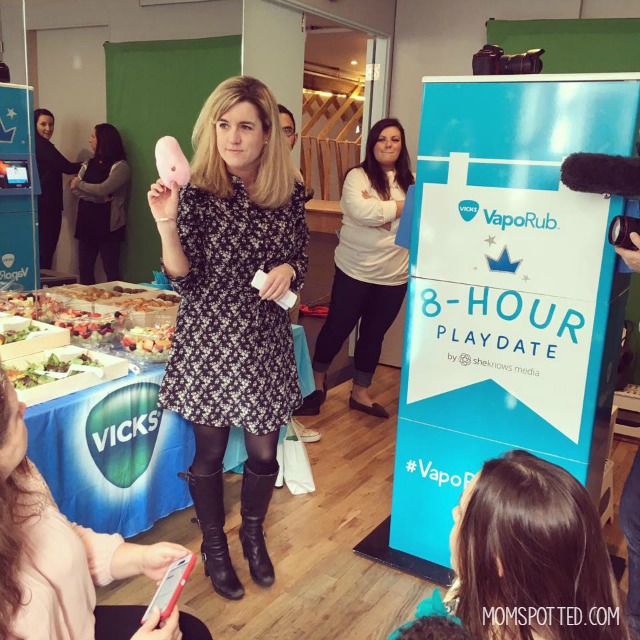 Then we were ready to start all the play dates with the little ones! There were four different two-hour time slots. All you had to do to be one of the lucky attendees was sign up in advance. Besides playing in the wonderful play space provided, Vicks VapoRub also had a fun arts & crafts station set up in the back room where you could learn all about germs while making a germ monster or coloring one of their fun coloring pages.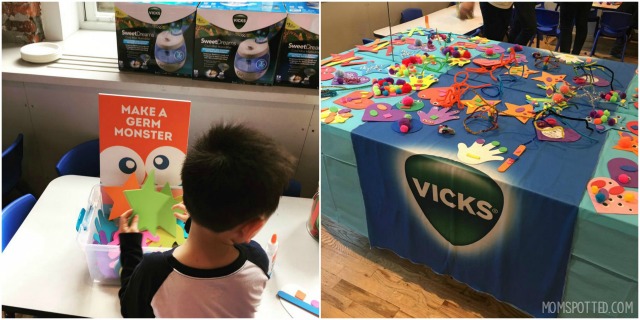 I loved that Vicks VapoRub even had a photo booth! I made use of it several times! They had four different fun backgrounds to choose from while you stood in front of a big green screen. The children all found the green screen very fascinating. The Vicks VapoRub team printed out photos for everyone and even emailed copies to our personal email.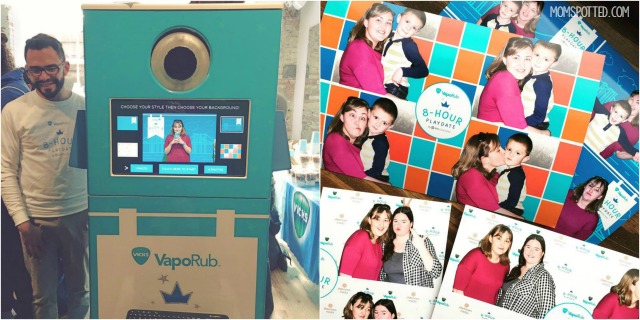 Sawyer and I had such a fun time. We played, we climbed, he jumped. When it was time to go, we had glue stuck to our fingertips, pockets filled with photos, and cheeks that hurt from laughing all day long. The Vicks VapoRub team put on such a great event.
Remember those swag bags I mentioned? I wasn't able to take a look at it all until I was back home. I love all the goodies they shared with us! Every family that attended this free event also left with a swag bag of their own too!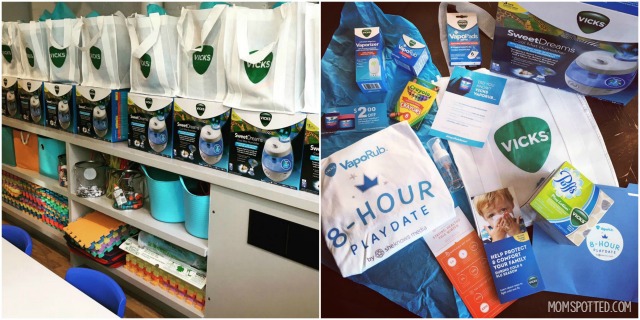 If you were in attendance, I hope you were able to have as much fun as we did! We left so happy about our big adventure in the city, and we were excited to go home and set up our new humidifier! We've already seen a difference.  Now I need to get them for all our bedrooms!
This post was written in partnership with Vicks; all opinions are my own.
*A study by Environmental Health and Engineering (Environmental Health 2010, 9:55) shows that keeping air at relative humidity levels between 40-60% can reduce survival of flu viruses on surfaces and in the air. Humidifiers can help achieve and maintain this humidity level.