My husband and I try to get out about once a month to go on a date. I am in charge of getting the babysitter, and my husband is the one who plans our date activities. Since we rarely get out for a date, dinner and a movie are what we both like to do on our dates. We get to talk and eat yummy food at dinner, and then relax while watching a great movie. When my husband picked the movie Doctor Strange, we were both excited to see it. We both love all the Marvel superhero movies and had high hopes for Doctor Strange. It did not disappoint! We both loved it and now that Marvel Studios Doctor Strange is on Digital HD, and Blu-ray we have loved watching it again at home!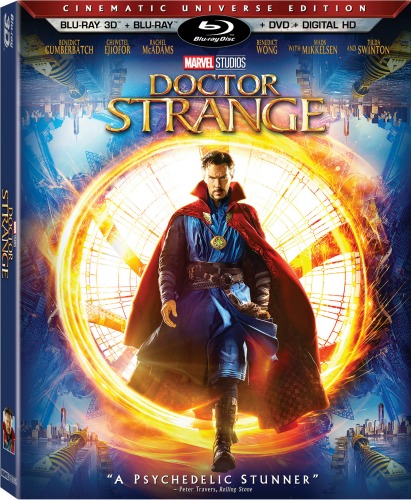 Doctor Strange is about a world-famous neurosurgeon Dr. Stephen Strange played by Benedict Cumberbatch. His life changes forever after a horrific car accident that renders his hands useless. He searches for a cure with typical medicine but finds nothing to help him. Out of desperation he travels to Kamar-Taj in search of a cure, but instead discovers the mystical arts and becomes a powerful sorcerer battling dark forces bent on destroying our reality.
This movie is such a wild adventure. Benedict Cumberbatch is one of my very favorite actors, and he is brilliant as Doctor Strange. Visually the movie is captivating as you watch reality literally bend. It is such an exciting and engaging movie. It quickly has become one of our very favorite Marvel Superhero movies.
The villain in this movie is also excellent. Kaecilius is so evil and is at times pretty scary. Here is a deleted scene of a darker moment of Kaecilius and his Zealots that follow him.
The Blu-ray also has some great bonus features. My husband and I always enjoy a good gag reel and us also really liked the hilarious Team Thor: Part 2 short. Here is a full list of the other bonus features included in the Digital HD and Blu-ray:
Featurettes

A Strange Transformation – Open your eye to a new dimension of the Marvel Cinematic Universe, and see how the filmmakers brought one of comic books' greatest characters to life.
Strange Company – Find out what it's like for the cast to work on a Marvel film, and how Director Scott Derrickson engineered one of the most ambitious, imaginative films ever.
The Fabric of Reality – Take a closer look at the movie's extraordinary sets, meticulously crafted costumes and amazingly detailed production elements.
Across Time and Space – Explore the countless hours of dance and fight choreography the actors endured in preparation for their physically demanding roles.
The Score-cerer Supreme – Join Composer Michael Giacchino and a full orchestra during live recording sessions, and experience the movie's mind-bending music.

Marvel Studios Phase 3 Exclusive Look – Get an early peek at Marvel's spectacular upcoming films, including Marvel Studios' Guardians of the Galaxy Vol. 2, Thor: Ragnarok, Black Panther and Avengers: Infinity War.
Team Thor: Part 2 – See more of the hilarious partnership between Thor and his roommate Darryl in this satirical short.
Deleted Scenes

Strange Meets Daniel Drumm
Kaecilius Searches for Answers
The Kamar-Taj Courtyard
Making Contact
Lost in Kathmandu

Gag Reel
Audio Commentary by Director Scott Derrickson

DIGITAL EXCLUSIVE:

Through the Keyhole: The Science of the MCU – Discover how Marvel grounds all its films in real science, and explore the connection between science, magic and imagination.
To have even more fun with Doctor Strange also check out these great activities by clicking the button below.
Marvel Studios Doctor Strange is such an amazing and mind bending movie. You will be totally sucked into the story and adventure of Doctor Strange. You can find it on Blu-ray, and Digital HD at Amazon, Target, and Walmart.