"For this post, I received free product and goodies from Krusteaz and T-Fal. All thoughts and reviews are my own."
My family is always so busy during the week; between different school schedules, work schedules, homework, dance lessons, karate, cub scouts, and church activities it can be hard to sit down as a family at dinner. Dinner time is by far the most stressful part of the day for me. I am trying to help Hayden with his spelling words, while also entertaining Halli, and put a meal together. Then I have my fingers crossed they all eat dinner happily so we can rush off to the next thing. Since February is National Hot Breakfast Month, we have been celebrating it big time with Krusteaz.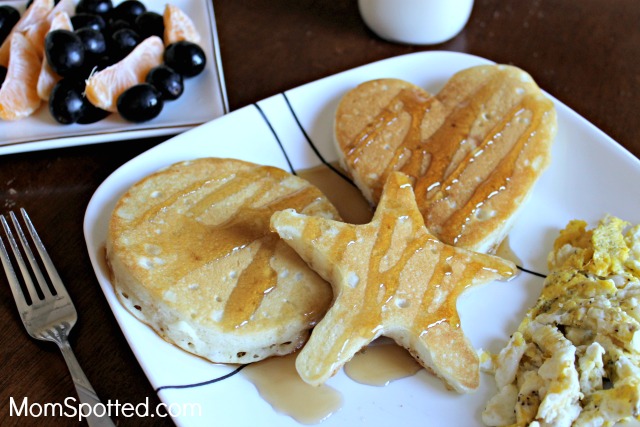 My kids are always so excited when they find out we are having breakfast for dinner. They are both big breakfast eaters and even request breakfast for dinner for their birthdays. I love cooking with Krusteaz products. Krusteaz has so many yummy breakfast choices to choose from. Hayden loves having the buttermilk pancakes, Halli loves the blueberry pancakes, and everyone loves a hot waffle.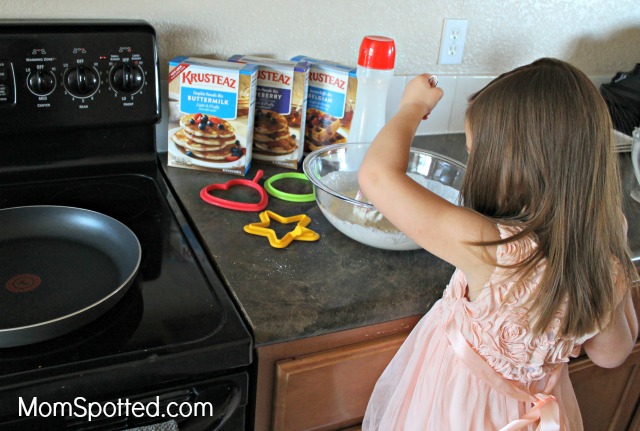 Krusteaz mixes are so easy to make and I always have everything I need in my pantry or fridge to make them. The Krusteaz pancake mixes only call for water making them a super easy breakfast for dinner night. I also love breakfast for dinner because everyone can get exactly what they want. I like having fresh fruit on the side to top our waffles or pancakes, and for a special treat sometimes we also use whipped cream.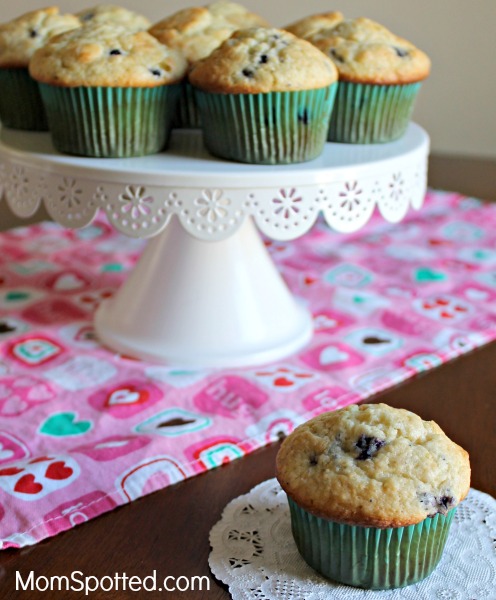 Krusteaz has also helped me have some yummy snacks for my kids to have when they come home from school. The Krusteaz blueberry muffins are so delicious to have for breakfast, a snack, or to pair with a dinner. They are so easy to mix and come out perfect every time. My kids also really love the Krusteaz Cinnamon Swirl Crumb Cake. We are still in the middle of a freezing cold never ending winter, and Cinnamon Swirl Crumb Cake with hot chocolate makes the perfect snack to warm up with.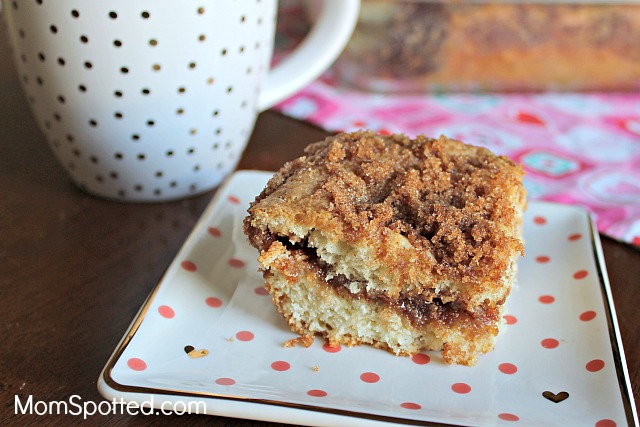 Breakfast for dinner is also one of my kid's favorites because sometimes I let them help cook. Since Krusteaz only needs a few ingredients, breakfast for dinner is a great meal to cook all together and teach my kids basic cooking skills. Halli is great at mixing, and Hayden is starting to learn to use the stove. My favorite pan to cook pancakes on is from T-Fal. T-Fal is America's favorite cookware and the inventor of non-stick fry pans.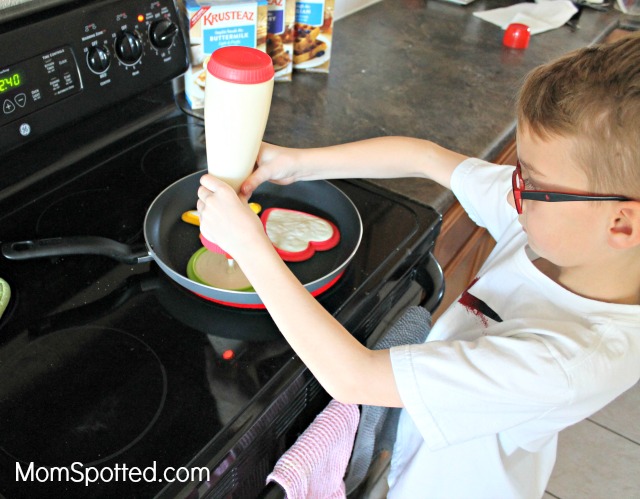 T-Fal makes it a breeze for Hayden to help make pancakes because our pancakes always cook evenly and make it easy to flip our pancakes. In honor of Pancake Day, T-Fal is offering 15% off select non-stick cookware at Target and Target.com from February 27th-March 3rd! Stock up on some great pans perfect for pancake flipping and to cook all of your other meals.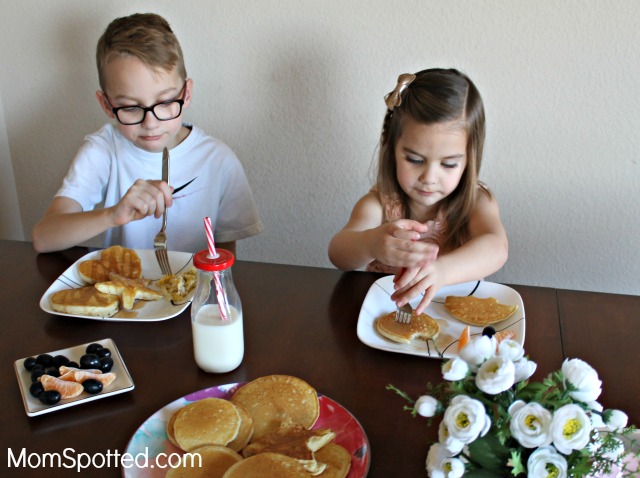 Getting dinner has never been easier when we have a breakfast night. Everyone is so excited to have their favorite breakfast foods, and I love sitting around the table as a family talking about our day. We are excited to keep celebrating National Hot Breakfast Month the rest of February. I think breakfast may make it's way to dinner once a week. Krusteaz helps make dinner time a little less stressful and a little more fun.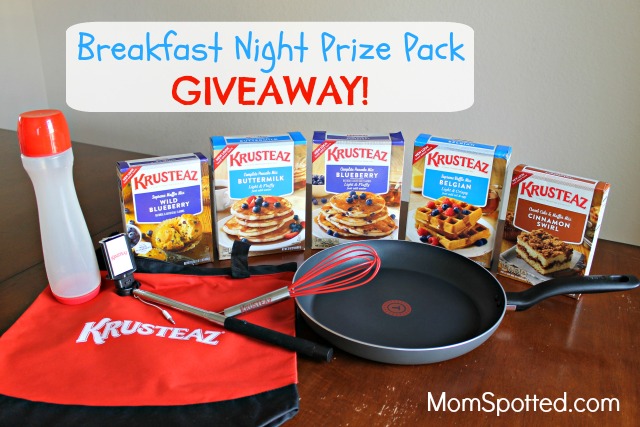 To celebrate National Hot Breakfast Month right now one(1) Mom Spotted reader has the opportunity to win (1) Breakfast Night Prize Pack which includes:
Two boxes of the following mixes: Buttermilk Pancake Mix, Belgian Waffle Mix, Blueberry Pancake Mix, Wild Blueberry Muffin Mix, and Cinnamon Swirl Crumb Cake & Muffin Mix.
Fun kitchen items like a whisk, a tote bag, and pancake batter pens
To enter use the Rafflecopter form below. Good Luck!
Contest ends 3.6.17 at 11:59 pm. For Official Giveaway Rules click here. U.S. Residents only.