My husband works busy and crazy hours. There are sometimes he is out of town, is gone all day, and works late into the night. We have a pretty good schedule, but there are some nights I need some serious me time! I love to take a hot bath, get in my comfiest pj's and then crawl into bed with my favorite treat, and a good movie. Disney/Dreamworks Pictures' "The Light Between Oceans" was what I needed for a nice relaxing night in by myself. The Light Between Oceans is now on Digital HD Blu-ray DVD and On-Demand. It is such a great chick flick, but it is a movie I also think my husband would like too.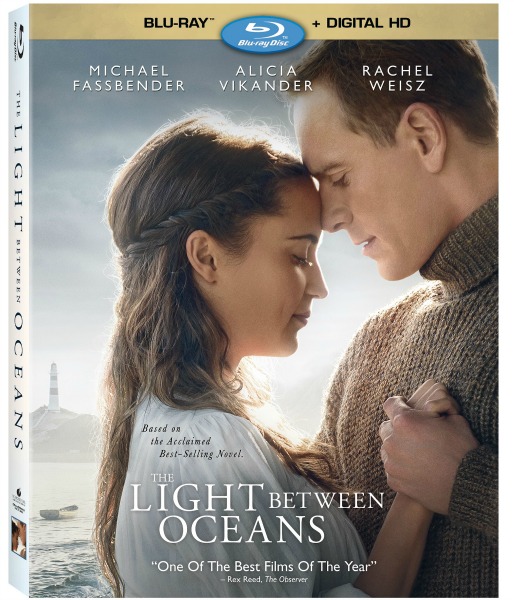 This movie is such a beautiful love story played by two great actors. I was so impressed by the acting in this movie, Michael Fassbender is a two-time Academy Award® nominee Michael Fassbender,  Alicia Vikander is, and Oscar® winner and Rachel Weisz is an Oscar and Golden Globe® winner. Together they share an incredible story of love and relationships. "The Light Between Oceans" is based on the 2012 best-selling novel written by M.L. Stedman. I have it on hold at the library now because of how much I loved this movie!
"The Light Between Oceans" is such a beautiful and heartfelt film. It is also fascinating watching the characters try to navigate an impossible decision throughout the movie and how it changes their relationships. I loved this super emotional movie, and I can't wait to rewatch it with my husband. The Blu-ray, Digital HD, and DVD also have some great bonus features which include:
BLU-RAY & DIGITAL HD:

Bringing The Light to Life – For weeks, the cast and crew of "The Light Between Oceans" lived in trailers on Cape Campbell, an isolated region of New Zealand, to film the movie adaptation of the best-selling novel.  This documentary chronicles the unique approach and shooting style of director Derek Cianfrance and the production journey that inspired Michael Fassbender, Alicia Vikander and Rachel Weisz to fully embody their characters and explore the power and depths of love.
Audio Commentary – View the film accompanied by an in-depth and thoughtful conversation between director Derek Cianfrance and his film studies professor Phil Solomon.
Lighthouse Keeper – The filmmakers, cast and Cape Campbell Lighthouse inspector/maintainer Rob Sword share the history of the lighthouse and explain the typical duties a lighthouse keeper like Tom Sherbourne would have during an assignment on Janus Island.

DVD:
If you are looking for a great romance movie "The Light Between Oceans" is an excellent choice. It is such a beautiful movie that will bring you to tears. "The Light Between Oceans" will be a movie I watch again and again. You can find it on Blu-ray, Digital HD, and DVD at Amazon, Target, and Walmart.