I still remember setting up my registry 16+ years ago. I was so excited about planning a nursery I thought it would be fun. Little did I know how much work it would be. Luckily, I had a friend who had just had a baby able to help me and give me some baby registry advice, but she had pretty much just become a mom herself, so her knowledge was limited. I thought I would share my wisdom after having three boys myself.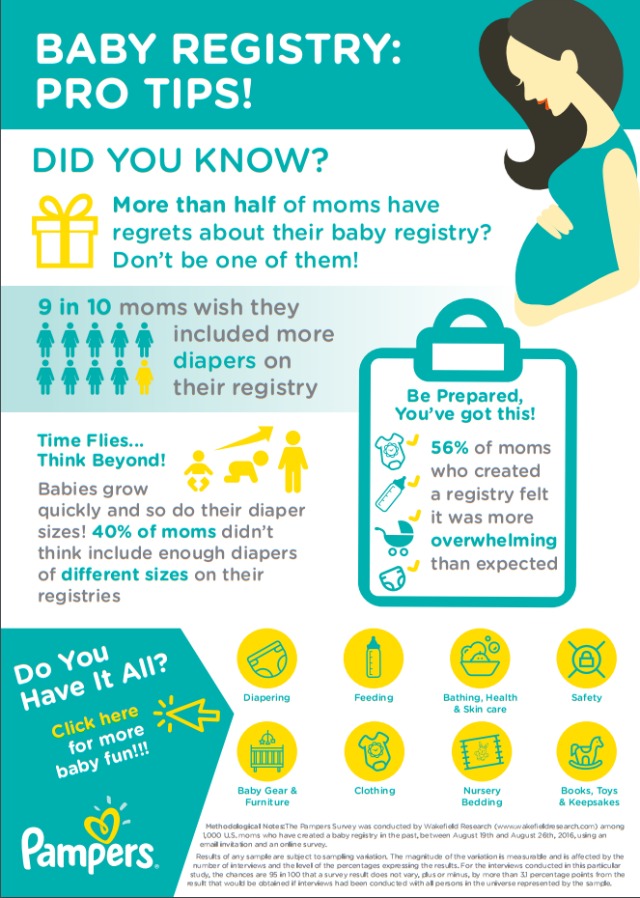 There were so many things I didn't know. In my mind, I needed bedding, clothing, a car seat, and a stroller. In reality, that was just the obvious. Luckily for my sake, some of my friends and family knew some tricks of the trade. One item I always give as a gift is a bath sponge. I thought it was one of the silliest gifts and I almost didn't keep it. Then I tried my first bath, and realized just how slippery a newborn could be. That sponge was the only thing that kept my son from flopping all over while I tried to wash him. Huge lifesaver. One of my favorite little-known secrets was using flat folding cloth diapers as spit rags. They are cheap, reusable, and you won't be upset when your baby pukes and stains them. I thought I'd share some of my must-have items to be included on your registry.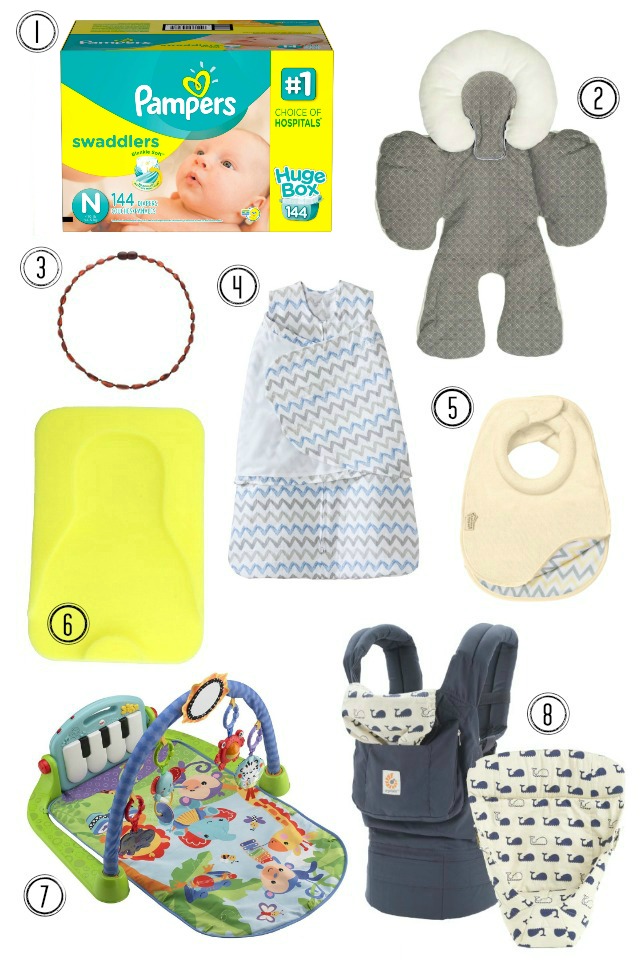 1 . Pampers Swaddlers Diapers | 2. JJ Cole Reversible Body Support (not for use in car seats)| 3. Amber Teething Necklace | 4. Halo Muslin SleepSack Swaddle | 5. Tommee Tippee Closer To Nature Comfi Neck Bib | 6. Summer Infant Comfy Bath Sponge | 7. Fisher-Price Kick and Play Piano Gym | 8. Ergobaby 3 Position Original Bundle Of Joy Baby Carrier
DID YOU KNOW?
More than half (56%) of moms who created a registry felt it was more overwhelming than they expected
62% of moms have regrets about their baby registry – and of those who do, the top regret is that they didn't register for enough practical items (47%)
88% of moms wish they had included more diapers on their registry
59% of new moms said they trusted their friends who are parents most for registry advice
 Did you also know that Pampers did a study and found that when looking back, nearly half of moms said that diapering items including diapers, wipes and changing pads were the registry gifts they used most often, yet more than 1 in 3 (35%) of moms who included diapers on their baby registry felt guilty about registering for them!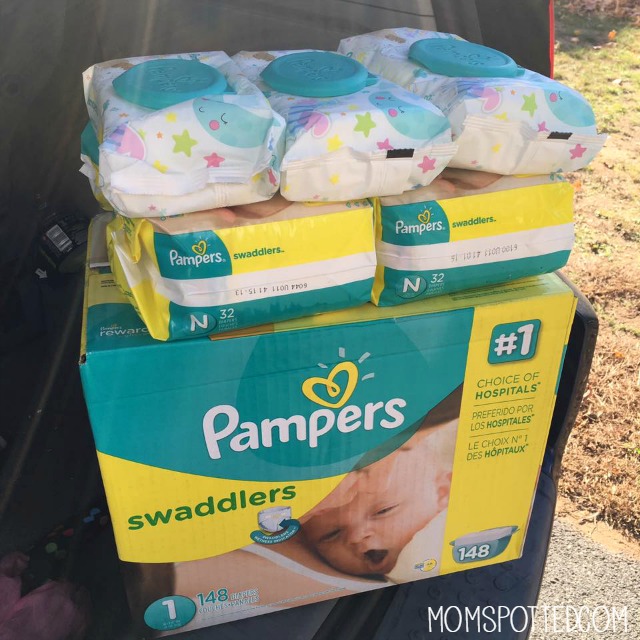 Think about that for a minute. Moms feel guilty for including diapers on their registry. Diapers! It's a product you will use every day once they are born. Looking back I'm shocked I never put diapers or wipes on mine. That's why I always make a point to bring a package of Pampers to every shower I attend now and drop off a care package like the one above to new moms once they return home.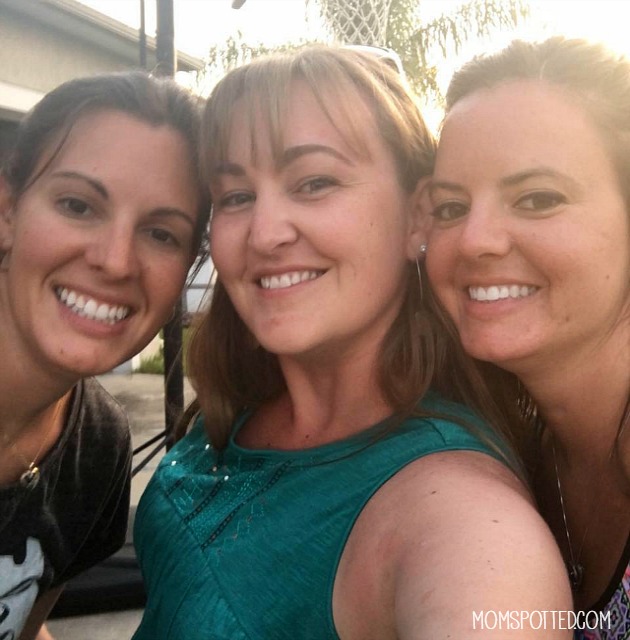 Recently Pampers gave me an amazing opportunity to bless a new mom with my registry must-haves that aren't always thought off. My cousin down in Florida is pregnant with her first child, and while I couldn't attend her shower, I was so excited to be able to do something so special for her still.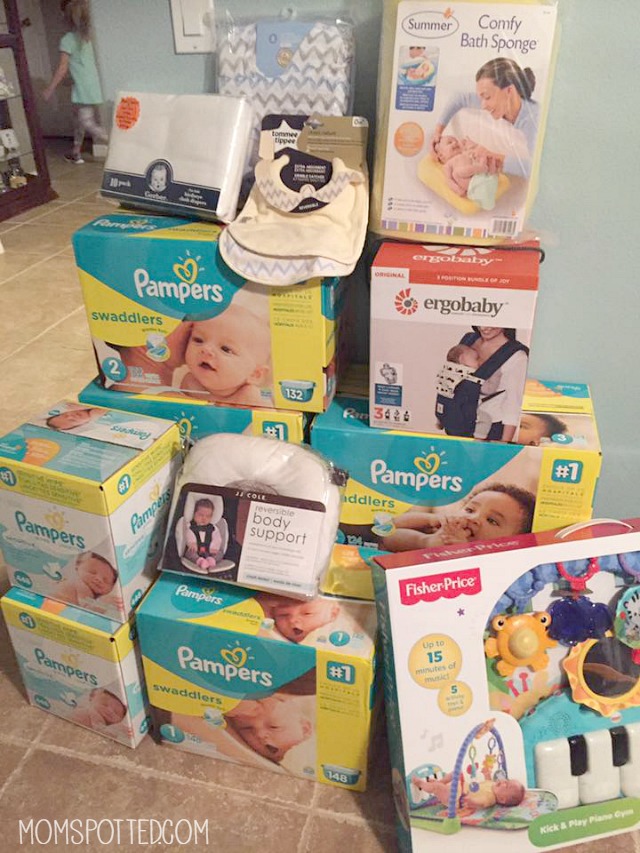 I hand picked all my products I knew she'd need. Her theme had little whales everywhere, so I made a point to try and to match her items up when possible. I also made sure to pick things that she'd need a little farther out like a toy for baby to play with. Of course, I made sure to send her loads and loads of diapers. I made sure to send them in bigger sizes, so when her shower stash ran dry, she'd still have sizes to use later on. I also included wipes because we both know how fast we all fly through those. Thank you so much Pampers for helping me bless my cousin and her soon to be baby boy!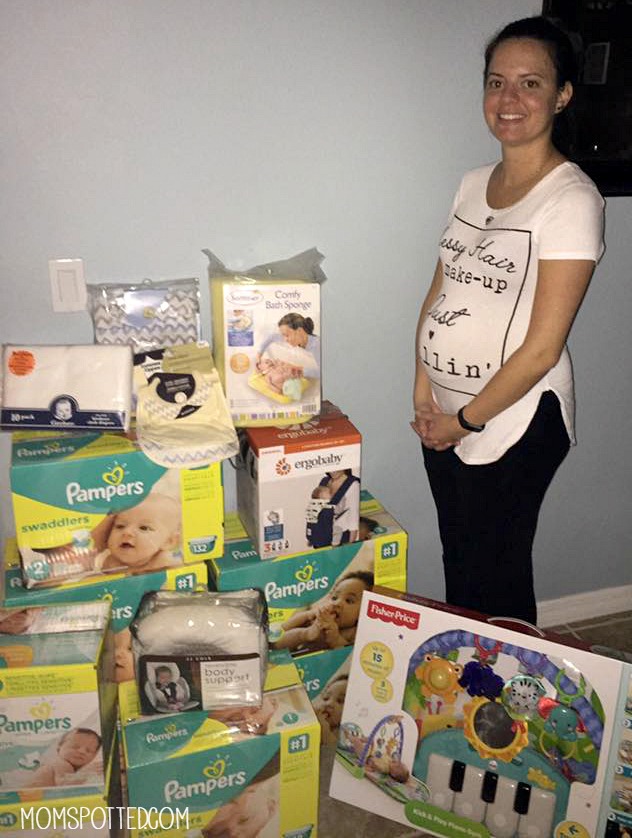 What baby registry advice would you give a new mom?
Leave a comment sharing your advice or share it in a tweet or show your favorite item in use on Instagram by tagging @Pampers and leaving the #PampersRegistry. Can't wait to hear all your great advice!
For more than 50 years, parents have trusted Pampers to care for their babies. Pampers is a part of The Procter & Gamble Company (NYSE:PG) and is the #1-selling diaper worldwide. Every day, more than 25 million babies in 100 countries around the world wear Pampers. Pampers offers a complete range of diapers, wipes and training pants designed to provide protection and comfort for every stage of baby's development. Visit www.pampers.com to learn more about Pampers products, join the Pampers Rewards program, and find ideas and information to help your baby get the most out of love, sleep and play.