I love Christmastime. I love pulling out all the pretty holiday decor and spending time with my family. I love this time of year because it's a time of year when we have lots of traditions. One of my favorite traditions is giving my boys brand new jammies on Christmas Eve along with a movie. My mom did it for me and I hope my boys continue the tradition with their children. Carters pajamas are my go to pj's since they are warm, soft, and have the cutest designs.

Tuesday, November 29, parents and holiday gift-givers can feel especially warm and fuzzy about their purchase of cozy Carters pajamas this year, thanks to the manufacturer's donation program. This year marks Carter's first program, inspired by Giving Tuesday, a pro-social movement that encourages manufacturers and other participants to support charitable giving on the first Tuesday after Thanksgiving.
For every Carter's pajama purchased online at www.Carters.com or at one of Carter's 650+ retail stores on November 29, Carter's will donate one of America's favorite jammies to children in need.
With close to 900 styles, including 1-piece, 2-piece, 4-piece, and gown options in cotton, flannel, and fleece in sizes newborn to 12 years, parents and gift-givers are sure to find the perfect PJs for the little ones on their holiday gift lists.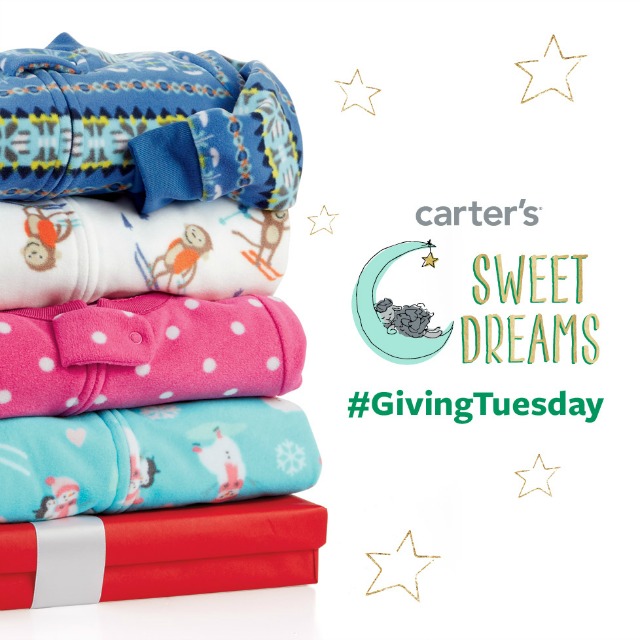 Carter's is one of my favorite brands for my kids! So help them give back to the community on #givingtuesday. When you buy one pair of pj's at any Carter's retail store or at Carters.com, Carter's donates a pair to the Pajama Program, up to 100,000 pairs. Give more sweet dreams to children in need and more jammies for every little one! #carterssweetdreams
Make sure to purchase all your needed pajamas this Tuesday. I'll be heading to my local Carter's store to get Sawyer a few more pairs (his favorites are the 2 piece sets) and hope that we help in maxing out that 100,000 pair donation to kids in need.