My little Halli is all grown up. She is 3 1/2 and is super tall for her age. She looks way bigger than she is and has a big personality to match. Halli had outgrown her little toddler bed and was so super ready for a new big girl bed. I was so sad to see her little bed go away but I knew it was time. While we were talking about getting her a new bed the only request she had was that it would be pink. Pink and gold are her two favorite colors. Halli is also super independent and I knew making her bed by herself would be something she would really want to do. Beddy's (bed-ease) was the perfect solution to all of our wants and needs for Halli's new bed.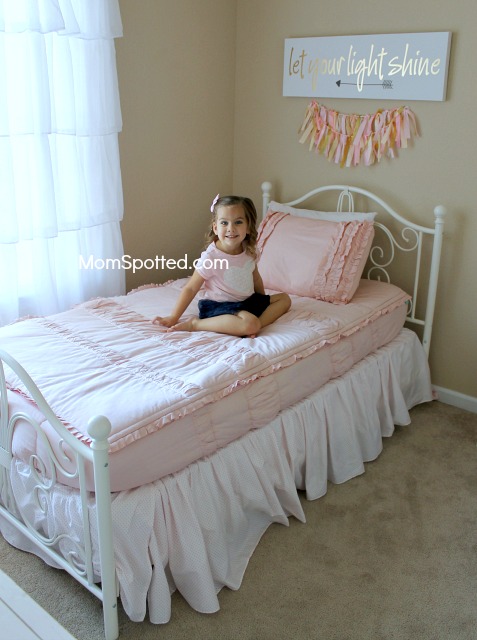 Beddy's has high-quality bedding sets that zip-up similar to a sleeping bag. It is a fitted sheet, flat sheet, a cuddly blanket, and quilt all in one! Beddy's goes on like a fitted sheet and it will fit most mattresses. It makes making the bed a breeze! There aren't any extra sheets to get stuck, tangled or lost. I really love that it fits nice and deep on Halli's mattress. She is a super crazy sleeper and her bedding has stayed put instead of having a corner pop off.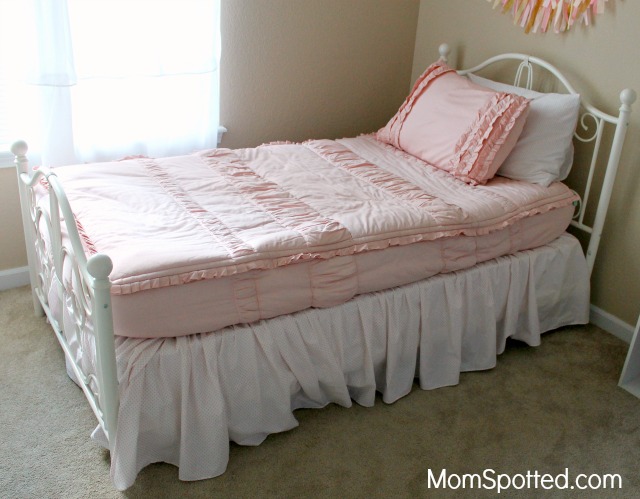 There are so many darling patterns and colors to choose from. Halli saw the Vintage Blush II set and was immediately in love. It is a beautiful pink with pink polka dots on the fitted sheet, and pillowcase. The inside cuddle blanket is a super soft minky fabric. The cuddle blanket also has panels that fold out so the zippers aren't right on you. Then when you slide into your Beddy's bed it is just like a regular bed to snuggle into and to keep you warm.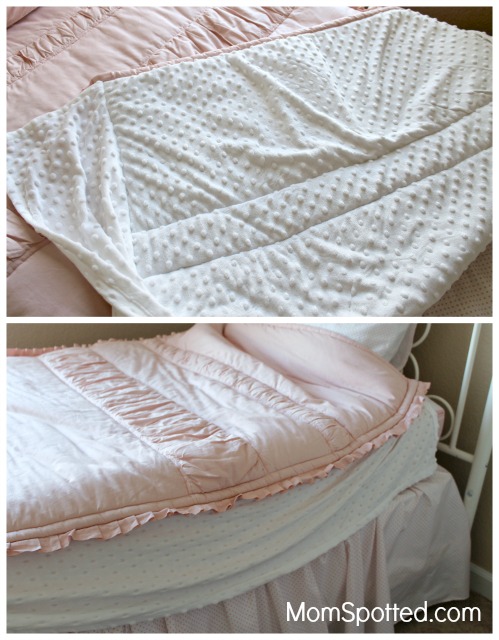 I can't say enough about how the super soft, luxurious and high-quality materials of this bedding. It is going to grow with Halli for a long time, and I know it will stay soft. The zippers easily zip and are able to zip off all the way if you like to kick your feet out at night time. Since Halli is a crazy sleeper we keep her bed unzipped a little more than half way. That way she can move around but it also keeps her covered up. The temperatures are dropping fast here in Colorado so I love having the peace of mind that she will be warm all night long.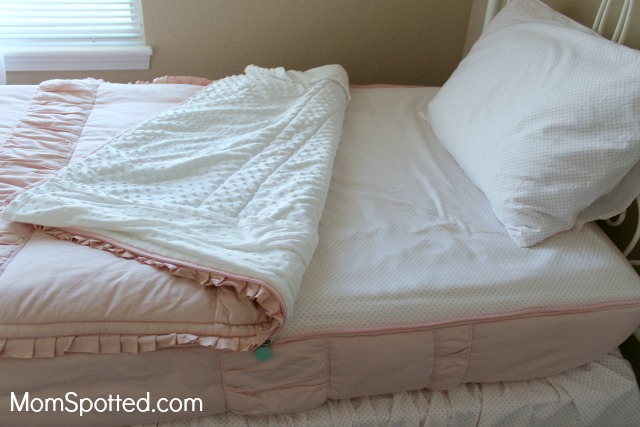 Halli is getting better and better at tucking the minky panel in and zipping her bed. She will be making her bed by herself in no time. Her rooms look so darling and neat! Even the pillows and bed skirts were made with a lot of thought. They are fitted and made with a pocket to fold over. This way pillows aren't sliding in and out of cases. Everything is super neat.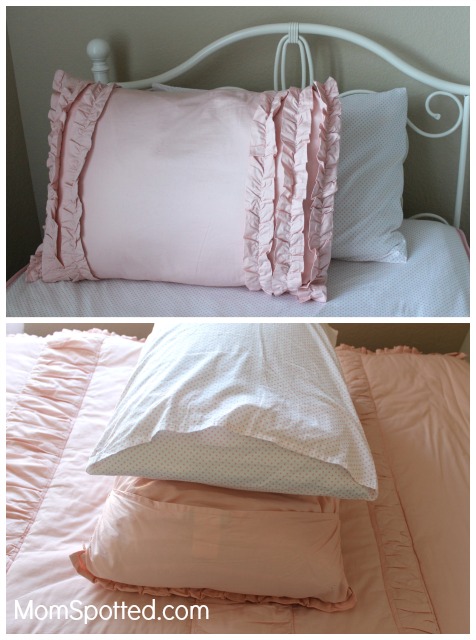 Bed skirts are sold separately from the Beddy's bed sets and there are so many fun patterns to match or coordinate with your bed sets. Beddy's bed skirts stay in place and don't slide around! They added material like a fitted sheet to the skirt so it goes over the box spring. It is such a genius idea!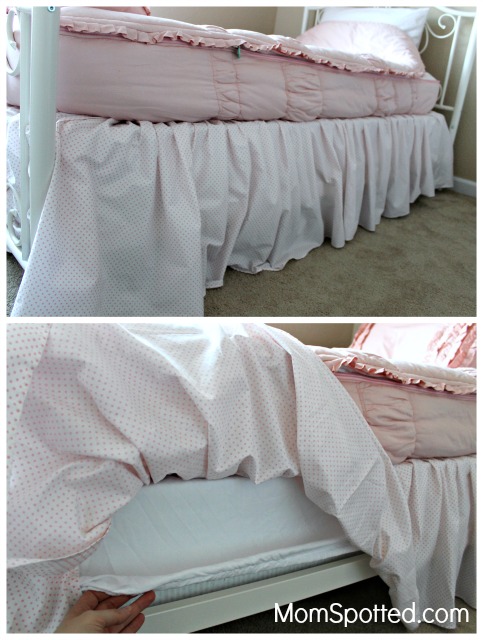 Halli has been obsessed with her bed since the day it arrived. She is sleeping soundly and staying warm. She absolutely loves the soft minky fabric to snuggle with and she loves her new "pink princess bed." I love that we can make her bed super quick in the morning and get off to school. Mornings are smoother and her room is so neat and tidy. The bedding washes up super nice in our washer and goes right back on her bed in once piece. It is like new over and over again.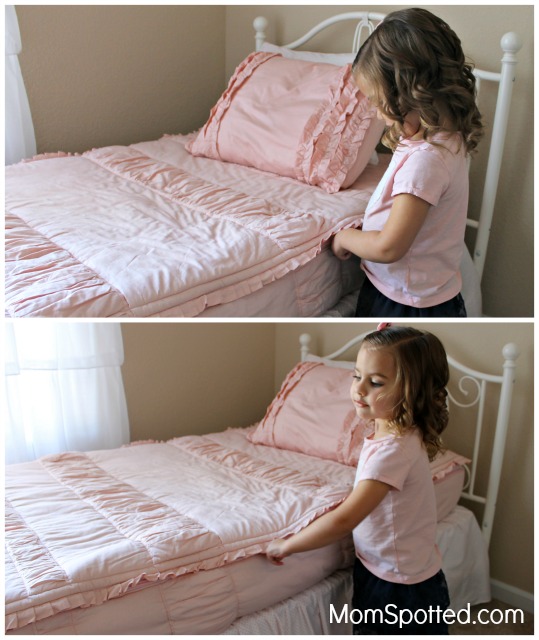 Beddy's twin size bed sets come with the all in one fitted sheet, flat sheet, cuddle blanket, and quilt, as well as 1 pillowcase and 1 decorative sham. The full, queen, and king size bed sets come with 2 pillows and decorative shams. With so many different sizes, styles, colors and patterns there is a Beddy's for everyone. They are perfect for those hard to make beds like bunk beds, trundle beds, or for kids learning to make their beds. I am a huge Beddy's fan and will be getting a bed set for my son's bed as well as my bed! With the holiday's coming up Beddy's would be perfect for any gift list.
Beddy's is kindly giving all MomSpotted readers a coupon code to buy your very own Beddy's! Get 15% off your order with the code Spotted15