This past year my house has been full of constant Star Wars talk. My 7-year-old Hayden is the biggest Star Wars fan. Hayden has watched all of the Star Wars movies dozens of times, reads all the Star Wars books he can get his hands on, has quite the collection of Star Wars things, and he is constantly looking to learn more about all things Star Wars. He was so excited when I surprised him with Star Wars Rebels: Season 2 which is now available on Blu-Ray & DVD.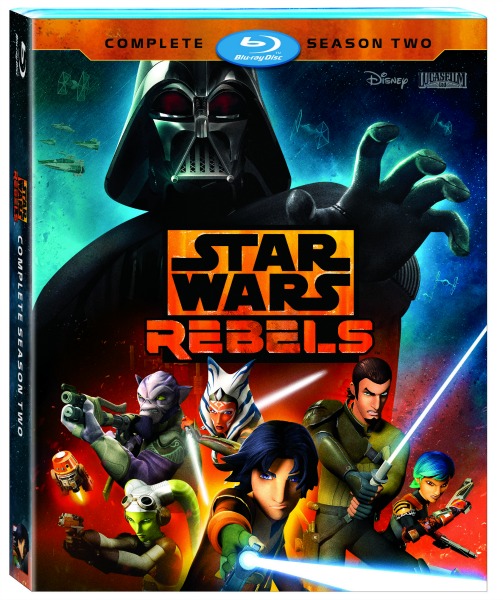 Star Wars Rebels: Season 2 has 22 episodes of the hit CG-animated series. This season is full of action, and suspense that had Hayden wanting more at the end of every episode. The Star Wars Rebels Saga continues as the crew of the starship Ghost tries to defeat the evil Empire.
Amid growing Imperial oppression on Lothal, the rebels are forced to seek out new allies throughout the galaxy and additional resources to sustain their fight against the Empire. With the help of Ahsoka Tano, the crew of the Ghost bands together with a secret rebel cell and ex-soldiers from the Clone Wars to join a fledgling alliance determined to restore peace and freedom to the galaxy.

As Ezra continues his journey to become a Jedi under Kanan's guidance, the threat of the dark side looms large over the fate of the growing rebellion. Darth Vader himself will dispatch new Inquisitors to snuff any spark of resistance, setting the stage for a climactic showdown in which past lives will be revealed, terrible truths will be discovered, and the lives of our heroes will be changed forever.
This Blu-ray and DVD combo pack are also full of never-before-seen bonus material.  Hayden's favorite bonus material is "From Apprentice to Adversary" and "Connecting the Galaxy." He loves "From Apprentice to Adversary," that is exclusive to the Blu-ray because Ahsoka Tano and Darth Vader finally have their epic lightsaber battle! He loves bringing out his lightsaber and pretends to battle it out with them. "Connecting the Galaxy" is also really fun because you find all sorts of hidden references, easter eggs, and connections to the Star Wars universe. The bonus feature "Rebel Recons" has 20 fun, fast-paced episode recons, featuring behind-the-scenes footage, interviews with cast and crew, and more!
Star Wars Rebels: Season 2 is a great addition to any Star Wars fan's library. The whole season is full of excitement, suspense, and action. You can find Star Wars Rebels: Season 2 on Blu-ray, and DVD at Amazon, Target, and Walmart.