I have absolutely loved all of the new live action versions of my favorite Disney movies. There is a special nostalgia that comes with watching a newer and different version of my favorite childhood characters. It has also been really awesome to share these new live action movies with my kids. I bought tickets to see Disney's The Jungle Book as soon as I could. I knew it would become a family favorite and it did not disappoint.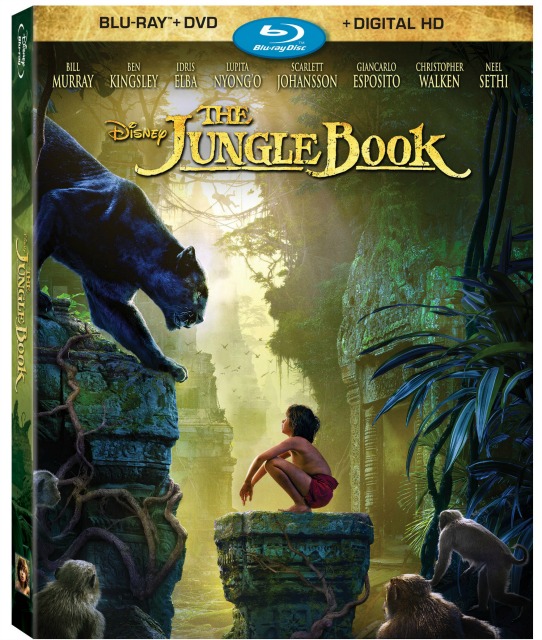 There are so many things I love about this movie. First of all the newcomer and young actor Neel Sethi who plays Mowgli is amazing! He is such a darling little boy and so charismatic. I was so impressed with his acting skills. The majority of the film was filmed with just a screen before the visual effects were added in. I find it all so impressive and really magical. Everything looks so real it is hard to tell what parts of the Jungle are real and what are not.
I also loved all the other actors and characters that made up this movie. Scarlett Johansen was unexpected and a perfect choice for Kaa. Kaa added such another brilliant level to the movie and is a wonderful story-teller. My kids love the huge ape, King Louie. His temple was amazing and my whole family loved his song "I Wan'na Be Like You." Baloo the bear is another one of our favorite characters. It was so fun hearing Billy Murray play him and singing the classic "The Bare Necessities." My kids and I have been humming it for days now. It is such a catchy fun song.
All of the characters in The Jungle Book are so wonderful. Shere Khan also adds such a great suspense to the movie. The Jungle Book is thrilling, heartwarming, funny, and so beautiful. There are also wonderful bonus features where you can get an in-depth look at behind the scenes. I was fascinated with the whole process of how this movie was made. I loved seeing how filmmakers and amazing technology brought this movie to life. I always think it is really fun finding the references filmmakers add to new Disney movies and adding in fun "Easter Eggs" to find. For example, I had no idea the opening sequence had an "Easter Egg" referencing not only the animated version of The Jungle Book but also Bambi!
If you happened to miss The Jungle Book in theaters you have an opportunity to see it one more time! The Jungle Book will be playing in select IMAX locations for a limited time only from August 26th through September 1st. It is so worth seeing in  movie theaters and then adding it to your Disney library. You can find Disney The Jungle Book on Blu-ray, digital HD, at Amazon, Target, and Walmart. Or get your own digital copy at Disney Movies Anywhere.