I recently brought the kids for one of our annual blueberry picking trips. In total, we picked 12.5 pounds. I froze many of them but kept a big bowl's worth aside to make some fresh baked goodies. Blueberries are one of my favorites and you really can't beat fresh picked. I recently stumbled upon this Peach and Blueberry Oat Crisp Recipe recipe when Arnold® bread asked me to partner up. I knew immediately I had to try it.
I was surprised that you made this warm Peach and Blueberry Oat Crisp recipe with Arnold Whole Grains Oatnut bread as part of the topping. I had never used bread before to finish off a crisp recipe before. Did you know that all of Arnold® Whole Grains Sliced Breads and Arnold® Sandwich Thins® Rolls contain/are:
2 to 5 grams of fiber per slice or thin
Zero grams of Trans Fat
No High Fructose Corn Syrup
A cholesterol free food
The Arnold® bread varieties contain/are:
Made with 100% whole grains
Good source of fiber
80 calories per serving
No High Fructose Corn Syrup
Heart healthy*
Zero grams of Trans Fat
*Diets low in saturated fat and cholesterol, and as low as possible in trans fat, may help reduce the risk of heart disease.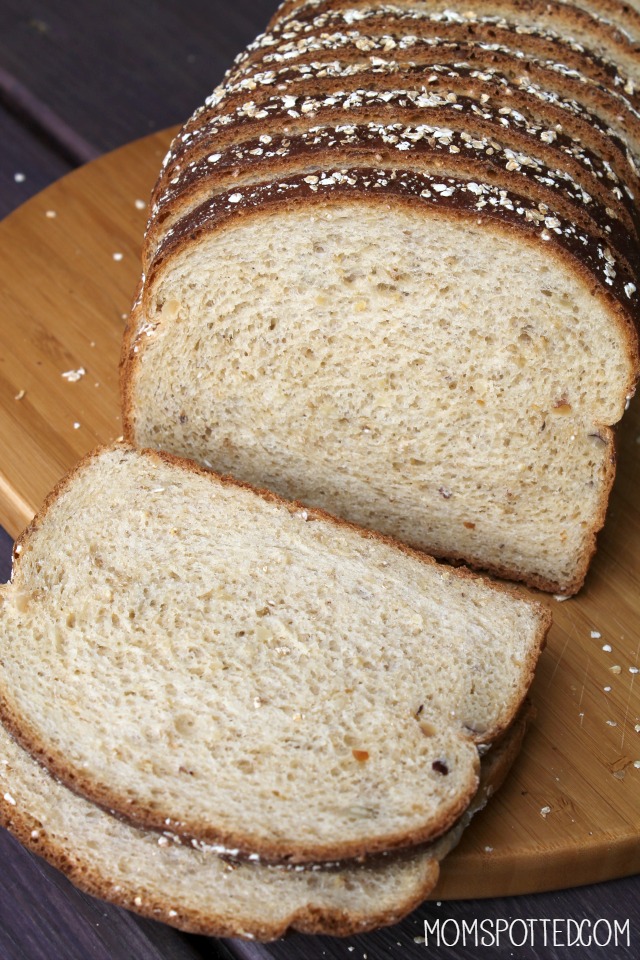 You'll also need a few more ingredients too:
2 slices Arnold Whole Grains Oatnut bread, torn
4 c. sliced peaches (fresh/frozen)
1 c. blueberries (fresh/frozen)
1/2 cup orange juice
1/2 cup light brown sugar
1 TBS cornstarch
2 TBS honey
1/4 tsp ground nutmeg
1/2 tsp ground cinnamon
1/2 cup pecans
Preheat oven to 350 degrees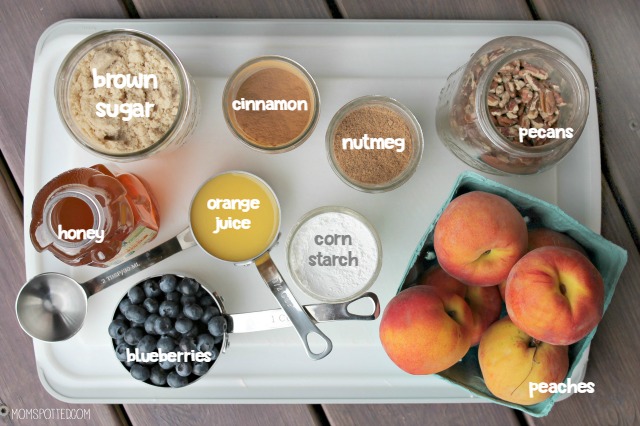 In an 8×8 baking pan, add your blueberries peaches, orange juice light brown sugar, honey, nutmeg, and cornstarch. Mix together. Then in a food processor, add the Arnold Whole Grains Oatnut bread and cinnamon and pulse until it becomes soft bread crumbs. Add in pecans and pulse a few more times until it's all the same consistency. Then sprinkle over fruit mixture.

Bake for 30 minutes until the bread crumbs turn golden brown and the fruit mixture is bubbly.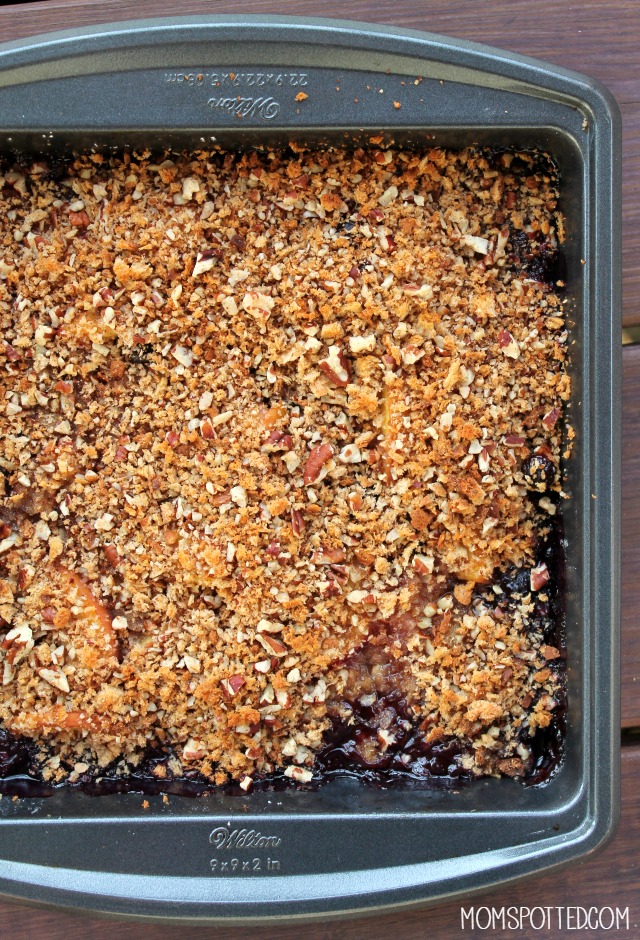 I wish I could share the smell with you. Everyone in the house just ended up flocking to the kitchen to see what smelled so good!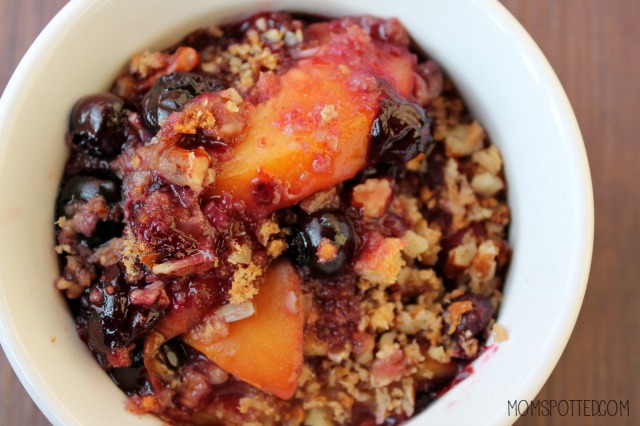 The only thing I was missing was vanilla ice cream. I definitely recommend pairing the two.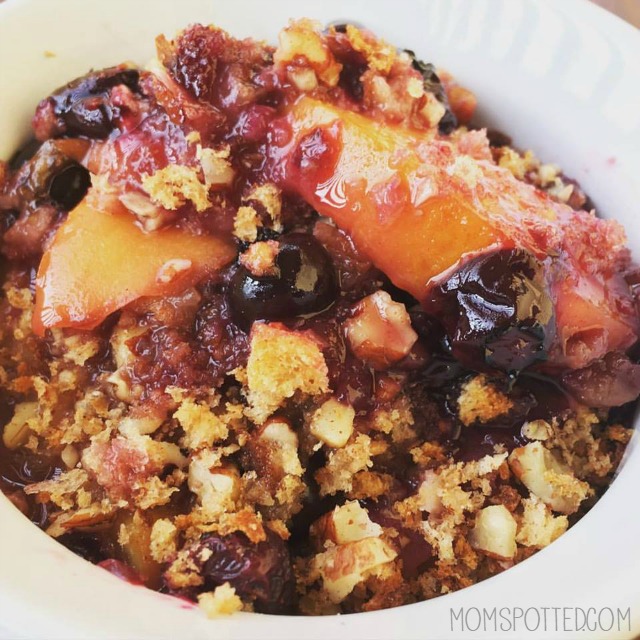 Of course, before you eat dessert you'll need a good dinner. With all our crazy schedules around here, sandwich night is a favorite!
Right now, Arnold® Bread wants to hear what healthful ingredients their fans use to make the perfect sandwich with their delicious, made with whole grain bread, so Arnold® Bread is hosting the"2016 America's Better Sandwich" Contest! The sandwich architect whose filling matches the goodness of Arnold® Bread will win a grand prize of $25,000.
Before entering an original better sandwich, entrants should make sure their recipes include any of the Arnold® Sliced Breads, including any of the Arnold® Sandwich Thins® Rolls varieties. This year's contest includes five (5) exciting sandwich categories including:
"Open-Faced Artistry" (sandwiches are works of art for the world to see, and these snacks and meals should announce their nutritious ingredients—like bright beets or tasty tuna— sans second slice);
"Breakfast in Bread" (these sandwiches, featuring nutrient rich breakfast favorites like eggs and yogurt, invoke images of cozy mornings in bed or boisterous brunches with friends);
"Creative Classics" (nutritious spins on sandwich creations that have stood the test of time, such as grandma's club sandwich, BLT or other old-time favorites);
"Fueling Good" (these sandwiches should incorporate ingredients that help boost your energy such as healthful fats, protein, fiber and iron)
"State Favorites" (whether it's a well-known sandwich in the state you reside, or a must-have local dish that can transition into a sandwich, celebrate your state pride by re-creating these state favorites with better-for-you ingredients)
The recipe in each sandwich category with the highest score will receive a $5,000 category prize.
Entries will be accepted June 15th – August 21st, online consumer voting will take place September 26th – October 23rd, and the winners will be announced on National Sandwich Day- November 3rd.
Arnold® bread will donate one (1) loaf of bread (up to 100,000 loaves) to Feeding America for each valid entry submission during the entry period and vote received during the online voting phase of the "2016 America's Better Sandwich" Contest
More information on the "2016 America's Better Sandwich" Contest Official Rules and Donation Program terms and conditions can be found at http://www.americasbettersandwich.com.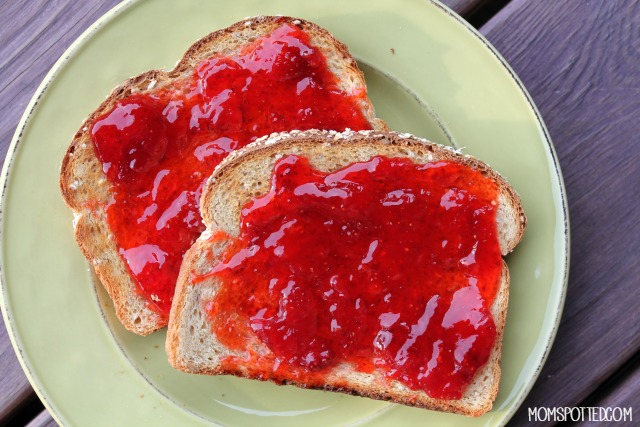 Personally, when I see delicious, whole grain bread like this I can't wait to slather a bunch of my homemade strawberry jam on top and eat it as fast as possible.
Right now one (1) Mom Spotted reader has the opportunity to win $25 Visa Gift Card along with six coupons, each valid for $5.00 off the purchase of any Arnold® Whole Grain Sliced Bread of choice and six coupons, each valid for $4.00 off the purchase of any Arnold® Sandwich Thins® Rolls of choice.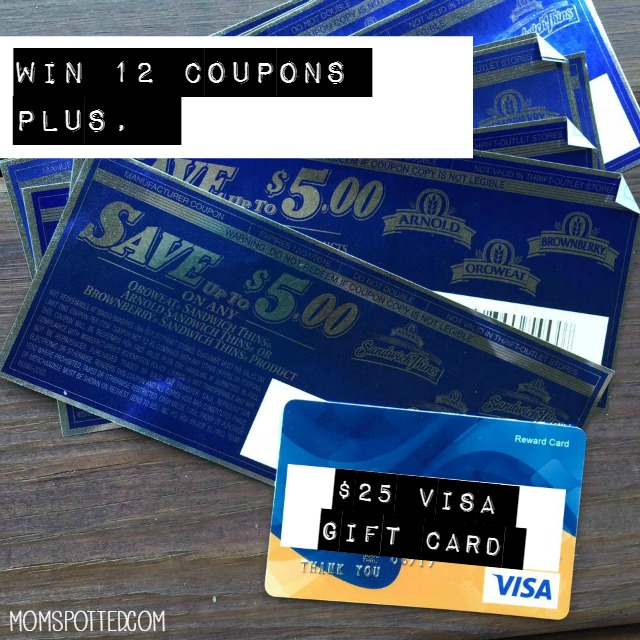 To enter use the Rafflecopter form below. Good Luck!
Contest ends 8.01.16 at 11:59 pm. For Official Giveaway Rules click here. U.S. Residents only.