Some of my most favorite childhood memories start in the kitchen. As a girl I remember laying my face on the cold counter-top staring at my mom in awe while she worked in the kitchen. She seemed to be effortlessly dancing around the kitchen with different sized Ball Canning jars. Canning day was one of my favorite days. We always had a stockpile of peaches, pears, applesauce, and jam. As I got older my mom started to teach me the art of canning and preserving. I loved washing all the Ball jars, lids and, rings getting them ready to be filled with deliciousness. Now that I am a mom I wanted to start teaching my own little future preservers.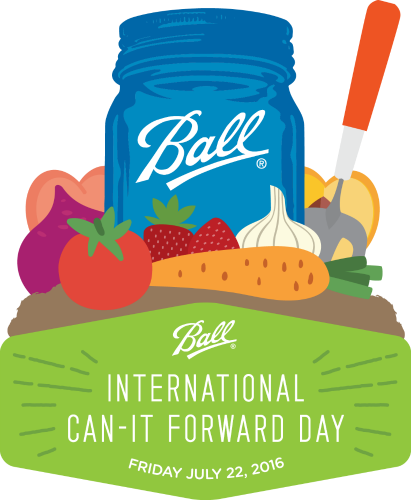 Ball Home Canning is hosting its sixth annual Can-It-Forward Day on Friday, July 22nd. Ball's Can-It-Forward Day celebrates the joys of fresh preserving, and it encourages both new and veteran canners to preserve more. This year Can-It-Forward Day will be online via Facebook Live from 10:00AM – 3:30PM ET, and each hour viewers will have the chance to win a giveaway prize! Celebrating through Facebook Live will make it so easy for me to tune in, and see what exciting things are going on. Ball will be teaching a new variety of canning recipes demoed by Ball brand experts!
On the Ball Canning Twitter page from 10AM-5PM ET on July 22nd you can ask Jarden Home Vrands canning experts any preserving or home canning questions. Just use the hashtag #canitforward. Then share their own #canitforward creations with the brand on Pinterest and Instagram. You can also go to the Freshly Preserved Ideas Tumblr page, where you can take a "digital pledge" and pledge to Can-It-Forward this year.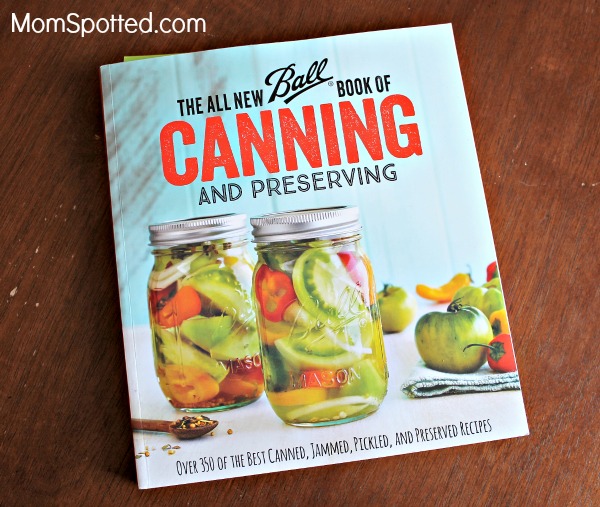 Ball is really celebrating with the true spirit of "canning it forward." For every engagement received on the videos, whether it be a comment, like or share, the brand donate $1 to a local charity. Ball is the brand my family has used for years and years. It is the brand I grew up with, and the one I trust now to be high quality and have delicious recipes.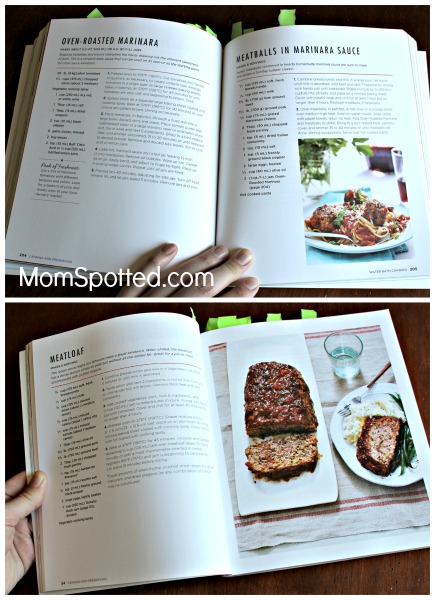 With Can-It-Forward Day quickly approaching the perfect way to celebrate was to finally teach my kids about canning. I have been flipping through "The All New Ball Book of Canning and Preserving" for quite a few days. I have several sticky notes of recipes I can't wait to make. This book is such a great comprehensive canning guide to help you learn how to can at home. It also has a huge variety of more than 200 brand new recipes from jams and jellies, salsas, sauces, pickles and more. There are so many great recipes to also use the things you have canned and preserved. The Meatloaf recipe using the tomato-herb jam is at  the top on my list to make for my meatloaf loving husband.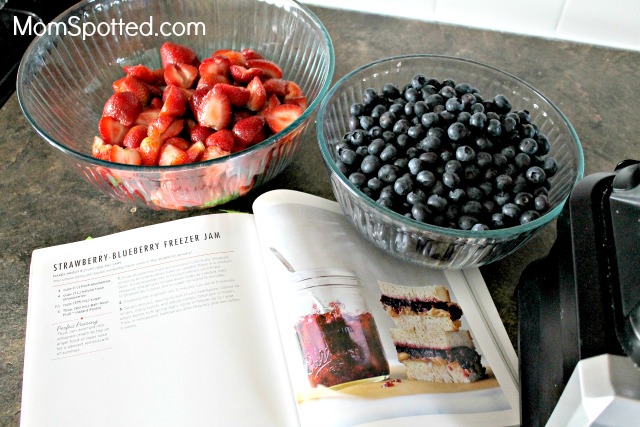 Strawberry-Blueberry Freezer Jam was the first recipe I used to teach my kids about preserving. My kids love a good peanut butter and jam sandwich so I knew this would be a hit, and they were beyond excited to help me. I had serious flashbacks watching my 7 year old son Hayden get all the jars ready.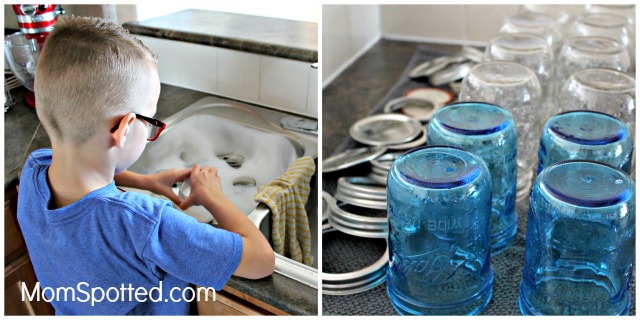 My 3 year old daughter Halli loved helping me wash and dry all the berries. She thought it was hilarious to sneak her favorite blueberries to snack on. Then Hayden helped me get all the stems out of the strawberries.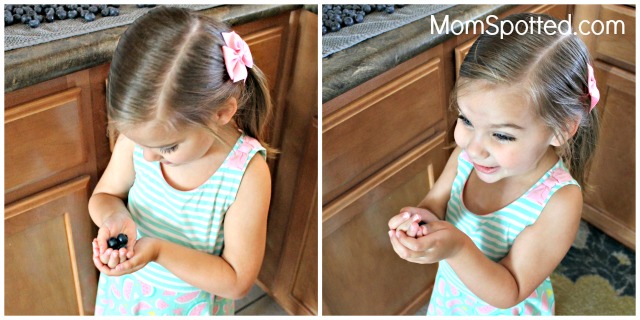 After all our berries were chopped and mixed together Halli poured in the sugar while Hayden stirred. Next came the Ball RealFruit Instant Pectin to stir in, and then we let it our jam rest for a few minutes.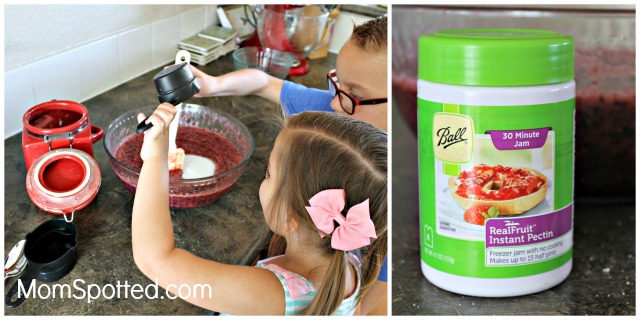 I poured our jam into our Ball jars, and my kids put all the lids and rings on. Our new favorite jars are the Ball Elite Wide Mouth Pint Jars. They are an absolutely gorgeous blue.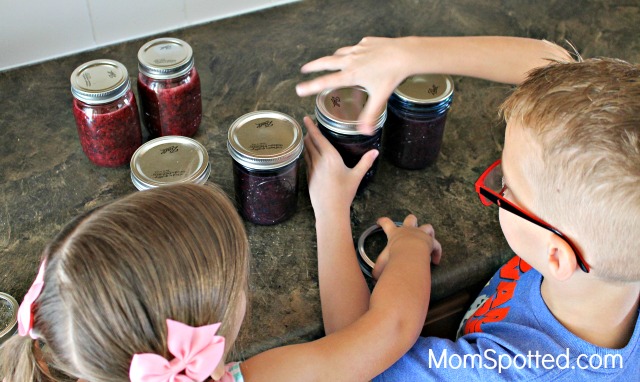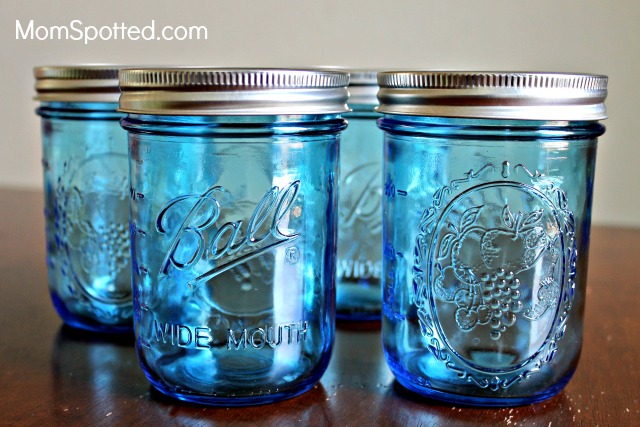 It was so much fun making jam with my kids! Making jam and canning will be something that we do regularly together. It is so great to do something that I also loved as a kid, get a little messy, teach my kids something new, and is so yummy.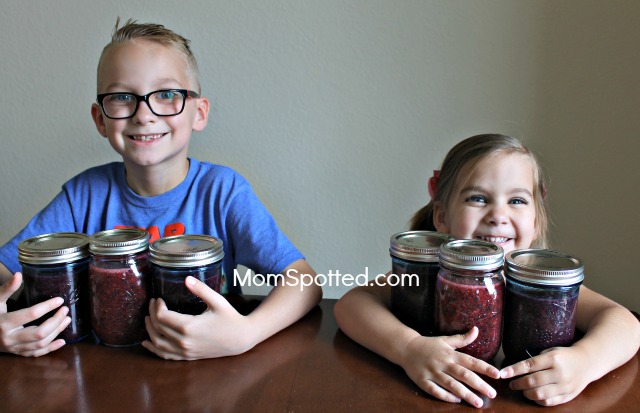 Halli was especially beyond thrilled with the fruits of her labors. She kept hugging and kissing the jars. She has told everyone from grandma, to random people we run into at the store about her jam.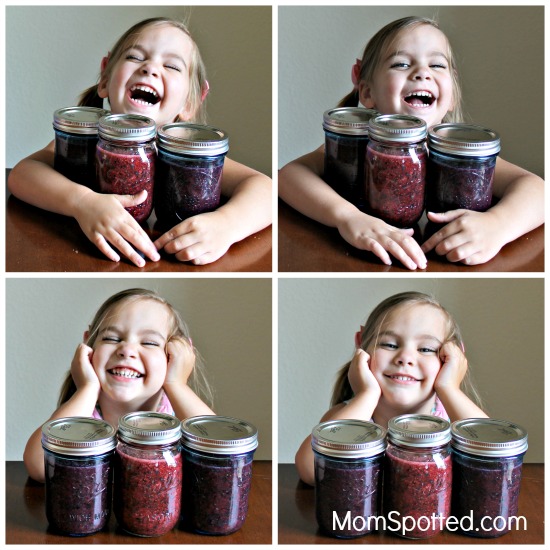 We put our jam in the freezer and waited. Waiting is always the hardest part. After the jam was frozen I took it out to thaw and we enjoyed it on toast for breakfast. It is some of the best jam I have ever had! Our Strawberry-Blueberry Freezer Jam is deliciously sweet, but not too sweet. It is so yummy on toast, and in a good old PB&J.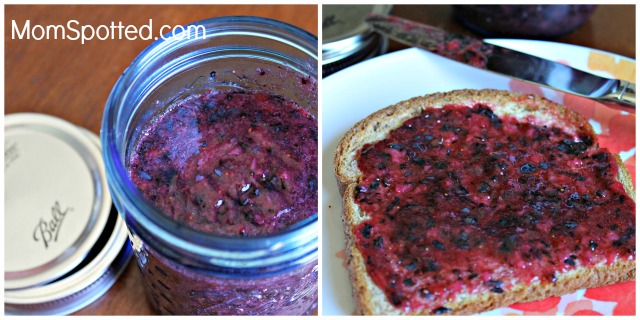 I decided to try the Ball's recipes "Perfect Pairing" suggestion, and add our jam to some whipped cream. A church meeting at my house was the perfect opportunity to make the whipped cream and have it with angel food cake. Adding the jam to whipped cream was heavenly and so perfect! I may never make whipped cream without it. It was so yummy on the angel food cake and next time I want to try it on a lemon cake.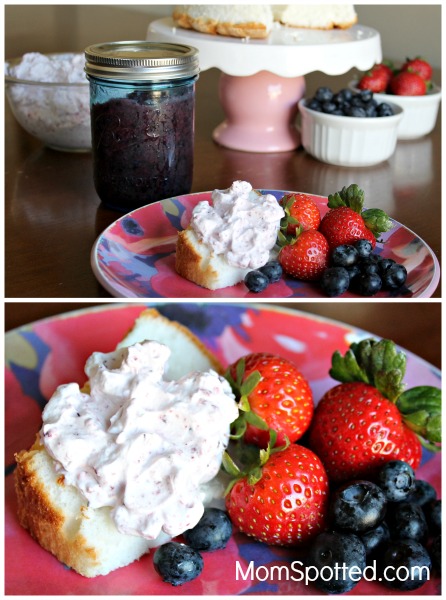 I absolutely love "The All New Ball Book of Canning and Preserving," and it was so fun trying a new recipe with my kids. Making jam and canning will be one of our new traditions. I hope that it will be one of the memories that they cherish just like I do.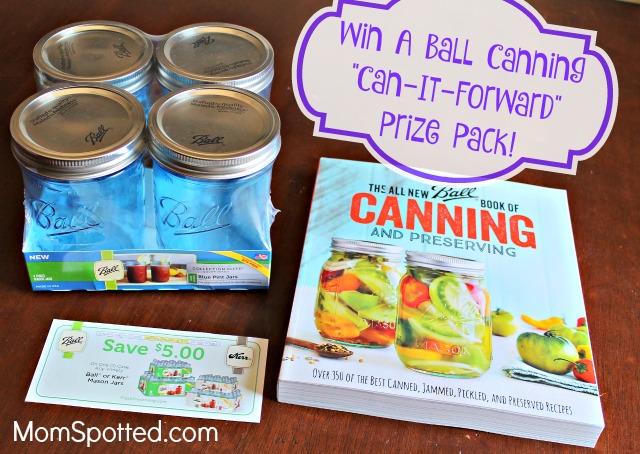 Make sure to celebrate Ball Home Canning's Can-If-Forward Day on July 22nd! Watch for the Ball Facebook Live celebration, take the can-if-forward pledge, and make some new memories with your family. To help you start canning and preserving to make those memories right now one (1) Mom Spotted reader has the opportunity to win a Ball Home Canning Can-It-Forward Prize Pack.
The prize pack includes:
The All New Ball Book of Canning and Preserving book
A Case of Collection Elite Wide Mouth Pint Jars
One $5 off coupon to be used on FreshPreservingsStore.com
To enter use the Rafflecopter form below. Good Luck!
Contest ends 7.25.16 at 11:59 pm. For Official Giveaway Rules click here. U.S. Residents only.