When I watched my very first Disney movie I remember being instantly captivated. Snow White and the Seven Dwarfs was one of my very first Disney movies. Snow White is so inspiring to me because she is always full of joy and hope. Now that I am a mom it is so fun to share the Disney movies I love with my kids. Now for the first time ever Disney's Snow White is available on Digital HD and Disney Movies Anywhere (DMA). Snow White is a Disney classic that belongs in every Disney lover's library. It is such a wonderful story about love, kindness, and friendship.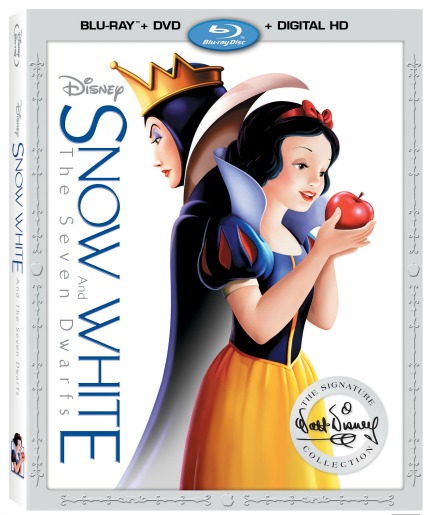 I recently watched Snow White and the Seven Dwarfs for the first time with my kids. They loved it just like I knew they would. My almost 3-year-old daughter Halli immediately fell in love with the beautiful Princess Snow White. She loved watching Snow White sing by the wishing well, and was fascinated with Snow White working together with animals. Ever since Halli has been talking and singing to her own stuffed animals pretending to be just like Snow White. My kids also really loved all of the Seven Dwarfs. Those Dwarfs are just so silly and lovable. We all really love Dopey and Grumpy. My kids couldn't hold still while the Dwarfs were marching off to work singing "Hi-Ho!" I love how the Dwarfs always work hard, and are absolutely in love with Snow White. They are so devoted to her.
Snow White is also a great opportunity to talk about getting all our chores done happily! Snow White sings "Whistle While You Work" and gets all of her work done cheerfully. You can find an adorable Snow White chore chart printable for all of your kids by clicking the picture below. We have been using it at our house and it has definitely helped my kids be more willing to get their chores done happily just like Snow White.
You also can't talk about Snow White without mentioning the Evil Queen! She is such a great character. My 7-year-old son Hayden was fascinated with her. He loved watching her make the poison apple so she could finally be the "fairest one of all!" But in the end good and kindness always triumphs over jealousy and evil.
Snow White and the Seven  Dwarfs also has a ton of wonderful Blu-ray and Digital HD Bonus features:
In Walt's Words: Snow White and the Seven Dwarfs – For the first time ever, hear Walt himself talk about Snow White. 

Iconography – Explore how this film influences pop culture, art, and fashion.

@DisneyAnimation: Designing Disney's First Princess – Modern day Disney artists discuss the design of Snow White and how it influenced the look of some of your favorite Disney characters.

The Fairest Facts of Them All: 7 Facts You May Now Know About Snow White – Disney Channel star Sofia Carson reveals seven intriguing facts about Snow White.

Snow White in Seventy Seconds – Rap along with this hip reimagining of the story.

Alternate Sequence: The Prince Meets Snow White – A never–before-seen story board sequence where the Prince meets Snow White.

*Digital bonus offerings may vary by retailer

And much more!
My favorite bonus feature was listening to Walt Disney talk about Snow White. You can hear how much he loves her and is proud of the movie Snow White. My kids loved the rap called "Snow White in Seventy Seconds." You can watch a clip of it with your family below!
You can also find lots of really great activity and coloring pictures by clicking the picture below. Your family will love coloring all of their favorite characters from Snow White.
You're entire family will love all the magic, music, and suspense in Snow White. It is such a wonderful Disney classic.
You can find Disney's Snow White and the Seven Dwarfs on Blu-ray, digital HD, at Amazon, Target, and Walmart. Or get your own digital copy at Disney Movies Anywhere.