This is a sponsored post written by me on behalf of SnowCast for IZEA. All opinions are 100% mine.
My family is getting ready to move to Colorado. Right now we live in Texas and I think the move will be a pretty big adjustment. It is almost December and my son has only worn pants to school one time so far. He usually wears shorts, short sleeves and maybe a jacket if it's a little chilly. Once we committed to moving I started following Colorado's news and weather updates. It has already snowed twice and I'm sure people have been bundled up for months! The weather change and getting use to the cold maybe the biggest adjustment of all.
I am pretty familiar with the cold and snow. I grew up in Utah, but it has been awhile since I have had to deal with snow related things. Like shoveling my drive way, leaving earlier for school or work, sliding on ice, school snow days, or snow related traffic accidents. With the new winter weather SnowCast app I will never have to be surprised by snow!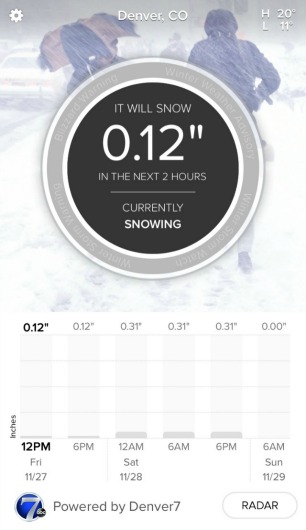 After you download the SnowCast app from the Apple App Store you will quickly be able to see how much snow will fall in your location. It is such an easy app to use and makes it really clear how much snow is falling now(within the next 6 house) and how much will fall over the next 48 hours, in 6-hour increments. It also shows NOAA winter weather warnings and advisories. One of my favorite features is the fast-loading, accurate radar. I like to be able to see which direction a storm is moving and how long it might be in my area.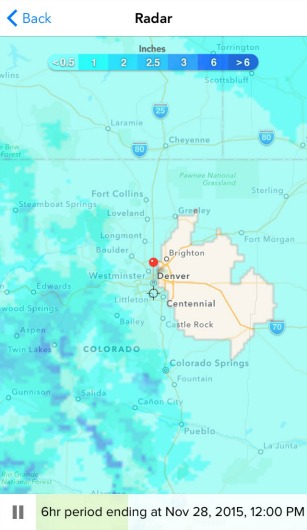 The SnowCast app has already helped us a ton as we have been planning to move to Colorado in the next few weeks. We will be in Utah for Christmas before we move into our new home. With the SnowCast app we will be able to predict the best days to travel so we don't run into any snow storms. I am so relieved to know we won't drive blindly into bad weather and we can unload all of our stuff on a clear day.
Download the app and get accurate, easy to read information to see what snow storm or light dusting might be heade