My family has been in love with Minions ever since we watched Despicable Me when it first came out. I remember Hayden absolutely rolling with laughter as they talked to each other in their silly language. I don't think anyone really speaks "Minion," but you always know exactly what silly things they are saying. They are such adorable little creatures and we were all really excited for the new Minions Movie to come out. It is now available on Digital HD, Blu-ray, and DVD. It has been so fun watching it as a family for movie nights.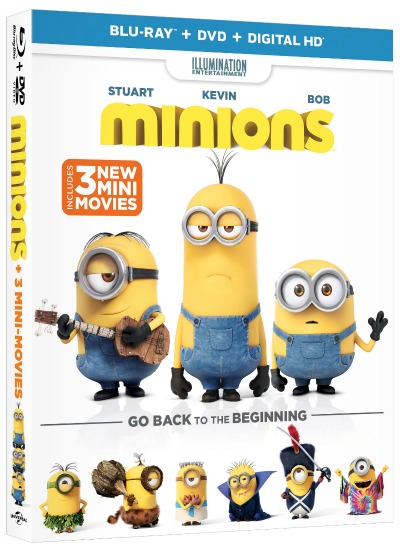 The movie starts out talking about the history of the Minions. It was so funny watching the Minions evolve through the ages. Even when they were little single-celled yellow organisms Minions were always looking to serve the most despicable master, some of their masters being a T-rex and Napoleon. The Minions are pretty unsuccessful at serving and keeping masters. Those poor little Minions fall into a depression having no master to serve until one brave Minion named Kevin comes up with a plan. He and his friends Stuart and Bob will go on an adventure to find a new evil boss to serve. Stuart and Bob are as equally adorable as Kevin. Stuart is much like a teenager and a littler rebellious. Bob is lovable and is always doing silly things.
Out on their adventure they meet Scarlet Overkill who is played by Sandra Bullock. She is the world's first-ever female super-villain. Stuart, Bob, and Kevin face all sorts of adventures and challenges trying to save all of their Minionkind. The entire movie is exciting, a great adventure, and absolutely hilarious.
The bonus features on the Blu-ray™ Combo Pack and Digital HD come with are some of my kids favorite part of the whole movie. Especially the three all-new mini-movies. We always watch them right after we finish the movie. My kids also really love "Jingle Bells Minion Style." It is perfect for the holidays and even has the words so you can really sing along like a Minion. Here is a one of my kids favorite mini-movies called "Competition."
Minions is the perfect movie to enjoy with your entire family during the holiday season. Everyone will love it and it would also make a great holiday gift. You can find Universal Pictures Home Entertainment Minions, at Amazon, Target, and Walmart.