There have only been a handful of movies that I have been as equally excited as my kids to see in theaters. As soon as I saw a preview for Disney's Inside Out I knew it would be a family movie we would all go see over the summer. I loved the idea of watching what happens to all those little voices and ideas in our minds. So as soon as we could my husband and I took the kids to see Inside Out this summer, and it did not disappoint! My husband and I both loved it as much as our kids did. I laughed, I cried, and I was in love with all of the characters.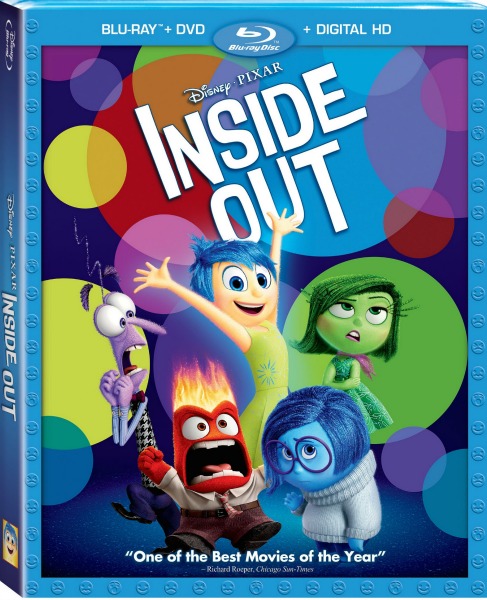 Disney's Inside Out is now on Digital HD, Blu-ray Combo Pack, and Disney Movies Anywhere. It is honestly one of my favorite movies I have seen this year. It is such a sweet, funny, and captivating story. My family has loved watching it together, and my kids have watched it a few more times on top of that. We all really love Inside Out.
Do you ever look at someone and wonder what's going on inside their head? Disney-Pixar's "Inside Out" takes an exciting and hilarious journey into the mind to find the answer. Based in Headquarters, the control center of 11-year-old Riley's mind, five emotions are hard at work, led by lighthearted optimist Joy. She strives to make sure Riley stays happy as she operates alongside fellow emotions Fear, Anger, Disgust and Sadness. It's "an instant classic," raves Richard Roeper, Chicago Sun-Times. Experience it like never before on Disney Blu-ray!
My kids both love all the funny emotion characters. Joy, Sadness, Fear, Disgust, and Anger are all such dynamic characters, and we all laugh out loud at some of the things they say. As a mom I love watching Riley and how all her feelings work together. In the move Riley and her parents move to San Francisco, California. This summer my family had just moved to Texas. The move was definitely an adjustment for my oldest son who left behind a great school and friends. My heart melted as I watched Riley and her emotions process what had just happened and how to make a new life in a new place.
There are also other really great characters throughout the movie. Like Riley's old imaginary friend Bing Bong! My kids also loved watching how Riley's dreams are made and all the fun characters in her imagination.
The Inside Out Blu-ray combo pack is also chuck full of really great bonus features!
Riley's First Date? (In-Home Exclusive Animated Short Film)
LAVA (Theatrical Short Film) 
Story of the Story: Director Pete Docter talks about the evolution of Inside Out, from the ideas and memories that inspired the story through the hurdles, explorations and experiences that helped shape it into the film it is today.
Paths to Pixar: The Women of Inside Out
Mixed Emotions – Inside Out's filmmakers talk about how they decided which emotions to focus on in the story and how they went about creating each one's distinct personality and visual identity
Mapping the Mind – Inside Out's artists take you through the years-long process of designing and creating a world everyone knows, but no one has ever seen – the human mind.
Our Dads, the Filmmakers – Elie Docter (daughter of director, Pete Docter) and Grace Giacchino (daughter of composer, Michael Giacchino) bring you behind the scenes for an inside look at the making of the film.
Into the Unknown: The Sound of Inside Out – What is the sound of a memory forming? Sound designer Ren Klyce describes the challenges – and the unique solutions – involved in creating the aural world of Inside Out.
The Misunderstood Art of Animation Film Editing – Learn more about the crucial role of an animation film editor, who helps take the story from its earliest, most exploratory versions, to the final, polished film you see onscreen.
Deleted Scenes 
Commentary – Commentary includes participation from directors Pete Docter and Ronnie del Carmen, and producer Jonas Rivera.
Mind Candy – A montage of toolkit and interstitials produced for Inside Out.
Inside Out Trailers – A collection of domestic and international trailers made for Inside Out.
My family's most favorite Inside Out bonus feature is the Short Film "Riley's First Date." We were all laughing so hard watching Riley's mom and dad process the idea of Riley possibly being on a date. My kids are nowhere near dating age yet but I could relate to how Riley's parents must have been feeling. It is such a sweet and hilarious 4 minute movie and one of our favorite parts of the whole combo pack.
I also really liked watching the deleted scenes and hearing about how the movie was created in the bonus feature "Story of a Story." A story about emotions is such an interesting and fascinating story to tell. I loved learning about how the producers, writers, and director decided on what characters to make the main story about. Here is a little clip of "Story of a Story":
If you have not seen Inside Out you must as soon as you can! It is one of my favorite Disney movies. Your whole family will laugh out loud and love this movie. You can find Inside Out at Amazon, Walmart, and Target.
Right now one (1) Mom Spotted reader has the opportunity to win an Inside Out digital Disney Movies Anywhere copy. You will be sent a code to redeem your copy at the end of the giveaway. To enter use the Rafflecopter form below. Good Luck!
Contest ends 11.16.15 at 11:59pm. For Official Giveaway Rules click here. U.S. Residents only.