Halli has really been into playing pretend lately. It is so much fun watching her imagination explode. We have tea parties, play house or castle, and lately we have been imagining that we are cowgirls. Maybe it is because we live in Texas but that girl has her "Yee-haw's," and "y'all's" perfected! Her cowgirl boots are by far her favorite shoes and she insists on wearing them with everything. Halli has really been loving the Disney Junior Series called Sheriff Callie's Wild West. It has such darling little characters, and I love the lessons it teaches.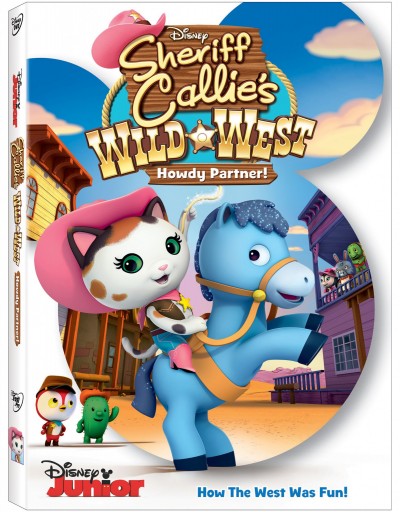 Now there is a new Sheriff Callie DVD that includes 5 episodes!
Sparky's Lucky Day/Peck's Bent Beak
Toby the Cowsitter/Callie's Blue Jay Blues
The Pie Thief/Fool for Gold
Moustache Toby/Doc's Cheatin' Chili
Train Bandits/A Dirty Dusty Apology
The Disney Junior Sheriff Callie's Wild West: Howdy Partner also includes and FREE exclusive pop-up play set packed inside the DVD!
Welcome to "Nice and Friendly Corners," where lovable Calico cat Sheriff Callie (voiced by Mandy Moore), along with her deputy woodpecker Peck and their fun-loving cactus sidekick Toby, watch over their pleasant little frontier town, ensuring that everyone follows the "Cowpoke Code" of fairness, honesty, hospitality, cooperation and hard work. Utilizing the folklore of the Old West to impart lessons about good morals, manners and social ethics for kids age 2-7, "Sheriff Callie's Wild West" is the perfect mix of good ol' friendship and laughter for your little one.
All five episodes on the DVD are packed with so much fun and action. It has been pretty cold and yucky outside the past few days. I have loved cuddling up on the couch with Halli and watching a few of the episodes with her. Each episode has such darling songs and Halli loves humming along with them. I really love that Sheriff Callie helps teach her about how to be a nice friend and other really great lessons.
If you have a toddler or preschooler they will love watching Sheriff Callie and her whole gang try to keep their cute little town "nice and friendly." You can find Disney Juniors Sheriff Callie's Wild West: Howdy Partner on DVD at Amazon, and Walmart.