My son Hayden is in first grade and he is really fascinated with animals right now. He loves learning everything about them and learning different facts he can tell people. For awhile he was obsessed with sharks, and then it was alligators. So when Disneynature Monkey Kingdom came out on Blu-ray Combo pack I knew it would be perfect for Hayden. We have loved watching other Disneynature movies like Chimpanzee and Bears for our family movie nights. Monkey Kingdom is the perfect addition to Disneynature. My kids loved watching those silly monkeys.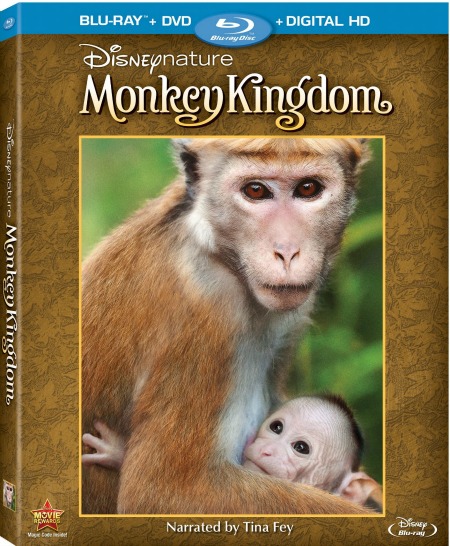 Monkey Kingdom a spectacular tale set among ancient ruins in the storied jungles of South Asia. Maya, a clever and resourceful monkey, finds her world forever changed when she welcomes her son Kip into her colorful extended family. As Maya strives to keep Kip safe through unexpected and sometimes perilous adventures, amazing footage captures all the magic and surprises of their magnificent world. Maya and her family will make you laugh and warm your heart as she realizes her dreams for her son's future.
I fell head over heels in love with Maya and her son Kip. I could totally relate to Maya as she is trying her very best to be the best mom she can. I even got a little emotional a few times watching her keep pushing forward to take care of her baby. Maya's family is a family of monkeys but it is still a family that everyone can relate to. It is so fun watching all of the monkeys and how their personalities fit into their family. Tina Fey narrates for Maya and her family in Monkey Kingdom and does such a great job. Hayden was laughing so hard at some of the commentary Tina makes.
One thing I really love about Disneynature is that for every Digital and Blu-ray Combo Pack sold during first-week sales it makes a donation to Conservation International in your honor to help protect endangered species in their natural habitat, supporting conservation project across Indonesia, Cambodia, and Sri Lanka.
My family absolutely loved this movie and it's story of a cute monkey family. There are some really great activity sheets that you can download and print out for your own little monkeys. You can find them by clicking the picture below.