The moment I found out I was pregnant with Sawyer I was on the hunt for the Ultimate sale on diapers. I wanted to create a stock pile that would leave me with a nice cushion after her was born. I was so excited when I found a great sale on Pampers and grabbed our whole first year in one trip! Right now Target has been having some amazing sales on their newly improved Pampers Cruisers too!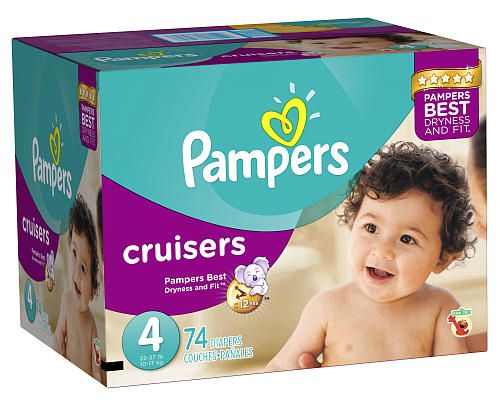 Back in June when you followed me on my social channels on my trip to Cincinnati for a visit to the Pampers headquarters I had the opportunity to learn about the all new extra absorb channels that just came out on their Cruisers line. I was so excited to tell you guys all about it because it's going to change the way you look at diapers. You know that stage where you feel your diaper just can't keep up with your child? You constantly see this sagging diaper on your kid like it's drooping to their knees? It's awful! Pampers finally discovered a way to make it stop!

They are still the same great diapers you already know and love. If you weren't paying attention to the design when you removed them you wouldn't even notice. Do you see those squiggly lines going vertically down the diaper? That's showing you where the channels break!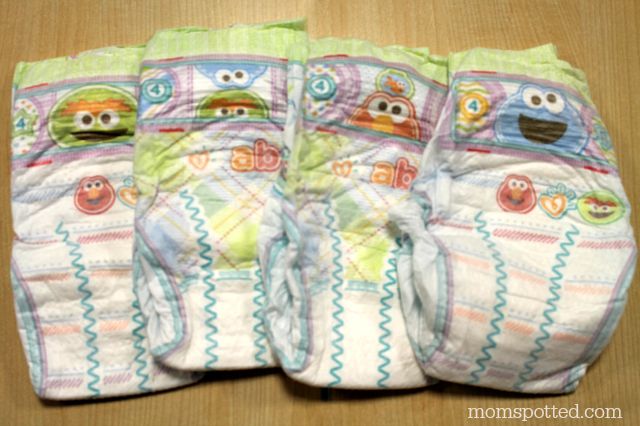 Once wet (I poured in two cups of water!!) you can't really see a difference on the inside. The diaper has taken all that water and even absorbed it keeping it from lumping all together in one spot.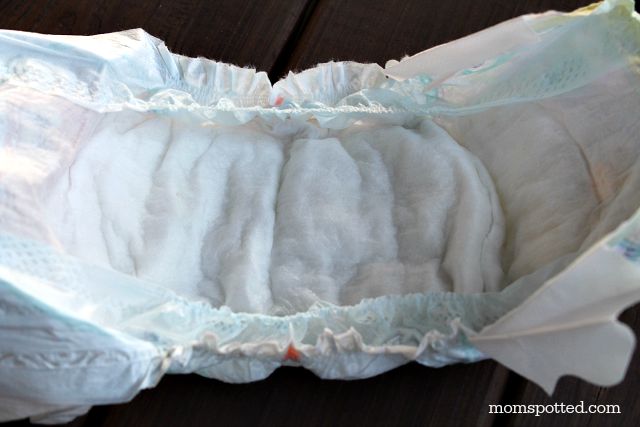 You can see those extra absorb channels now on the outside. Even when you shake the diaper all around the wetness doesn't shift. This helps keep Pampers Cruisers from bulking up in your child's pants or dangling down at their knees when they wake up from their afternoon nap.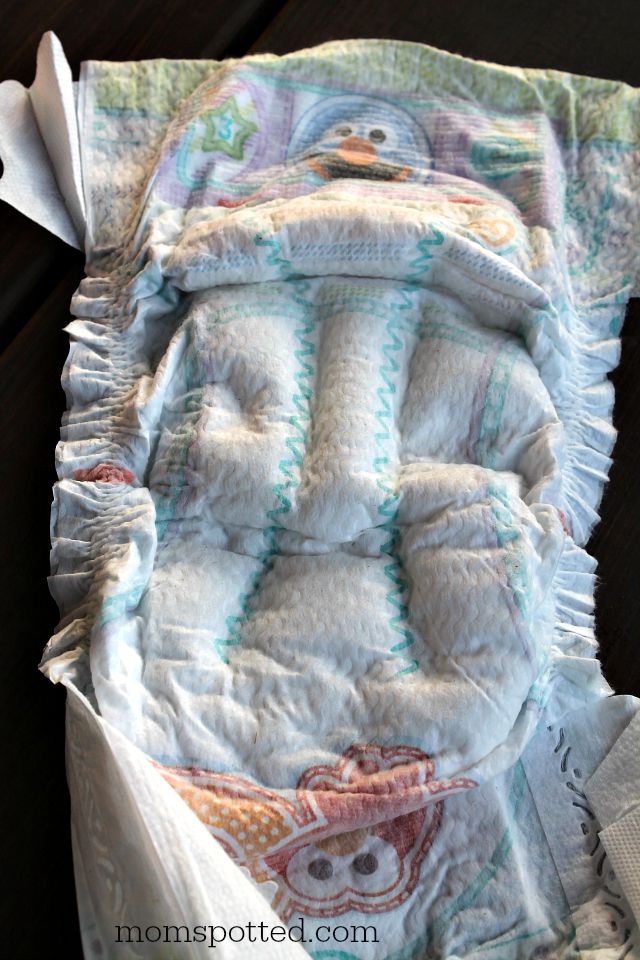 Target is having some great sales lately on Pampers! If you want to give these all new Pampers Cruisers a try, make sure to check out the end caps! Target is keeping themselves nicely stocked!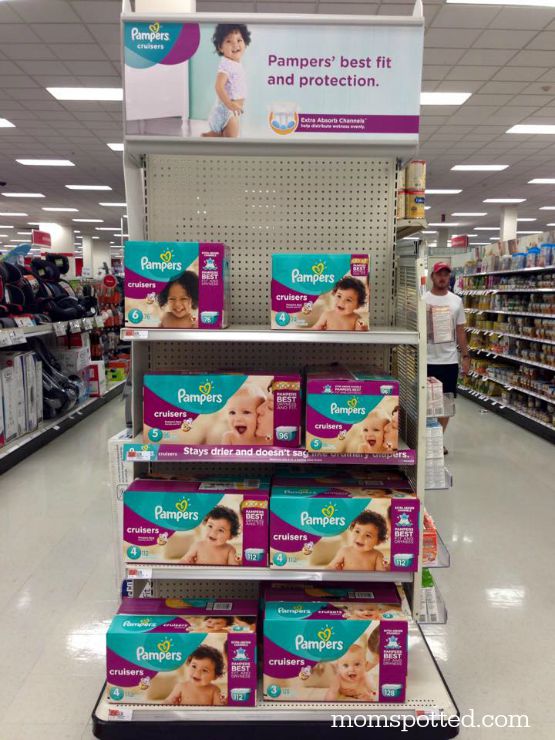 We took advantage of these sales and filled our cart right up! We're doing some surprises for new moms in the upcoming future and made sure we had plenty of Pampers for all. The sales have been so great we've been able to stock up on lots of wipes with the gift cards we've gotten in return!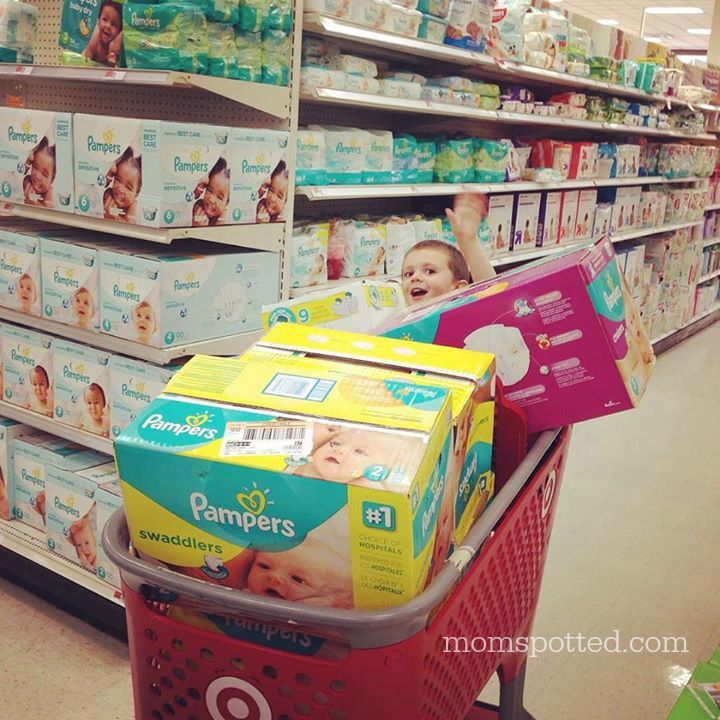 Make sure to get in on these hot deals:
August 23- August 29, Buy 3 Pampers Giant Packs Get a $25 Gift Card
August 30 – September 5, Buy 2 Pampers Giant Packs Get $10 Gift Card
Giant Packs include: Pampers Cruisers and Pampers Swaddlers diapers and both offers will be available in store and online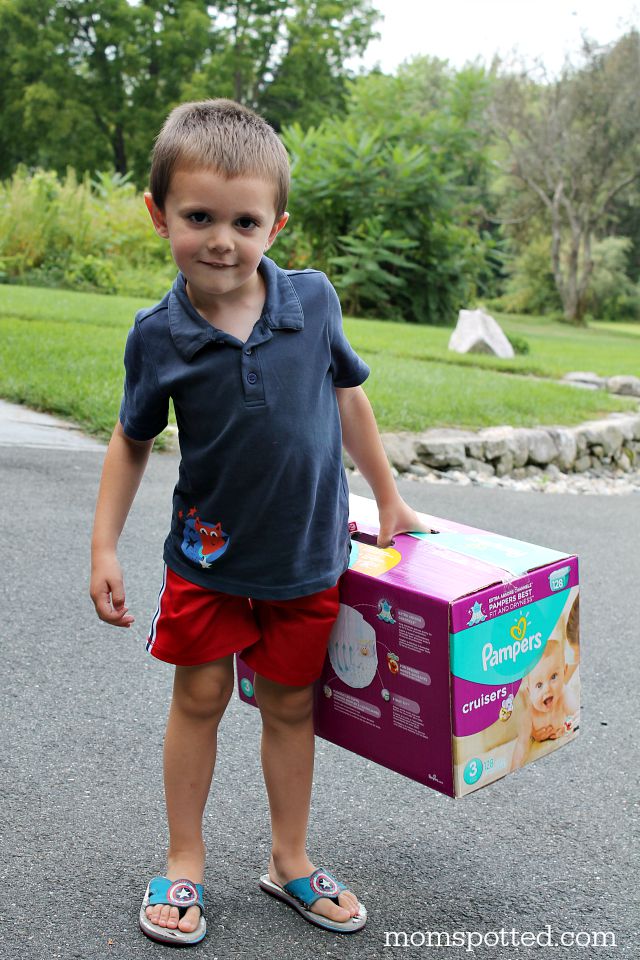 Now the only thing bulking up around here is Sawyer. He's been helping out with all the boxes we're about to give away and he's been telling me how big it's made his muscles! So go on and run to Target and stock up your cart and then come back here and stay tuned on the amazing things Pampers is helping me do right here in my own community!
I was selected for this opportunity as a member of Clever Girls and the content and opinions expressed here are all my own.