My family and I have been outside a lot this summer! We live in Texas so the summer heat has no plans of letting up anytime soon. We keep going swimming well into October. I have always been pretty good when it comes to sun protection. I always kept sunscreen in my purse and in the car. I am good at lathering my kids up before we go outside. My family has a dear friend who was diagnosed with skin cancer. She is a very young mother of 3 beautiful kids, and had a tough battle. Thankfully she punched skin cancer in the face and has been cancer free at all of her screenings for a year! Her story really was an eye opener to me that I needed to step up my sun protection even more for my entire family.
According to the Skin Cancer Foundation, children are especially vulnerable to UV exposure: one blistering sunburn in childhood or adolescence can double a persons chances of developing melanoma later in life. In August we had a trip planned for Destin, Florida and I wanted to be prepared! We would basically be at the beach all day, everyday, and I didn't want anyone to ever have a sunburn.
The Skin Cancer Foundation recommends sun protective clothing as the first line of defense, and Coolibar is the first sun protective clothing line to receive the SCF's Seal of Recommendation. I was so excited to be able to try out some Coolibar swim suits for my 6-year-old son, and also my 2-year-old daughter for our Destin, FL trip.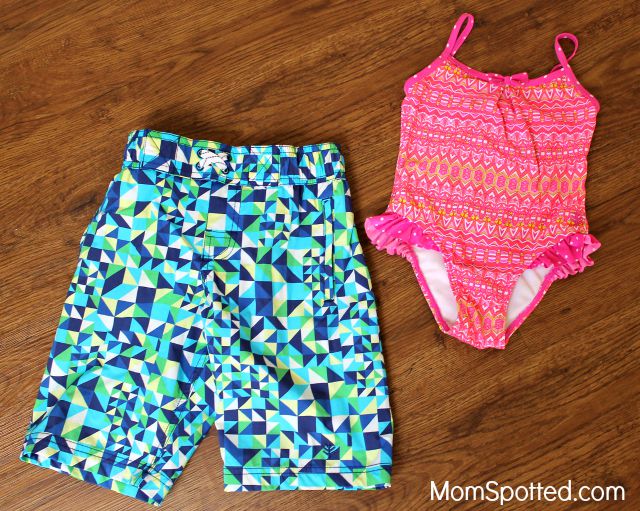 When their swim suits arrived I was first absolutely in love with the style and patterns. My son Hayden's Coolibar Swim Trunks are a fun bright geometric pattern and have a UPF 50+. He is really tall and skinny so sometimes we have a hard time finding swim suits to fit him.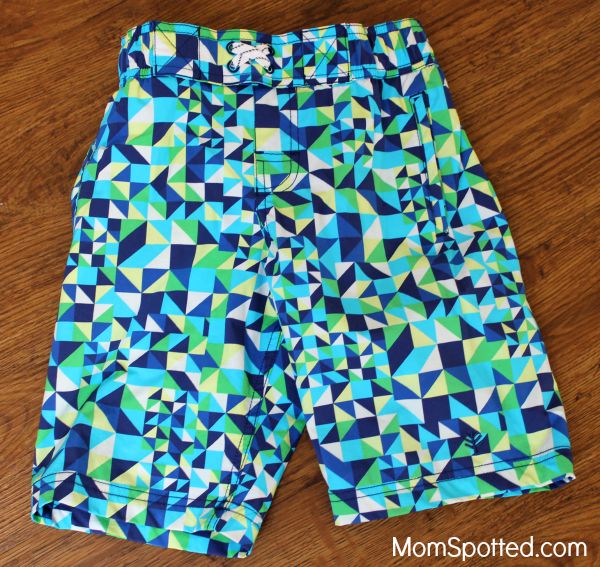 The Coolibar swim trunks fit him perfectly with a little room to grow, and have great coverage down to his knee.  They are also really well made and I know he will be able to wear them next year. They are made of a really cool material that I have never felt before in a swim suit. His Coolibar swim trunks are super lightweight and dry super fast! They are made of a Aqua Plus SUNTECT® which is water-repelling, offers 4-way stretch, and quick dry performance. They are also chlorine and saltwater resistant.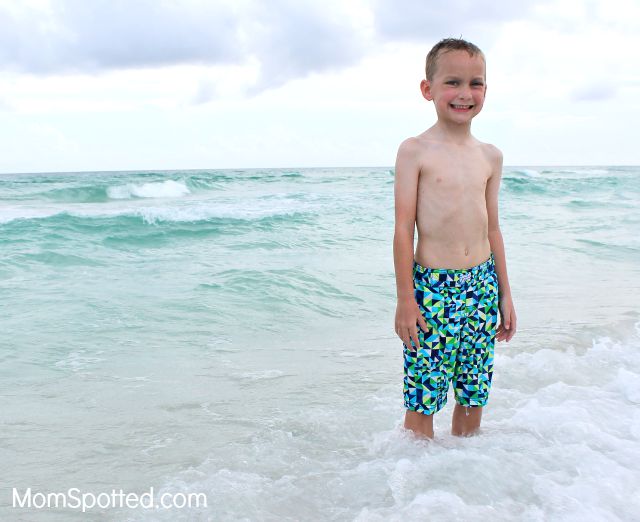 Halli has the Sassy Bow Swimsuit and I was swooning over all of it's sweet little details. It is a fully lined, and has a UPF 50+ sun protection.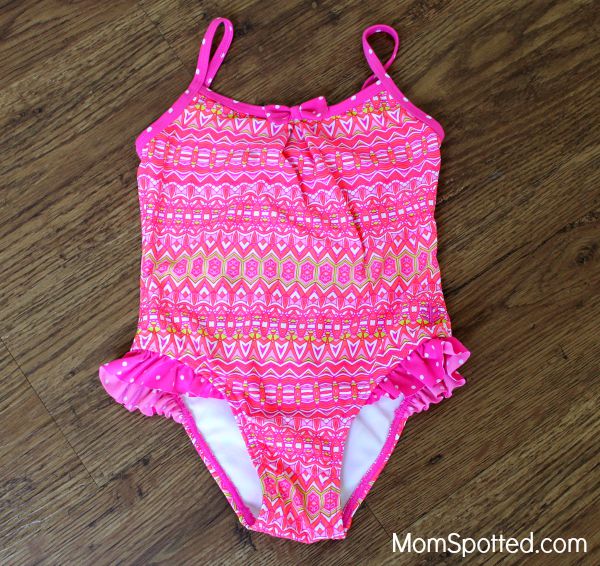 Just like Hayden's swim trunks, Halli's swim suit is made of the same Aqua SUNTECT so it is chlorine and saltwater resistant with 4-way stretch. She is such a busy little toddler. She bounced around from the sand to the ocean thousands of times, and her suit moved great with her.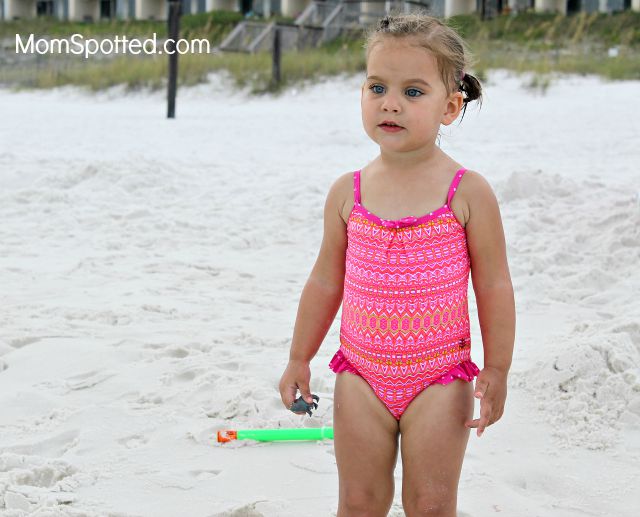 It hasn't stretched out at all, and still looks great! I never once had to worry about it falling off her shoulder or riding up where it shouldn't the entire week. The little hip ruffles, and bow at the top were my absolute favorite. They added such a fun girlie touch to the suit, and I loved the bright pink Aztec pattern.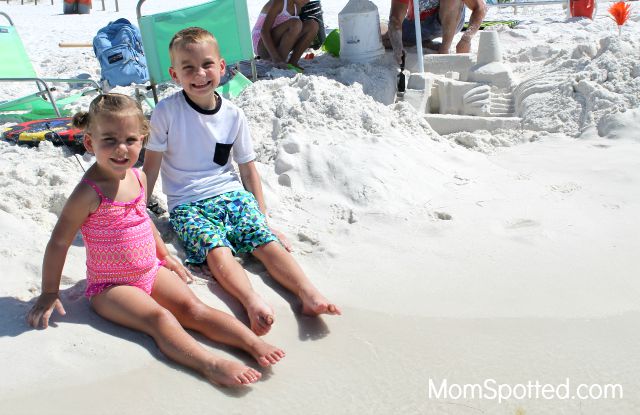 Both Hayden and Halli popped on the sandy white beaches in Destin, Florida, and I had peace of mind that they were getting great sun protection.
After spending a week in Florida both Hayden and Halli's swim suits still look brand new! They aren't stretched out at all, and have washed up great in the washing machine. I will be buying Coolibar products for great sun protection all year-long. I cannot say enough good things about Coolibar and my kids swim suits. Coolibar has such great options in sun protection clothing, and accessories for the entire family! So when you are looking for more ways to protect your family from the sun's harmful ways check out Coolibar!