Hayden starts school in just a few weeks! He will be in first grade this year and he is so excited. He absolutely loves going to school and learning. This summer has been so great but he is excited to get back. I will really miss him while he is gone though! It is not hard not having him as my little buddy and helper all day. One thing I like to still do is make his lunches. He takes a home lunch to school every day. I like to write little notes in his lunch every day so he knows I'm thinking about him.
He and I had a special day getting all of his school supplies. After we hit all the basics of pencils, crayons and papers we went to look for things to fill his lunch box. My favorite place to shop for all of his back to school items is Walmart. Walmart always has the best prices and a brand new Walmart was just built by our house.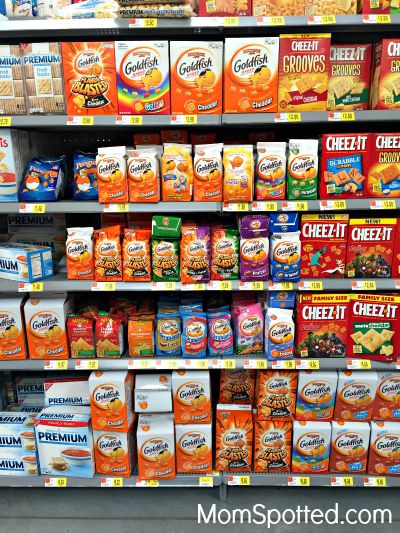 One of Hayden's favorite things to have in my kid's lunch is Pepperidge Farm® Goldfish Crackers. I always keep them in my pantry. They are great for lunches, they are great for an after school snack, and they are great for when we are on the go. Since there are so many flavors of Pepperidge Farm® Goldfish Crackers the different ways to use them in lunches is endless. Both of my kids love the Whole Grain Cheddar Goldfish, but they also think it is fun to eat the Cheddar Colors Goldfish. Halli loves yelling out the colors as she eats them. We also like to eat Goldfish Parmesan crackers in soup at lunch time. My kids think it is so fun to pretend to go fishing and slurp out those cute little Goldfish crackers out of their soup.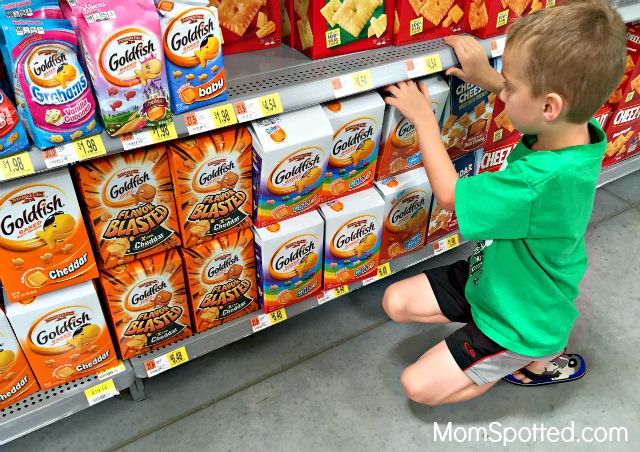 Sometime's after all that fishing, slurping, and learning colors while chopping on our Goldfish crackers my kids are pretty messy. When I pack Hayden's lunches I always make sure to add Wet Ones® Singles in his lunch box. We also grabbed some Wet Ones® Singles on our shopping trip at Walmart for back to school supplies. Wet Ones® Singles are so convenient and perfect for after lunch clean up. They are also great for before they start chomping down on his lunch. Hayden is usually really pretty good about washing his hands before he eats, but with Wet Ones® Singles I can make sure he has clean hands before and after he enjoys his lunch.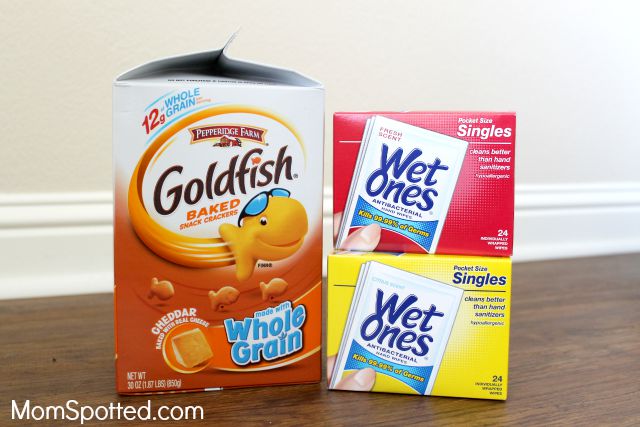 I am so excited for Hayden and I know he will have a great first grade year. I hope he smiles when he sees the fun lunches I make him everyday. I can't wait to make him lunches with our favorite Pepperidge Farm® Goldfish Crackers and some Wet Ones® Singles.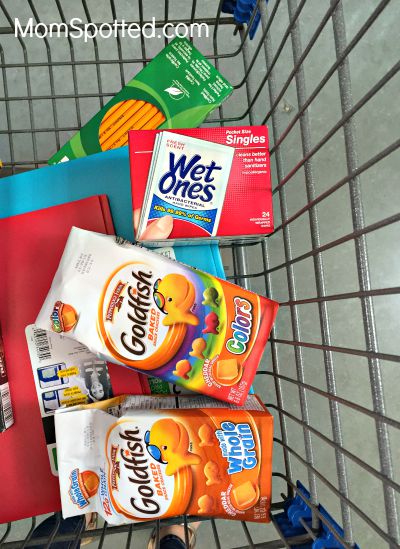 Between July 6, 2015 and September 7, 2015 you can find more great ideas of how to make fun lunches for your kids at www.wishihadwetones.com. They will have tons of other ideas and a chance to win a year's supply of Wet Ones® for your home and your child's classroom*, plus $1,000 cash!!!
This is a sponsored conversation written by me on behalf of Wet Ones® + Pepperidge Farm® . The opinions and text are all mine.