With all the apples about to be ready for picking I thought I would put together a fun round up of some great books about apples for kids for you to buy or borrow from your local library. We can't wait to get out and go apple picking this year! It will be Sawyer's first time. After reading a few of these books I'm sure he'll be exciting and ready to go!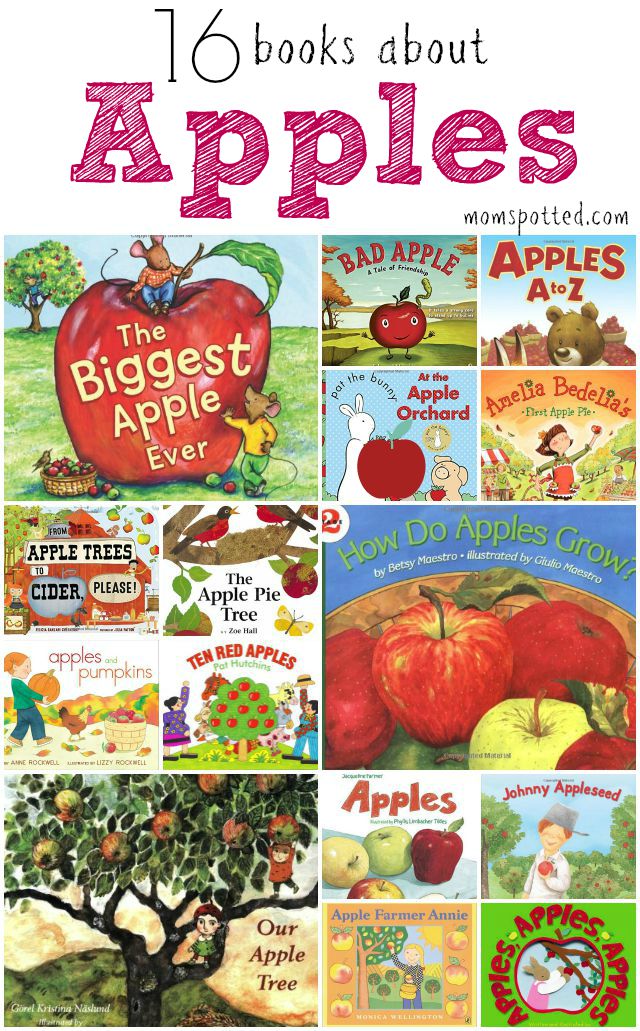 Have you ever eaten part of a flower? You have if you have eaten an apple! Find out how an apple grows from bud to flower to fruit–ready for you to pick!
Two sisters rejoice as the colorful blossoms on their tree develop into big, red, and ready-to-pick apples. This concept book about how things grow includes an easy recipe for apple pie.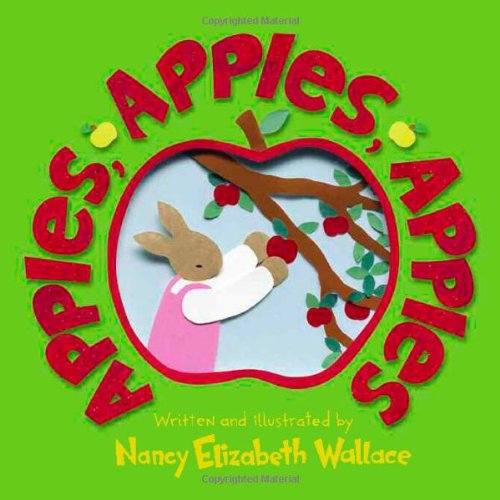 Apples, Apples, Apples Paperback
It's a blue sky autumn day and Minna, Pop, Mom, and Dad have decided to go on an outing to Long Hill Orchard. As the bunnies fill their baskets, Farmer Miller teaches them all about apples. This charming story is filled with fun facts, activities, and an applesauce recipe.
This beautifully illustrated retelling shows how Johnny Appleseed bloomed from a young boy who loved the outdoors into the legendary man who spread apple trees all across the United States. Showing small acts of generosity and the love of nature can make a big difference, this book is sure to inspire the budding little Johnny Appleseed in every reader.
Apple cider, applesauce, apple muffins, cakes, and pies! Annie is a very busy apple farmer. She bakes yummy treats with the apples she picks and saves her best apples to sell at the market. Follow Annie through her apple-filled day of picking, counting, sorting, baking, and selling, and then try making some of her simple apple recipes.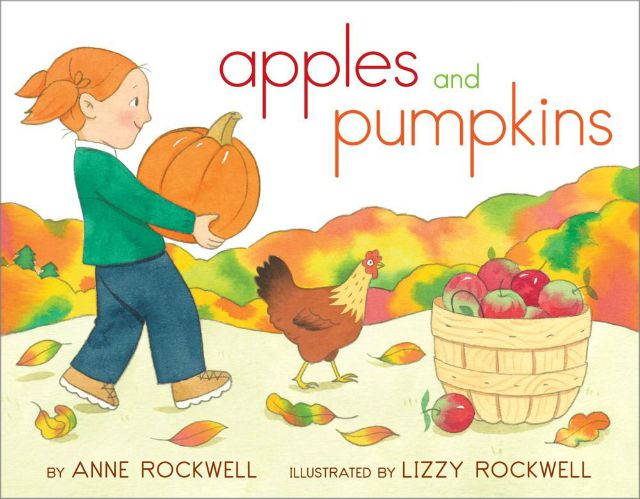 Apples and Pumpkins Paperback / Hardcover
A young girl spends a glorious fall day picking apples and searching for the perfect pumpkin in this refreshed classic.
Today, the average American consumes about sixty-five fresh apples each year. Where do so many apples come from? How do they grow? Jacqueline Farmer takes young readers on a field trip to the apple orchard to find out how apple growers turn seeds and seedlings into the many different varieties of America's favorite fruit. Recipes, trivia, and fun facts included.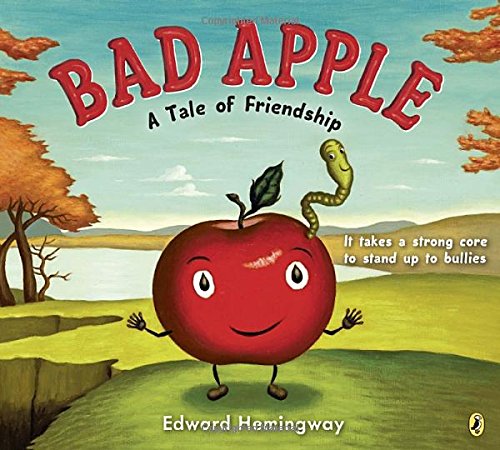 Bad Apple: A Tale of Friendship Paperback/ Hardcover
It takes a firm apple to stand up to bullies. When Mac, an apple, meets Will, a worm, they become fast friends, teaching each other games and even finishing each other's sentences. But apples aren't supposed to like worms, and Mac gets called "rotten" and "bad apple." At first, Mac doesn't know what to do—it's never easy standing up to bullies–but after a lonely day without Will, Mac decides he'd rather be a bad apple with Will than a sad apple without.
Fox, Bear, and their friends lead young readers through an apple alphabet–from apple buds and blossoms through nutrition and orchards to the X on an apple pie. Along the way, apple lovers will pick up a windfall of apple science and lore, as well as fun facts and child-friendly information. And twenty-six apple varieties are introduced, even ones for X, Y, and Z!
Ten red apples hanging on a tree. Yippee, fiddle-dee-fee! But they are not there for long. Horse, cow, donkey, pig, hen, and the other farm animals each eat one. "Save one for me," calls the farmer. But what about the farmer's wife? Count on Pat Hutchins to solve the problem happily. And count the red apples before they are all gone!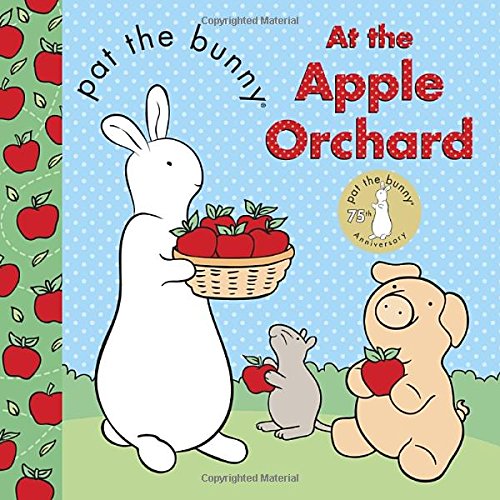 Pat the Bunny: At the Apple Orchard Board book
Pat the Bunny joins favorite friends Tickle the Pig and Squeak the Mouse for an apple-picking adventure! Their sweet and silly antics are perfectly calibrated for the very young audience, and parents will welcome this introduction to autumn from a trusted character.
Here's a whimsical and very useful look at the life cycle of the apple tree. With two helpful tree sprites as guides, readers travel from spring, when the apple tree blossoms, through summer, when the fruit grows, to fall and the harvest. Along the way, you'll learn about the life of the tree and the animals that visit – from insects that pollinate the flowers to deer that eat the fallen fruit.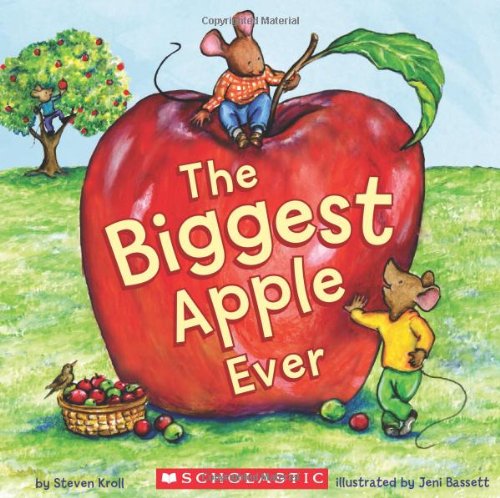 The Biggest Apple Ever Paperback
As another year at Mouseville School begins, the students will be learning all about apples–starting with a contest to find the biggest one ever! As usual, Clayton the town mouse and Desmond the country mouse are each eying the prize. But when they can't find the biggest apple, even after they decide to work together, will they just give up? Or do they have another trick up their sleeves?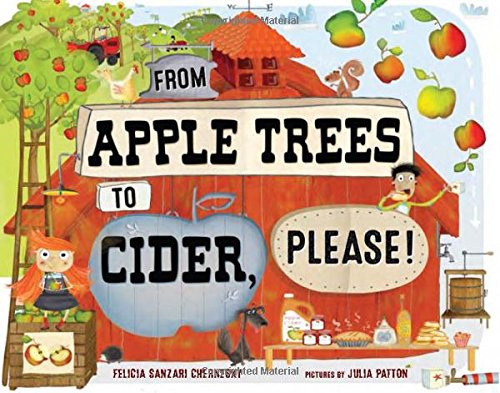 From Apple Trees to Cider, Please! Hardcover
Grab the wagon, it's a bright autumn day and the trees are full of ripe, red apples! There's an apple festival underway at the farm and lots of work to do making cider. This visit finishes with a cider doughnut and a cup of freshly pressed cider. DELICIOUS! Told in crisp, action-driven thymes from a young child's point of view, From Apple Trees to Cider, Please! is a realistic account of how apple cider is pressed, flavored with the charm and vigor of a harvest celebration.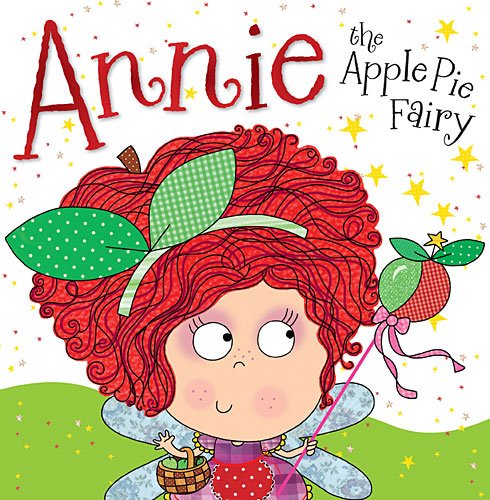 Annie the Apple Pie Fairy Paperback
Annie the Apple Pie Fairy is a TV chef who makes simple, homey pies. One day, her position as the queen of pies is threatened by Sondra the Strudel fairy's new show. An intense competition starts between Annie and Sondra, and sees their fairy audience become obsessed with Sondra's fancy pies and the gadgets used to make them. But when the mass of new gadgets and pie-making machines causes a huge power outage, what will happen to all the pies, and will Annie be able to save the day? Find out in this adorable new storybook from the makers of Camilla the Cupcake Fairy!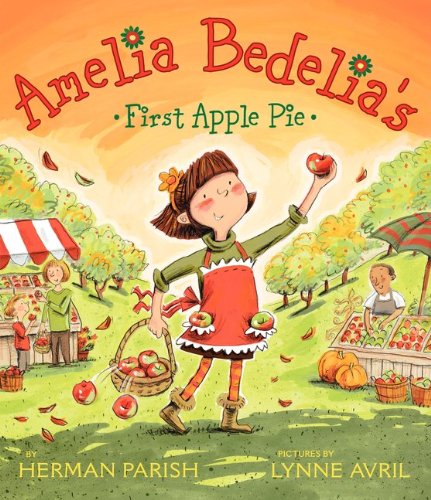 Amelia Bedelia's First Apple Pie Paperback
Amelia Bedelia loves everything about autumn. The colorful trees. Jumping in the leaves. Apples, apples, applesWarm apple pie. Fun family projects. Hooray for apples! Hooray for the fall!
For more great book round-up's make sure to check out my Children's Books board on Pinterest!