I recently had the opportunity to visit the Emerald Coast for the first time! I've been to the gulf before but this was my first experience in the panhandle. I love all things Florida so I couldn't wait to get down there and stick my toes in the sand!
Thankfully my hotel, the Fairfield Inn and Suites in Ft. Walton Beach, let me do just that! Thanks to my gulf view room I was able to see the gulf the moment I stepped into my room. The room itself was welcoming and I loved the all the amenities available to me. I quickly hung my clothing up in the closet, dropped my toiletries all over the big bathroom sink, and then set my laptop and tech items up at the desk. Moments later I was toes in the sand staring at this beautifully emerald-green water. This was definitely a great place to stay when visiting the coast!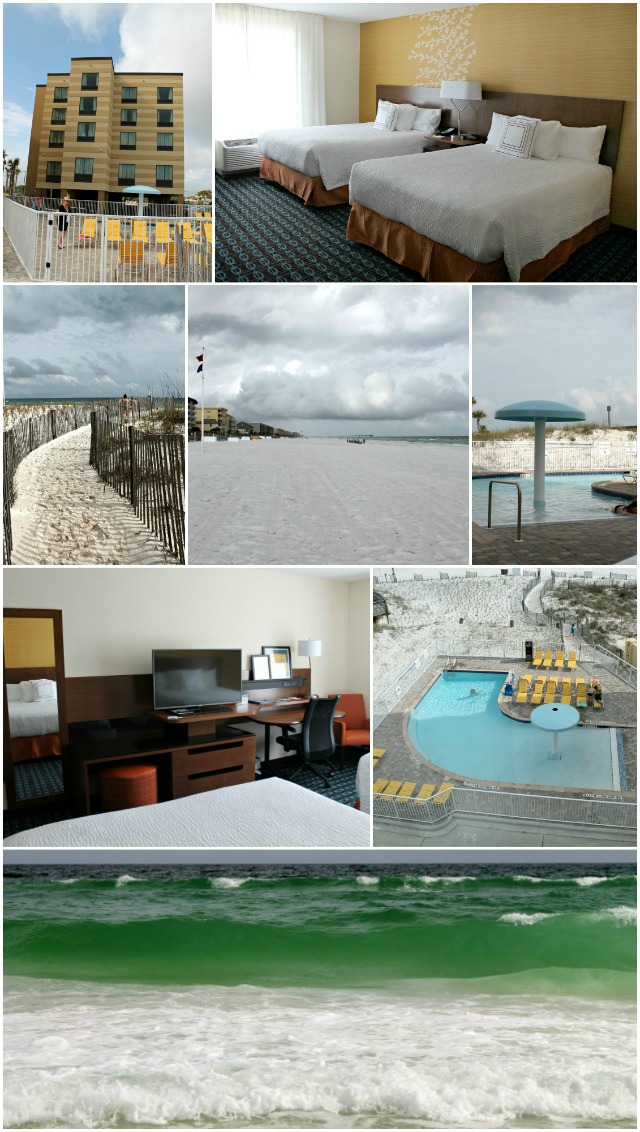 Fairfield Inn & Suites Fort Walton Beach-West Destin
540 Santa Rosa Boulevard
Fort Walton Beach  Florida  32548
850-244-5555
The water isn't the only gorgeous thing on the Emerald Coast. The sand isn't like any other Florida beach either. The sand here is so white and feels almost like sugar granules when you let it run through your fingers. Together they make for a beautiful beach for families to spend time together at. I was pleased to see that the beaches were incredibly clean. There was no trash or anything unwanted anywhere I looked. When we woke up the next day the beautiful blue skies had vanished so I was happy to have been able to spend a nice afternoon walking peacefully along the water.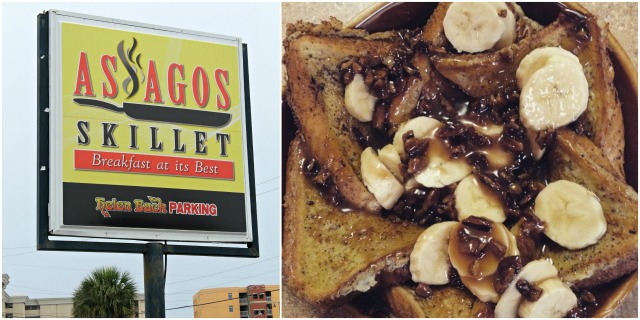 We started our first full day there with an amazing breakfast over at the Asiago Skillet. They had so many things on the menu that sounded amazing but the moment I saw the Banana Fosters French Toast I knew it was mine. I think I need to fly all the way back down just for this breakfast again. It was delicious! Make sure you look up this hidden secret because it's tucked away on a side street and you'll miss it if you aren't looking for it!
Asiago's Skillet
110 Amberjack Dr
Fort Walton Beach, Florida
(850) 586-7998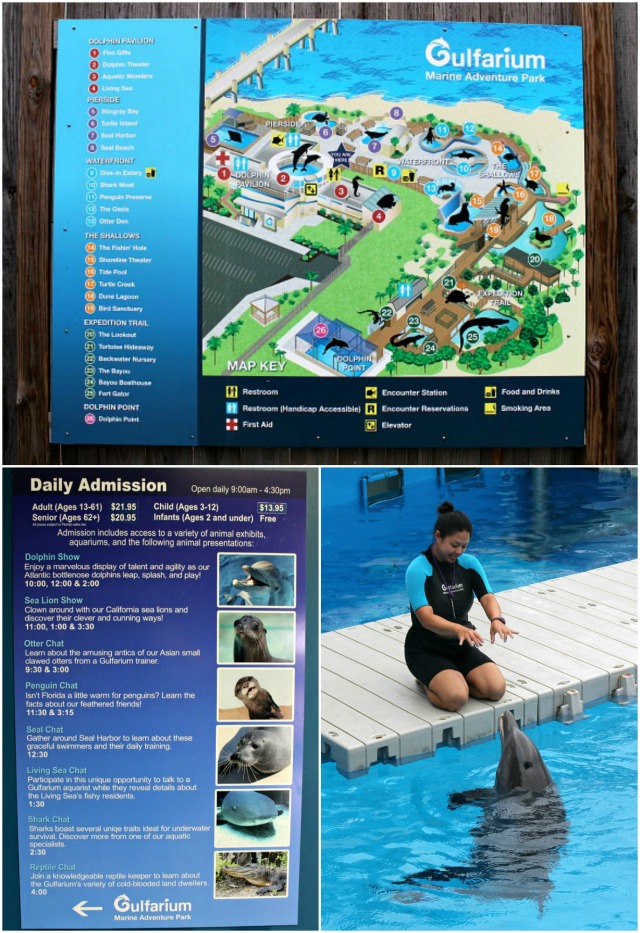 Our first attraction of the day was a visit to the Gulfarium Marine Adventure Park! This was probably also my favorite part of the whole trip! It was so much bigger than I ever imagined! If I was local to the area this is one place I'd definitely want to buy an annual pass to! There was so much to do and since it was both inside and outside and the almost all the outside areas were covered from the sun it meant it was a great way to spend your day rain or shine!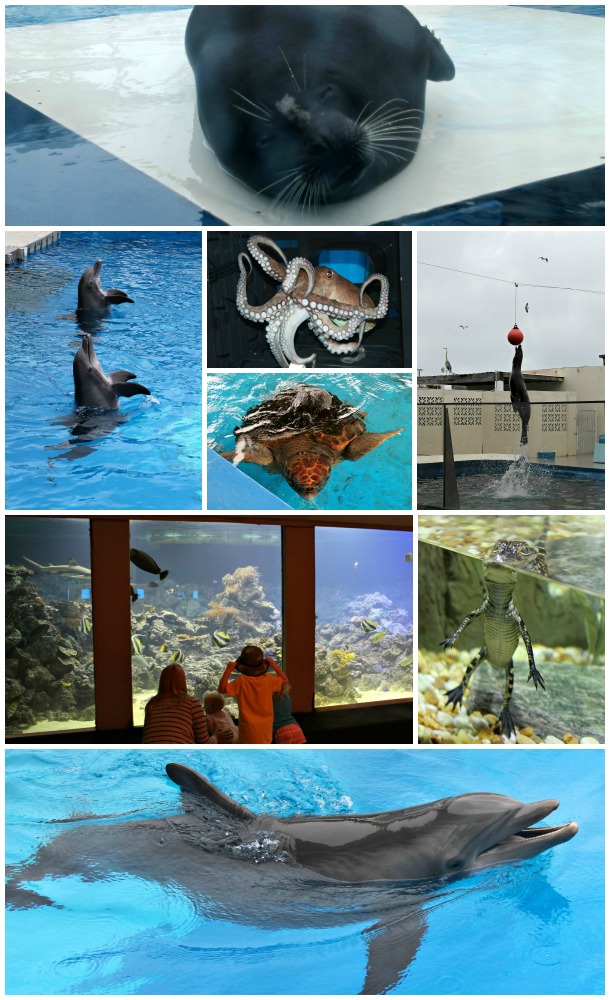 At the Gulfarium there is just so much to see! You will be able to see exhibit after exhibit! I was impressed to see how many different species they carried. I love watching all the shows too! My favorite was the Sea Lion Show! Of course the pregnant dolphins were pretty impressive too! I heard one of the baby dolphins has since been born and now able to be seen as well! My kids would have just loved this place!
Gulfarium Marine Adventure Park
1010 Miracle Strip Pkwy SE
Fort Walton Beach, FL 32548
850-243-9046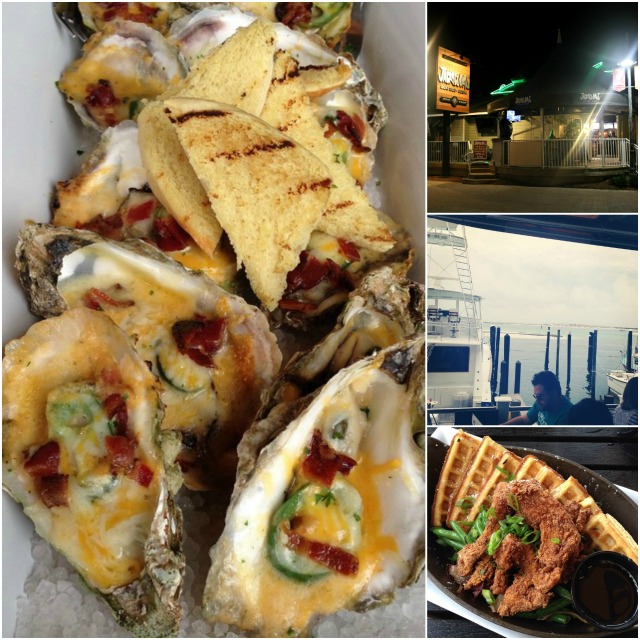 For lunch we went down to Jackacudas! It's a great waterfront restaurant with an amazing menu. Now I'm not going to lie. I am not a seafood girl at all. In fact I have a shellfish allergy and tend to avoid all fish as a result. I was really nervous going to Destin which is branded the World's Luckiest Fishing Village. I knew avoiding fish was going to be hard. I watched gorgeous dish after gorgeous dish of fish landing on our table. I couldn't even help myself wanting to share pics of oysters on my Instagram page. I even had a chance to try a different southern specialty known as chicken & waffles of their menu. It was so good! The waffles had a mild vanilla flavoring and chicken was so tender!
Jackacuda's Seafood & Sushi
56 Harbor Blvd,
Destin, FL 32541
(850) 424-3507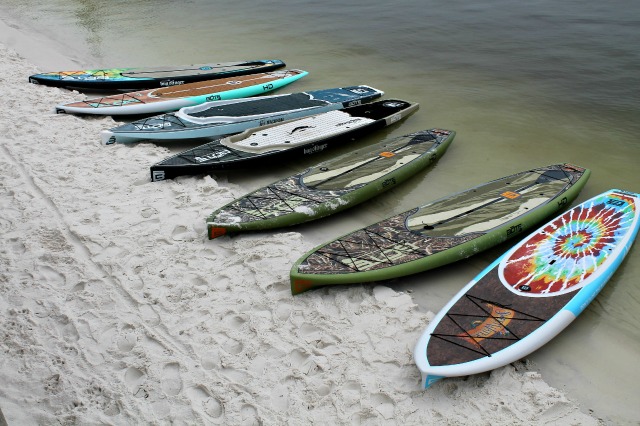 One of the main events I was looking forward to on this entire trip though was getting to paddle board for the first time! I really had no idea what I was in for. I really expected it to be a lot harder than it was. We all used BOTE Paddle Boards and had the opportunity to be instructed by Magda herself. It was so peaceful to be out on the water and I loved knowing I was getting a workout at the same time. I never fell in the water (none of us did!) and the BOTE boards were awesome to use- one of them even deflated and became a backpack! So cool!
BOTE Paddle Boards
383 Harbor Blvd,
Destin, FL 32541
(850) 460-2250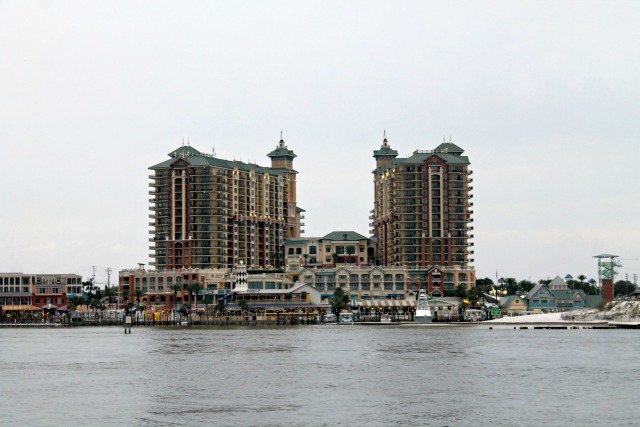 After our workout on the paddle boards we headed on over to the Emerald Grand. It's a major part of Destin and you can see it driving in from many points! It's a gorgeous area and if it's another great place to consider staying if you're visiting or even looking to purchase! They have so much to do in just this one spot! You can go on boat rides, water front eating, shops, and even a beautiful spa.
The Spa was a great spot to take a break too! The views alone from above were breath-taking to look out at the water. The girls and I were treated to a special strawberry ice drink and then all of us received a relaxing back and shoulders massage. Afterwards we were able to take a shower there and freshen up too! I really could have just spent the entire day there.
Emerald Grande At Harborwalk Village
Spa at Emerald Grande
(850) 337-8150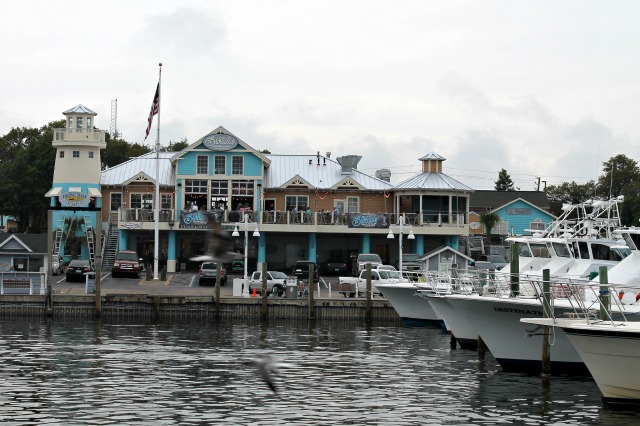 For dinner that night we went to Brotulas. They are run by the same owners as Jackacudas! This restaurant was also by the water a little walk down in Harborwalk Village. Brotulas has many more great seafood dishes on the menu sure to please everyone in your party but the one really cool thing they offer is letting you track where your fish came from.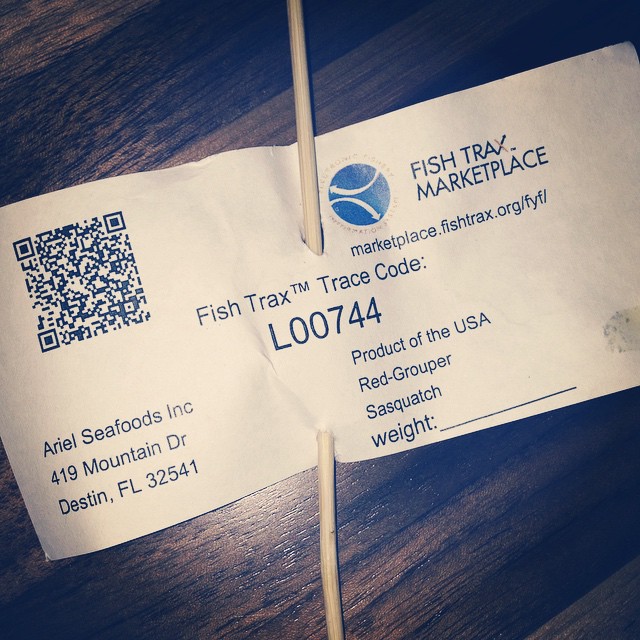 This little sign will arrive with your dinner and you can visit Fish Trax Marketplace and look up everything to do with YOUR fish. I, personally, ordered myself an amazing Baby Back Ribs instead but stole this pic of someone else's fish. You can see here exactly the captain that caught it, how they caught it, and even where it was processed before landing on your plate. Brings a whole new meaning to fresh!
Brotula's Seafood House & Steamer
210 Harbor Blvd,
Destin, FL 32541
(850) 460-8900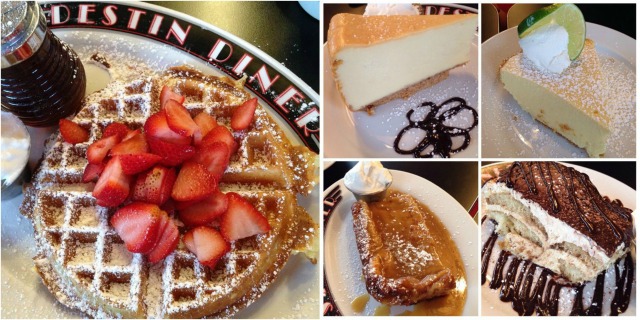 Our last food stop on our final day there we stopped at the Destin Diner for a quick bite to get us going. I love diners and we love frequent them at home and on vacation. The diner was a fun stop that my kids would have loved and the service was friendly and the food was fast. I loved my yummy waffle and just as we were getting ready to leave they surprised us with freshly baked desserts to try! I loved that instead of just heating up premade desserts they actually make them right there. I can't even really tell you which one was my favorite because they were all good!
Destin Diner
1083 Highway 98 East,
Destin, Florida
(850) 460-7283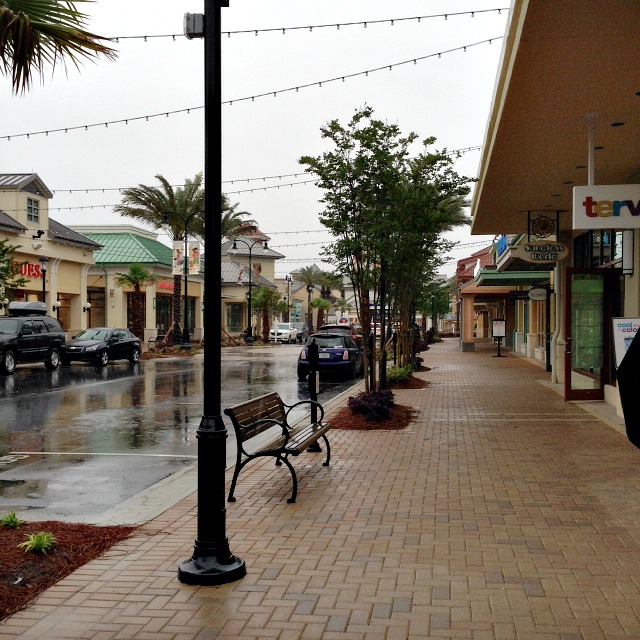 Just before heading home with full bellies we stopped by the Destin Commons. It was such a great place to shop! I wish we had a place like this to shop at home. It was raining when we went but they had plenty of covering to get from store to store without living under an umbrella. They had some of my favorite stores like Tervis, Charming Charlie's and Gymboree! Since I didn't have much room in my suitcase I wasn't able to buy too much but I was able to pick up a few new books before getting on the plane.
Voted "Best Place to Shop" by readers of Emerald Coast Magazine, award-winning Destin Commons continues to set the standard as Northwest Florida's premier open-air lifestyle center. Opened in 2003, the outdoor center features more than 70 stores and restaurants offering the finest shopping, dining and entertainment, including Bass Pro Shops, Belk and the AMC Destin 14-screen stadium style movie theatre.
Destin Commons | Destin's Shopping Destination
4100 Legendary Dr. Suite 270
Destin, FL 32541
(850) 337-8700
If you're planning a Florida vacation then the Emerald Coast is great destination! It's the perfect place for a family vacation or even a honeymoon! There are so many amazing places to eat and the entertainment choices are endless! Make sure to visit the websites to the above sponsors of my trip to learn more and plan your own Emerald Coast vacation to the Gulf!