Halli just turned two last month and has jumped both feet into busy toddlerhood. She is always pretending something and it is so fun watching her imagination run wild. She really loves anything girly. She loves to pretend to do her hair, my hair, or really anyone's hair. She "gets ready" with me every morning. It is really fun. Her other thing she loves to pretend is to be a kitty or a puppy. Or her big brother Hayden pretends to be her pet. It is pretty hilarious watching them running around on their hands and knees barking demanding that I rub their bellies. Disney's new DVD Mickey Mouse Clubhouse: Minnie's Pet Salon combines some of Halli's most favorite things: A beauty salon and pets!
Minnie has a brand new Pet Salon is open for business and some fun adventures. All of Minnie's pals from the Clubhouse bring their animal pets to get ready for Pluto's All-Star Pet Show. Mickey and the gang are all there to help Minnie with all of the pets. There are so many pets to bathe, groom and train! But when three adorable little kittens go missing, it will take the right Mouseketools to find them in time for the big show.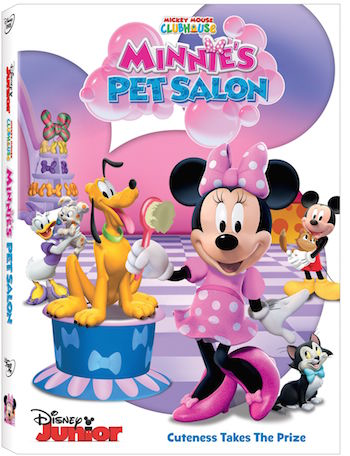 Halli loved "helping" Minnie and the gang find the missing kittens. She loves shouting "oh toodles" and pointing at the right Mouseketool to help fix all problems the Clubhouse pals have.
Minnie's Pet Salon is such a darling movie. It is filled with really fun songs and music that had Halli dancing around. Minnie's Pet Salon is over two hours of fun with all kinds of pets. It also includes 4 additional episodes: Daisy's Pet Project, Pluto's Puppy-Sitting Adventures, Donald's Ducks, and Pluto Lends A Paw. Halli loved watching all the cute pets at the Clubhouse. Her and Hayden both decided that we really need a pet now.
Disney's Minnie's Pet Salon DVD also includes a FREE Exclusive Pet Comb! It is a cute little comb. Halli has loved taking care of all of her stuffed animal pet friends with her new pet comb.
Minnie's Pet Salon is such a movie. All of your little pet lovers will love it!
You can find Disney's Minnie's Per Salon on DVD at Amazon, Walmart, and Target.