Sawyer's favorite play area is definitely his metal sheet. I love being able to find new things for him to play with on it. These Popsicle Stick Puzzle Magnets are a great hit and the boys loved having a craft to make on their own!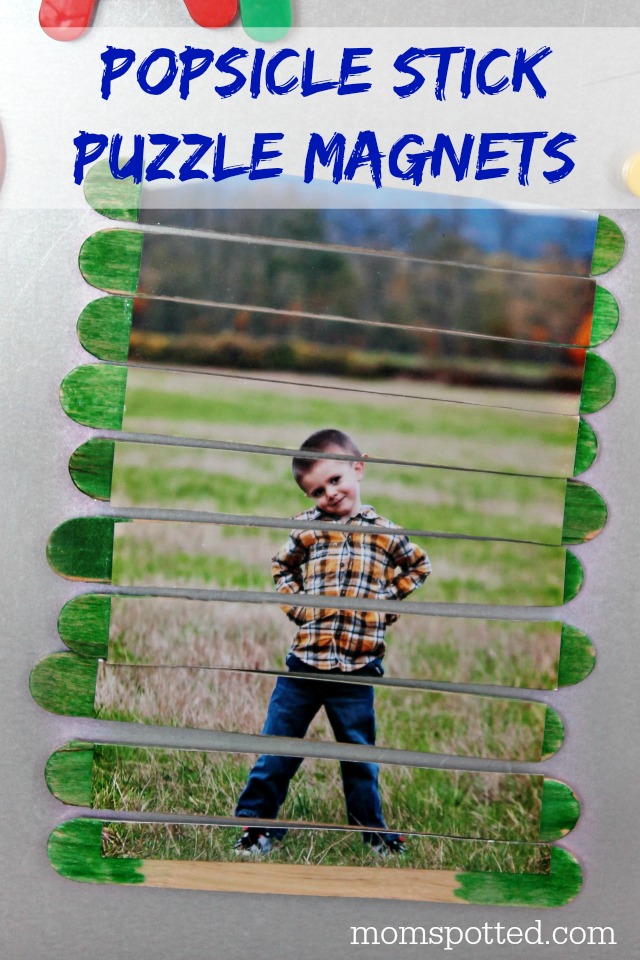 SUPPLIES NEEDED:
Jumbo Popsicle Sticks
Markers
Exacto Knife
Tape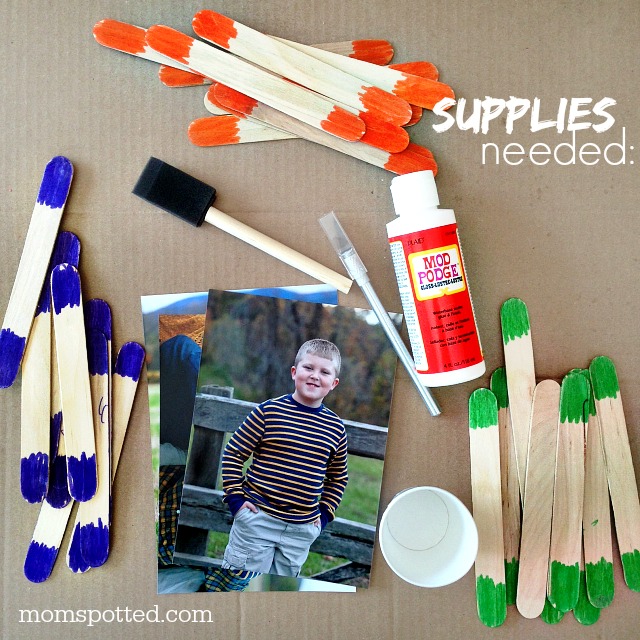 First you will want to count out how many popsicle sticks you need. We lined out our photos and then just placed the sticks over them. Then we colored the sticks to each photo so when they were all mixed up it would be easier to tell which pieces went to each puzzle.
Next flip the popsicle sticks over and tape them together keeping them as close together as possible. Flip them back over and then add a good layer of modge podge. Start in the center and then work your way to the edges because the marker will smear and color your brush if you aren't careful. I used disposable foam brushes and used a different brush for each puzzle we made.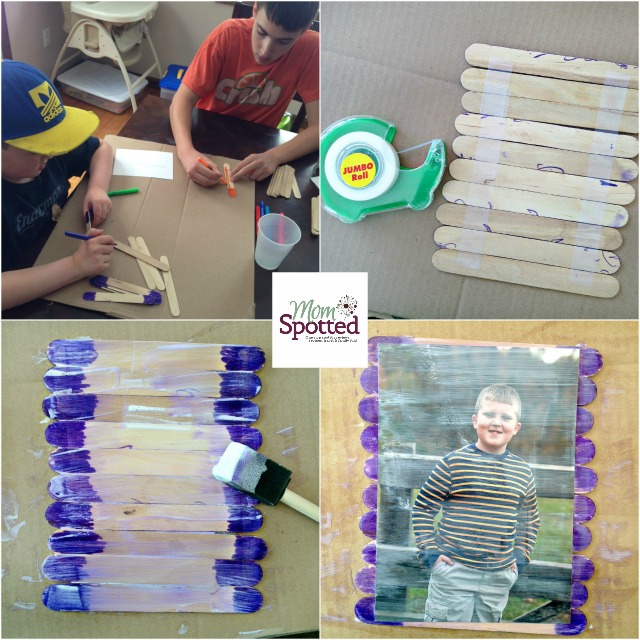 Once you have a good coat of modge podge lay the photo on top and then give it another good layer starting on the photo so you don't tint it. The modge podge WILL dry clear so don't worry about the white. Set aside and let dry. We left ours out overnight but you don't have to.
Take your exacto knife and cut the pieces free. We ruined one puzzle trying to figure out the best way to cut them. In the end I placed a metal ruler over for a straight hard edge. You could also grab another popsicle stick to help guide you.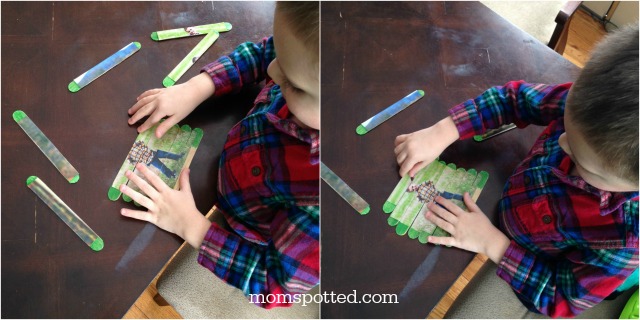 Sawyer thought these were awesome but we wanted to then take them one step farther. Sawyer just loves his magnetic board and I wanted him to be able to play with these there so I thought I'd add some magnets. We recently got our shipment from Oriental Trading in and one of the items I got were adhesive backed magnets and they worked great! I was able to get away with only using one magnet per popsicle stick.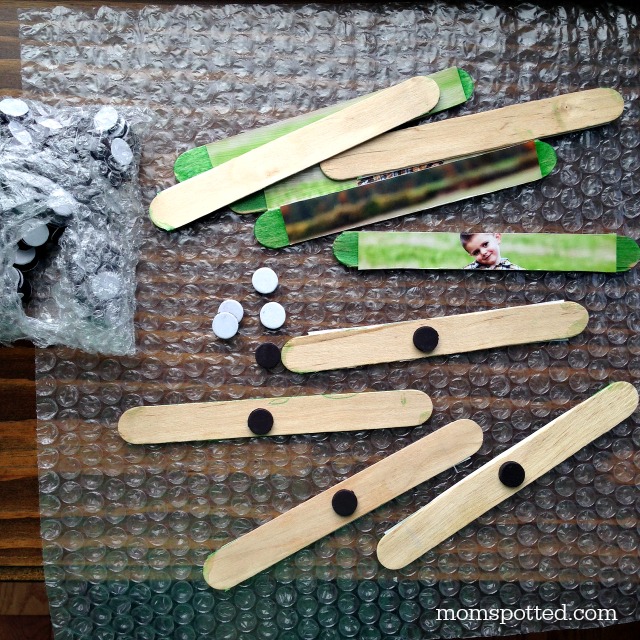 Then I stuck the pieces on his board and he loved putting them together. He often likes to mix up the piece and see how he can make everyone look silly.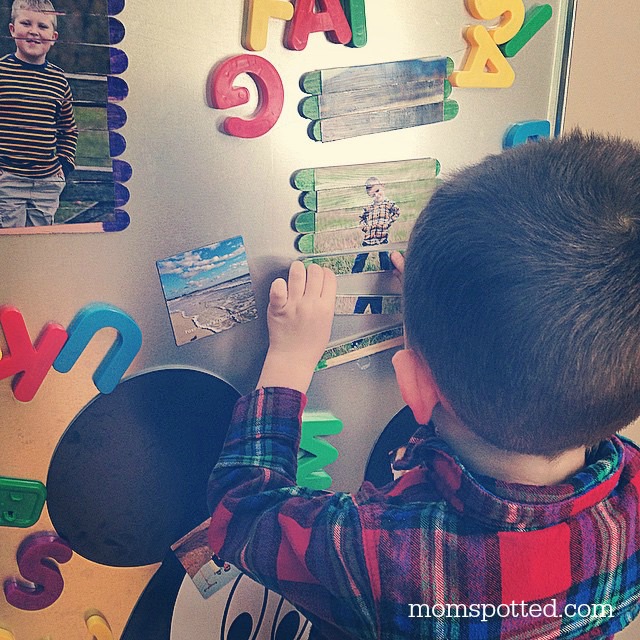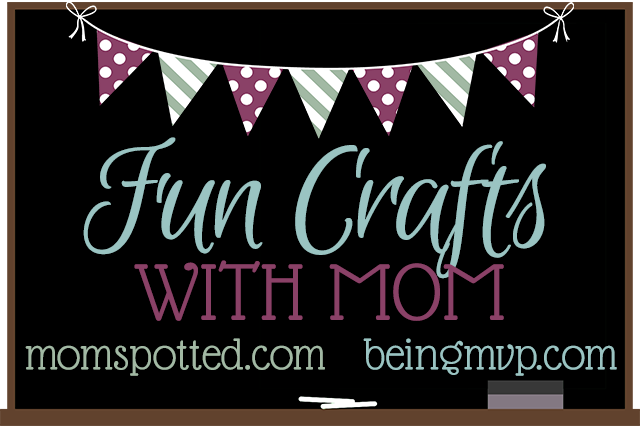 Every Monday we want you to come and link up your latest craft you made with your kids and share here! Now head on over and check out Being MVP's Lucky Rainbow Suncatcher Craft for Kids.
Mister Linky's Magical Widgets — Thumb-Linky widget will appear right here!
This preview will disappear when the widget is displayed on your site.
If this widget does not appear,
click here
to display it.