I absolutely love to cook and bake so naturally I love any type of cooking show. Throw some friendly competition in there and I'm in heaven. One of my favorites is MasterChef Junior! Did y'all catch the MasterChef Junior Season 3 premier on Tuesday?
MasterChef Junior gives the best junior home cooks in America the chance to showcase their culinary abilities and passion for food through a series of delicious challenges. Each episode, host and award-winning chef Gordon Ramsay is joined by restaurateur Joe Bastianich and acclaimed chef Graham Elliot on the MasterChef Junior judging panel.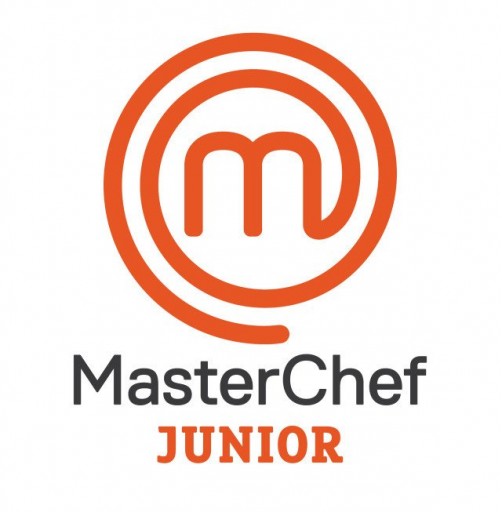 I love watching all those cute kids cook. They are all so talented at such a young age, and it is so inspiring! Hayden also loves to cook, and bake with me in the kitchen. Little Halli is even starting to get in on the cooking action in the kitchen. It is such a fun bonding time. We get to talk, get messy, and make something delicious. I love knowing that both of my kids will eventually be able to cook and bake because of moments we spent together in the kitchen. 
We went to see Santa over the holidays, and the big guy happened to mentioned hot chocolate and cookies are his favorite snack. Ever since that visit Hayden asks to make hot chocolate and cookies almost on a daily basis. I don't blame him because it is stinking freezing, and nothing hits the spot quite like a cup of hot chocolate.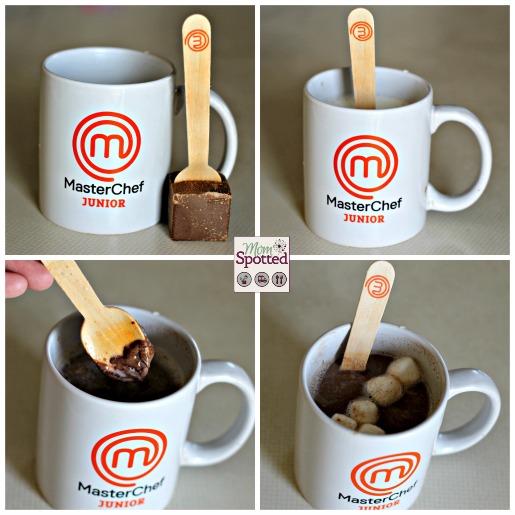 MasterChef Junior sent us a "Warm Winter" kits containing everything we needed to make some delicious gourmet hot chocolate! The kit also included recipe cards for some cookies that we can't wait to try and a blank recipe card so we can jot down our own family favorite. I have recorded Tuesday's episode so Hayden can watch it with me this weekend. It will be fun to bundle up on the couch with him, watch America's most talented young chefs on MasterChef Junior, and enjoy our cookies and hot chocolate we made together. Plus his hot chocolate milk mustache is one of the cutest things I've ever seen.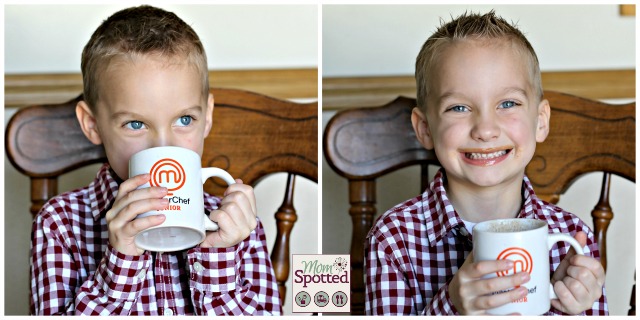 Right now one (1) Mom Spotted readers has the opportunity to win ONE (1) MasterChef Junior Warm Winter Kit so you can warm up and enjoy season 3 of MasterChef Junior on FOX!!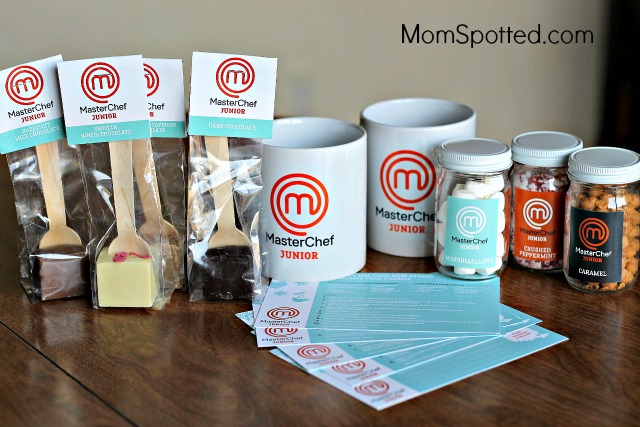 The MasterChef Junior Warm Winter Kit includes:
(2) Branded MCJ Coffee Mugs
(4) Branded MCJ 'Hot Chocolates On A Stick'
Cinnamon and Cayenne Milk Chocolate
Hazelnut Milk Chocolate
Dark Chocolate
Vanilla White Chocolate
(3) Branded MCJ Containers with Toppings
Marshmallow bits
Caramel bits
Crushed peppermint
(5) MCJ Branded Recipe Cards
To enter use the Rafflecopter form below. Good Luck!
Contest ends 01.25.15 at 11:59pm. For Official Giveaway Rules click here. U.S. Residents Only.