We love organic salsa. I'm constantly buying it and my kids are constantly eating it but have you ever read the label? Some of the ingredients added to them are just not needed or wanted. I've never made my own before and if I had realized just how easy it was to make Homemade Organic Salsa I would have been making it years ago. Now, I can control exactly what I'm putting into it making all the ingredients organic and keeping the sugar out.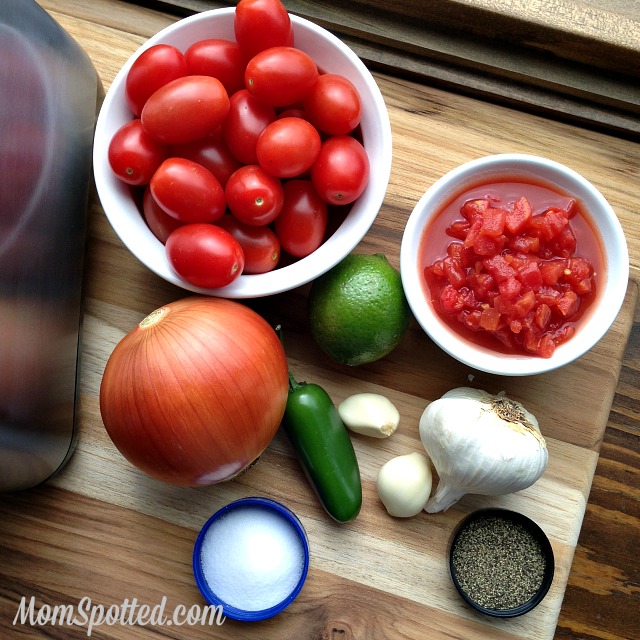 INGREDIENTS NEEDED:
2 cups little Roma tomatoes
1/4 onion, chopped
2-4 cloves of garlic
1-2 jalapenos
1/2 fresh lime
1/2 teaspoon salt
1/2 teaspoon cumin
1/4 teaspoon black pepper
1/2 can petite diced tomatoes, drained
handful fresh cilantro
Combine all ingredients in the blender. Pulse until desired consistency. If you are doing Whole30 this recipe is 100% compliant.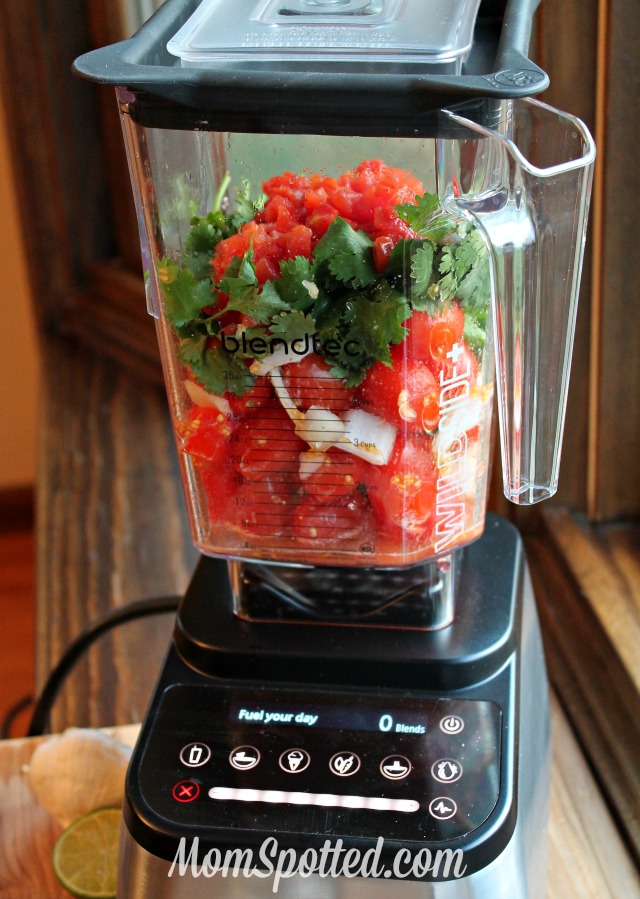 I recently received the Blendtec Designer 725 with Wildside+ Jar and it is pretty amazing. Since owning it my opinion of the Blendtec has a huge change. It's so much more than what I thought it was. It is NOT just another blender. When I first got it I thought it was just a fancy milkshake maker because that is all I've ever made in a blender but after checking out all the recipes they have on their site I knew this could do so much more and last through it all. I watched a youtube video and this baby destroyed an iPhone 6 to dust. My last blender couldn't handle an entire summer and the hardest thing I added was ice. I couldn't wait to try Homemade Organic Salsa.
The World's Smartest Blender
The Blendtec Designer 725 boasts the most advanced blending technology ever seen
Features include:
1725 watt, 3.8 peak horsepower motor
Illuminated, capacitive touch interface
Preprogrammed cycles: Smoothie, Salsa, Ice Cream, Whole Juice, Hot Soup, Clean
100-speed capacitive touch slider
Illuminated display indicates remaining blend time
SmartBlend Technology
The Blendtec Designer 725 is truly the blender with a brain. Our exclusive SmartBlend technology senses and identifies potential problems that could interfere with the perfect blend-including loading errors, overheating, or air pockets – and then tells users how to fix them.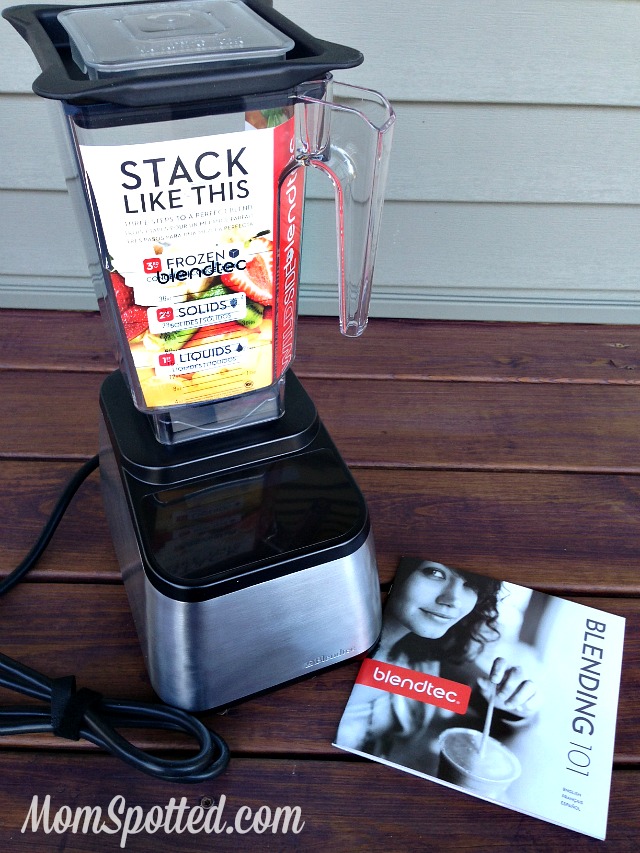 100-Speed Capacitive Touch Slider + Multi-Speed Pulse
Get seamless precision speed control for 100 speeds with the slide of a finger. It even tells you which speed to use for stirring, chopping, mixing, blending, or pureeing. Use Multi-Speed Pulse for an added burst of power at any speed.
Preprogrammed Cycle Suggestions
Six preprogrammed custom cycles enable one-touch blending perfection: Smoothie, Salsa, Ice Cream, Whole Juice, Hot Soup, and Clean. The Designer 725 even suggests additional uses for each cycle so you know how to get the most from your blender.
"Add 10" Feature
With a single touch, add 10-second blend intervals to completely customize your blends.
Blend Rewards
Get rewards for using your blender! The Designer 725 tracks your blends, then displays reward codes at certain milestones. Redeem the code online for recipe books, gift cards, kitchen utensils, jar discounts, and more.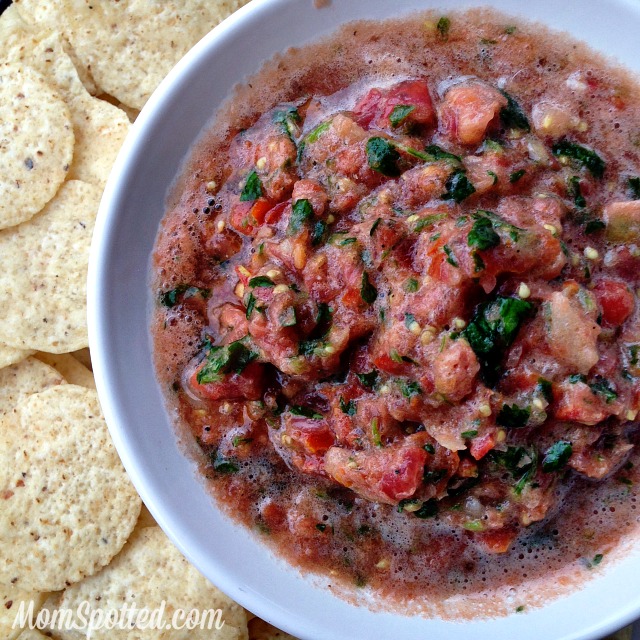 We've made this Homemade Organic Salsa a few times since and I can tell you that it is so good! We like more of a chunky salsa so we drained out the can tomato juice but if you like it thinner like a restaurant style you could leave it in. I also recommend de-seeding the jalapeno if you aren't looking for a lot of heat. This would be a great appetizer for your next party or holiday event or in my case a great afterschool snack in a house of three growing boys.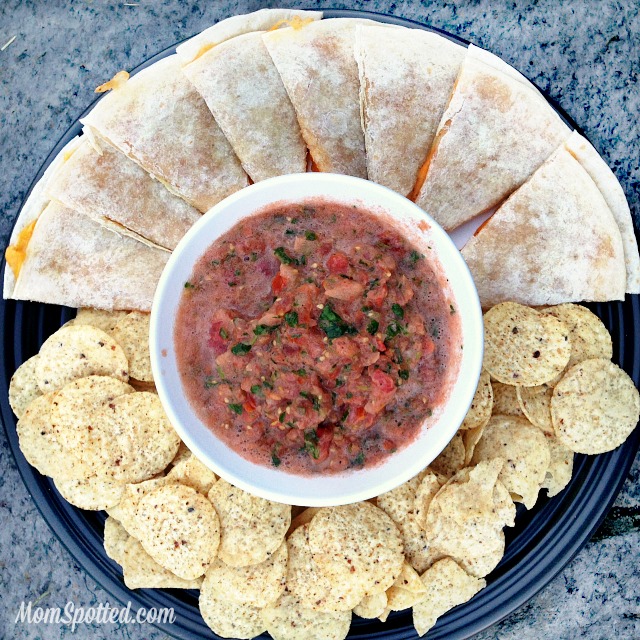 This post is sponsored by FitFluential LLC on behalf of Blendtec.