"This post and giveaway were made possible by Double Duty Divas and Old Spice. I was compensated for my participation in this campaign, but all opinions are 100% mine."
Do you want a good holiday laugh? This "Dadsong" video on the Old Spice YouTube Channel is such a funny way of showing the differences of a relationship between a mother and her son vs. a father and his son. As mothers we our sons are our babies. No matter how old they get we want to keep them close and keep them as little as we can. As a mom of three boys I can tell you this hits the nail on the head pretty good. I cried harder when Johnny turned 10 then when I turned 30. Dad on the other hand was not the biggest fan of the newborn stage but when those feet finally hit the ground he was the first one to let go and trust he could do it on his own.

Since then not much has changed. At 14 Johnny has grown into a, um, grown boy that I can be proud of. I know he's not a little boy any longer but I think that even when he's grown with children of his own I'll always consider him my baby because essentially he is. I do, however, need to realize that he's growing and changing.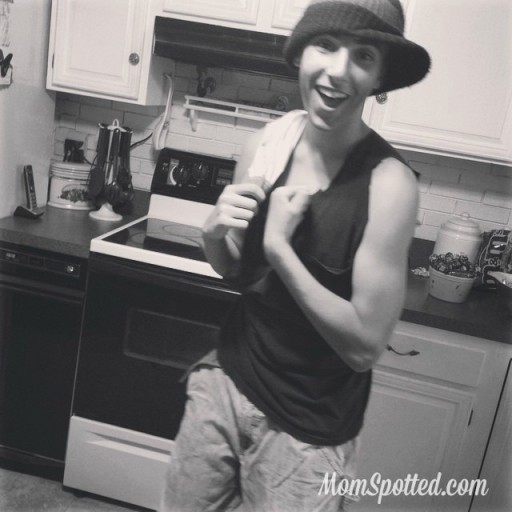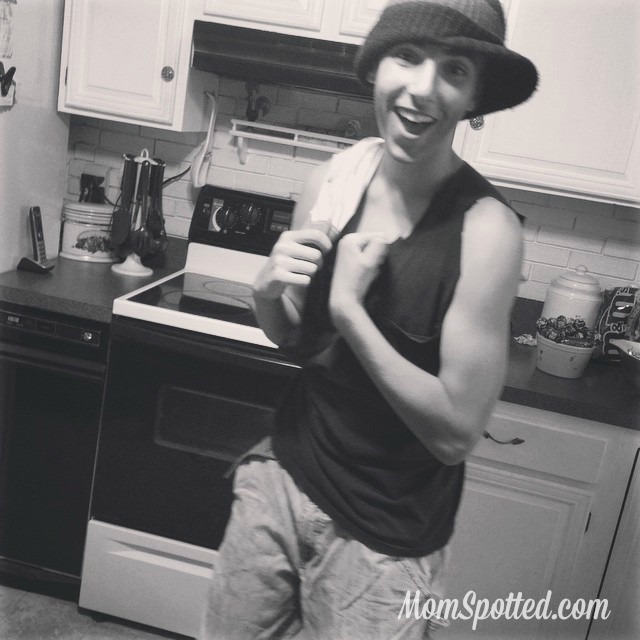 I try to leave most of those talks to Dad. He's proud of how big he's become and the older my boys get the closer their relationship grows with their father. As a mom I'm pretty proud of all of them. I know we're raising our boys right and they'll later become men we're proud of too. To help with that uncomfortable passage into manhood as a mom I just slip a bag full of Old Spice products in his room and let him figure out which ones he likes best. I figure since his dad won't use anything but Old Spice I might as well just start with what I know works.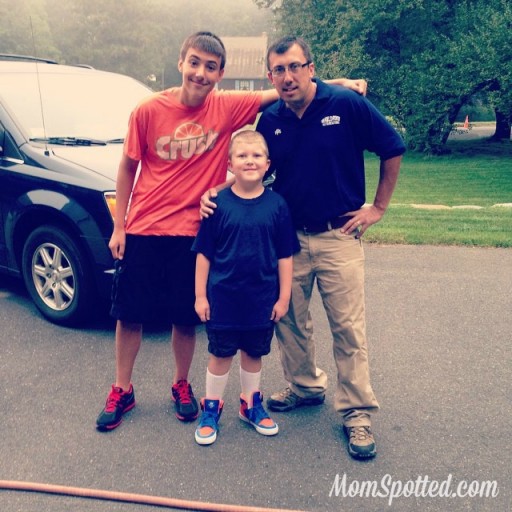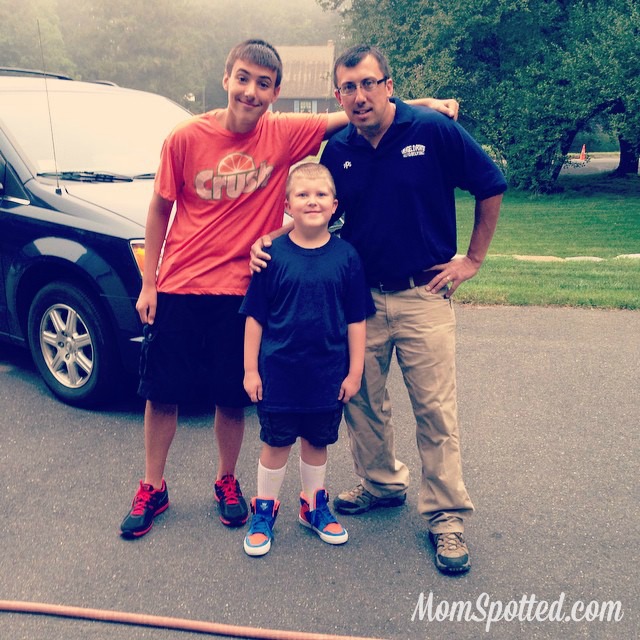 Santa also likes to share his favorite Old Spice products with him now that Johnny isn't wishing for a stocking full of hot wheels. Now he fills it with lots of great products from Old Spice like these: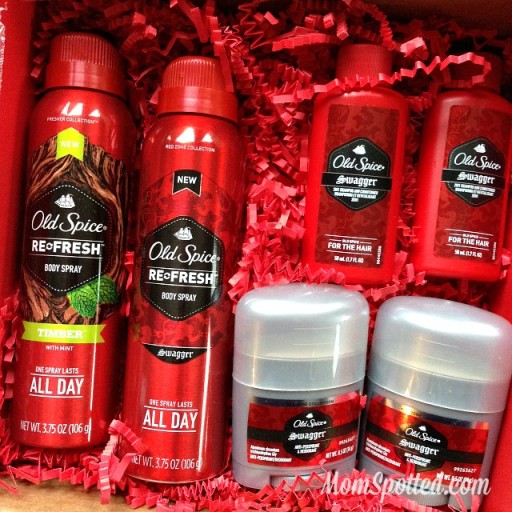 If you have a teen on your shopping list and you're left scratching your head as to what you should get him just look for Old Spice Gift Sets. It's everything they need all in one set. They contain deodorant, body wash, body spray, shampoo and more! It's available in a variety of scents – including new nature-inspired Timber scent. Don't worry about them getting duplicates because you can never have too many. One for his room, his school bag, sports bag, school locker. High school boys want to make sure they always smell good.
This holiday season, giving the gift of manhood couldn't be easier with Old Spice Re-fresh Body Spray, featuring the brand's innovative and first-in-category Re-fresh Technology, which eliminates the need for guys to overspray or reapply throughout the day. With Old Spice Re-fresh Body Spray, "One Spray Lasts All Day."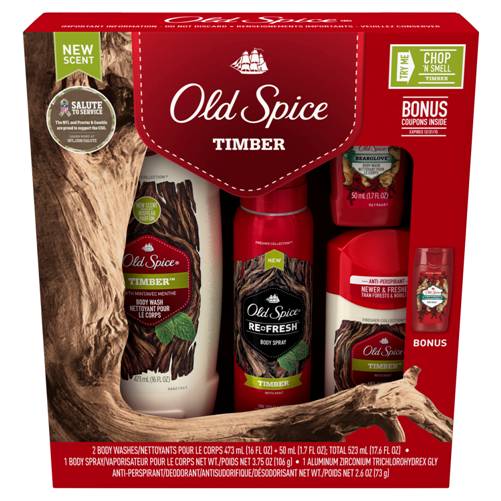 In the spirit of the holiday season, Old Spice offered special savings on Old Spice Re-fresh Body Spray in the P&G brandSaver® in newspapers across the U.S. on Sunday, Nov. 30, as well as for download on Coupons.com for redemption at retailers nationwide right now. Grab your coupons and head out to get all the latest scents because for me as a mom to a teen these are my new go-to stocking stuffers. He loves them and well, I love anything that covers the smell of his soccer shin guards.
For more information on Old Spice and all their products make sure to check out their social pages such as Twitter, Facebook, & Instagram.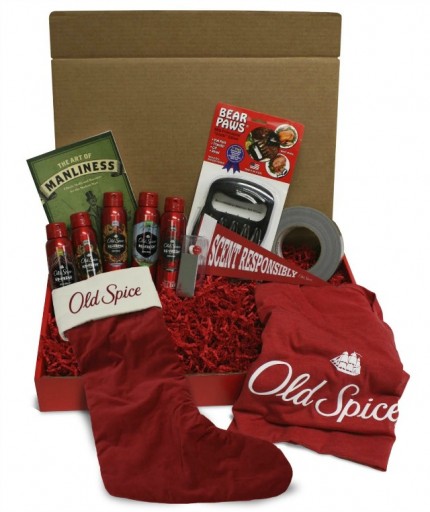 Right now one (1) Mom Spotted readers has the opportunity to win ONE (1) Old Spice Holiday Smellcome to Manhood Kit!!!
Old

Spice

Re-fresh Body Spray – The gift that keeps on giving, one spray at a time. Be among the first to enjoy new

Old

Spice

Timber – the best way to get that lumberjacky smell without working at a local tree lot.

Old

Spice

T-Shirt – The manliest chest tattoo on the planet without the regret when you turn 60.

Old

Spice

Branded Earbuds – Silence mom's singing in the car. You're welcome.
Bear Paws Meat Tool – Cutlery your dad, his friend Dave and Uncle John will be impressed with when you're given the reins to carve the holiday bird.
Duct Tape – Fix anything on the planet, except holiday lights, where only half the strand works.
Art of Manliness Book – Full of wisdom and New Year's Resolutions.
 "Scent Responsibly" Instructions – Nothing will earn you grandma's fruitcake faster than overspraying. Thanks to

Old

Spice

Re-fresh technology – where one spray lasts all day – you can smell like a man and not a middle school locker room.
Smellcome to Manhood Certificate – A made-up diploma for the inside of your locker or to add to your LinkedIn profile.
To enter use the Rafflecopter form below. Good Luck!